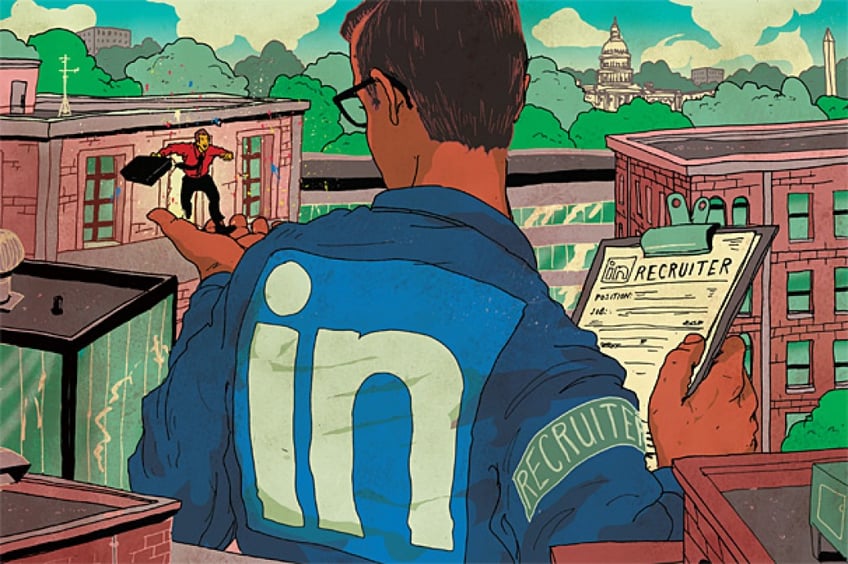 When it comes to social media for recruiting the best candidates, it comes to LinkedIn. As LinkedIn is the professional social recruitment platform to map the candidates with the employer directly, it has an optimum edge over other platforms. LinkedIn has been a key tool in the recruiter's mind for many years. Using LinkedIn for recruitment is no longer a rocket science of HR Geeks. It has its branches expanded across the world of recruiters. LinkedIn offers a number of paid solutions for companies who do a lot of recruiting. Here are the five ways you can use to recruit using LinkedIn.
LinkedIn Recruiter: This tool has been designed for the large companies who have their feet in the recruiting space already. The companies who tends to recruit often on social media use this tool. Through this subscription, the companies can get unlimited access to names and full profiles of potential candidates. Moreover, this subscription allows you to use the advanced search feature, contact candidates directly using InMail. so , getting your subscription to LinkedIn Recruiter can fetch you a whole lot of benefits for the recruitment purpose.

Read this article for information on hiring passive candidates using LinkedIn.
Scan 2nd degree connections: The best way to save time and efforts is to ask your connections to refer some well-qualified candidates who can be the best fit for the company. This way you are actually making your efforts worth recruiting the most qualified candidate. The selected set of qualified candidates can give you the most prominent choice in hiring.


Join LinkedIn Groups: LinkedIn Groups in relevant industries can exactly give you much more discussions. This will provide you with access to a large number of potential candidates. You can easily hunt after joining the LinkedIn Groups


LinkedIn Career Pages: This is the best platform for your job postings. You can purchase LinkedIn Job slot for advertising your job posting in a much better way. Through Job slot, you can customize your job posting according to your need. You can receive up to 50 real-time candidate recommendations per post. You can also send candidates straight to your Applicant Tracking System and can also add a third party tracking URL to your job postings.

LinkedIn Company Pages: You definitely need a company page on LinkedIn where you can post company messages, information about your products and services, post job openings and view detailed information about the people who have visited your company page. Even people are able to follow your company from a page. This way LinkedIn keeps the followers up to date about your company's posting and updates.
How to Recruit using Instagram [3 Simple Steps]
150 million. That's a big number all right. But guess what? That's also the number of people on the photo hosting site, Instagram. 70% of that number are active users who log in daily.
This presents a pool of talent and as a recruiter, you would want to swim in it! Instagram came into existence in 2010 and since then has seen tremendous growth regarding the user base. More and more people are joining the photo hosting site day by day, and so it should come as no surprise that the number surpasses the number if Twitter followers!
Even celebrities have taken a liking to the same and have seen huge success. The reason? Unlike other platforms, celebrities get to give their followers an inside scoop on what's happening in their lives and fans flock to see a glimpse of the same.
Let's take the case of companies active on Instagram. If people want to get the inside scoop, they would want to see what it's like to be working in your company. I.e. If you post pictures depicting your work environment, it'll be easier for someone to see the other side of your company that he or she will not be able to see on any other. Therefore the key to branding your organization is by posting pictures users typically see through traditional media.
Know why candidate experiences and attracting talent is essential!
Just last day, one of my friends saw an opening for a hiring as a fashion designer in one of the boutiques she was following (and was a fan of) on Insta and she readily applied for the post. If the boutique were not so keen on branding themselves on the platform, my friend would have given it a second thought before she applied.
So how can you attract talent through Instagram? Here is a couple of ways through which you can make the best out of this stemming tool:
Reflect Company's Style
Your account should reflect your company's style. Remember to fill out all the details, along with a high-quality profile picture, so that if one should stumble across your profile, one should get a detailed idea about what your company does. Also, ensure that links to other social media handles and your site are provided in your bio.
Relevant #Hashtags
Before you start posting pictures, think about whom you want to cater to and make sure you are active! Create a hashtag for your brand and engage and/or create a few contests to let the world know you are out there.
Be Active
Now being active on other social media would be an added advantage because Instagram pictures can be linked to other social media platforms. Studies suggest, tweets with images received more retweets & favorites and Facebook posts with Instagram photos attached got more likes! So start using hashtags and following people and posting pictures already because you want to be there before the competition steals away all the talent.
You can use video interviews to screen candidates post the sourcing process. Talk to us.