Assessments

, What Are They For?
Tests, exams, assessments – all words describing a process that measures the qualities of a candidate before a final hiring decision is made. From technical certifications to behavioral insights, assessments are a key tool in the hiring process.
Assessment


the evaluation of estimation of the nature, quality,
or ability of someone or something
Configurable, customizable, and secure pre-hire assessments are vital tools that enable an organization to quickly determine which candidates are best fits for their company. There are a number of
different types of assessments
used in the hiring process across multiple industries. But, regardless of the industry, there are three consistent basic goals in remote, online assessment solutions:
Discern the qualities and capabilities of the candidate

Reduce malpractice and cheating in remote exams and tests

Increase the reliability of test scores and online certifications by creating a secure test environment
By achieving these baseline goals, assessments become a quick, valid method to gain insights into individual candidates and help predict the performance, cultural fit, and possible retention probabilities of new hires. Properly implemented, remote assessments help organizations test better and hire faster with greater confidence in their decisions.
Types of Assessments in Hiring
Everyone knows about knowledge assessments. They're tests, exams, similar to experiences in primary education. In the technical fields, assessments frequently cover subjects such as JavaScript and other programming languages, calculus, engineering, financial services, networking & implementation. Another common type of assessment covers skills, typically acquired through experience and training: communication – spoken and written, persuasion and negotiation. Behavioral assessments can reveal the way a person will respond to particular situations: beneficial information when looking at hiring management positions.
Assessing General Cognitive Ability
How do you measure a candidate's ability to learn and solve problems on the job? This is where general cognitive ability is considered the strongest predictor of job success in a new hire. Here are five principal components in a general cognitive ability assessment.
Logical Ability




Testing for deductive and inductive reasoning

Critical Reasoning




Measuring a candidate's critical analysis of information

Information Gathering & Synthesis




How a candidate interprets text, tables, and charts

Quantitative Ability




Testing for applied numeric ability

Spatial Reasoning


Measuring a candidate's ability to think and visualize spatial relationships
Reviewed as a whole, the components of a general cognitive ability assessment provide organizations with a strong insight into a candidate's ability to learn and to solve problems. In today's rapidly changing landscape of disruptive technological innovations, global pandemics, and insufficient local pools of technically skilled talent, the ability to continuously learn and adapt is indispensable. This assessment is one of the single strongest predictors of job success for all jobs requiring medium and higher cognitive complexity.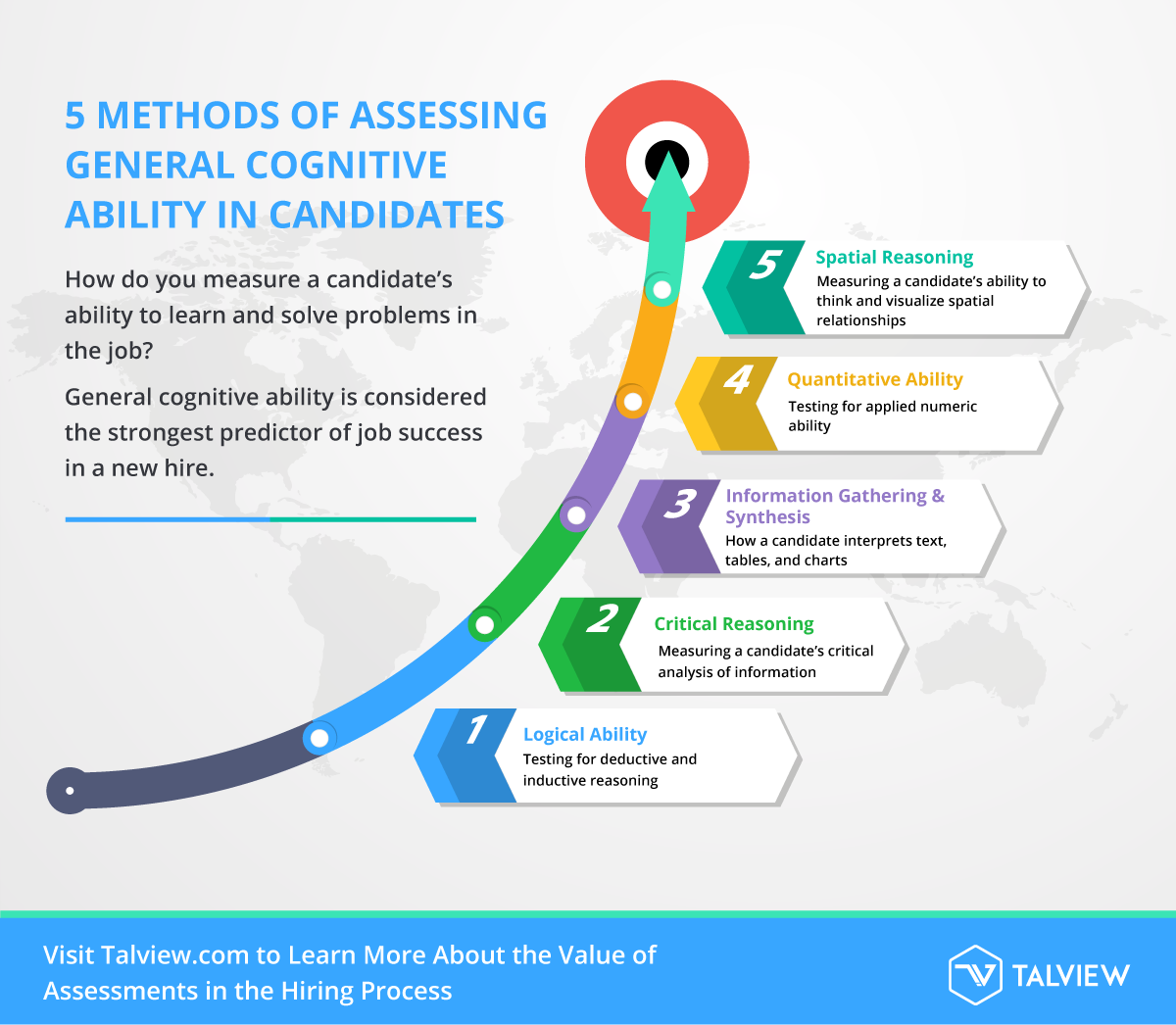 e-Assessment Conference
The International e-Assessment Conference and Awards 2022 is the world's foremost digital assessment conference organized by the e-Assessment Association. At the Conference you can hear from formative and summative assessment experts and practitioners from certification providers, workplace and professional awarding organizations, and more.
This year's in-person event is being held in London, UK, on the 21st and 22nd of June. In addition to insightful keynotes, presentations, workshops, and the exhibition, they will also be announcing the winners of the 2022 International e-Assessment Awards at the Awards Gala Dinner.
Talview will be joining the Conference, both as a presenter and an exhibitor. Drop by Booth B-10 to learn how the Talview Hiring Solution can support your assessment needs and join us for our presentation, Case Study: Remote Proctoring – What We Learned from the Pandemic.
Case Study: Remote Invigilation/Proctoring – What We Learned from the Pandemic

June 22 at 11:45 AM

Main Conference Room
If you plan to attend, Schedule a Meeting with us to reserve time to discuss your organization's specific needs. We hope to see you there.
Lessons Learned from the Global Pandemic
The pandemic has impacted the world in many ways. One of the key trends is the acceleration in the adoption of technologies that help personalize/localize remote experiences.​ The technology behind digital examinations is an area that has seen irreversible changes during the pandemic with the adoption of home-based remote proctored exams.
Today, remote exams and certification testing require a proctoring solution to avoid malpractice and cheating. The security and reliability delivered by remote proctoring in online exams provides viability and trust to the digital learning process and remote certifications.
Technology-based proctoring has proven to be far more efficient, scalable, effective, and objective than human proctoring alone. A high-quality remote proctoring solution typically delivers a better candidate experience, allowing test takers to focus on the content as opposed to struggling with an interface. It also potentially lowers costs and provides faster exam results processing compared to manual and more traditional platforms.​
Securing Remote Assessments
Organizations of all sizes need to continuously upskill and reskill their staff. The pace of these learning processes were greatly accelerated by the covid pandemic as operations were suddenly moved to remote, at-home work models. One of the side effects of this was the disruption of assessing, certifying, and upskilling of employees, apprentices, and interns in all types of organizations globally.
Our on-demand webinar, Online Proctoring: How to Assess, Certify and Upskill Learners Globally, featuring guest speakers from Cambridge Linguaskill, explores how Cambridge was able to roll out their online English language assessment worldwide with online assessments and proctoring.
Three key takeaways from the webinar:
The top 3 considerations for scaling up your certifications safely and confidently while providing a top-notch candidate experience 

How to successfully implement a proctoring solution to accelerate your digital transformation

How to design a successful business model to grow and scale your business globally