Frontline Workers Are Vital
Today, nearly 90% of worldwide organizations rely on frontline workers. Frontline workers are employees within essential industries who must physically show up to their jobs. These industries include healthcare, retail, hospitality, supply chain, protective services, etc. With the reopening of businesses post-pandemic, the demand for frontline workers has increased multifold. However, many organizations still struggle to hire frontline workers.
How can your business find and keep the workers it needs? 
Nearly 90% of worldwide organizations rely on frontline workers.
The Challenges of Hiring Frontline Workers
Our research points us to one of the biggest challenges of hiring frontline workers: labor squeeze. It is a situation where the cream of the candidate crop gets their choice of the top employers, and the companies that don't optimize and customize their hiring strategy get left behind. Here are five reasons for the dire state of labor squeeze today:
Fewer women in the workforce: As a result of school closures and the world going remote, many women are unable to sustain employment and take care of a family at the same time. 
Government stimulus packages: For many people, receiving COVID unemployment support from the government was an eye-opening experience. Returning to the world of work – especially if they need to pay for childcare or the job pays minimum wage – still doesn't make financial sense.
Growth of e-commerce: With online shopping numbers at an all-time high, many retailers struggle to meet the increasing demand for warehouse workers and delivery staff.
Health and safety concerns: Returning to a workplace with high levels of human contact and inconsistent healthcare policies can be off-putting and a matter of concern for workers after staying home for a long time.
Low immigration rates and travel restrictions: With global travel restrictions increasing daily, organizations that rely on the ex-pat population are badly hit.
With a high demand for frontline work across multiple industries, frontline workers have options, which have led to higher expectations. Now more than ever, prospective candidates are looking for flexibility, freedom, and security in their job and work environment.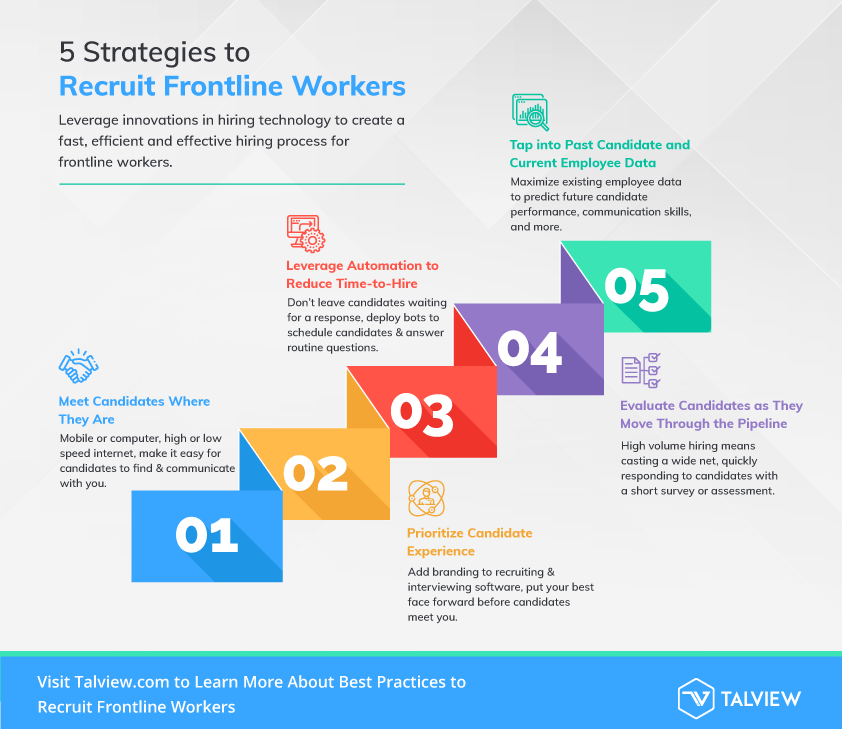 How to Recruit Frontline Workers
As the war for workers on the front lines continues to accelerate amid an extreme labor squeeze, it's only natural that businesses are looking to adopt technology to stand out in the crowd. At the end of the day, candidates want a low touch hiring process that minimizes the actions they have to take to push themselves through the funnel while providing a seamless experience. Here are five steps you can incorporate into your recruitment process to hire frontline talent effectively:
Meet candidates where they are: Whether on mobile or computer, using high-speed internet or low bandwidth wifi, you need to meet candidates where they are if you want them to stick to your hiring process.
Prioritize candidate experience: Enough has been said about the significance of candidate experience, especially in a remote-first world. It is vital to treat potential employees like you would a customer and ensure they have the best experience, which is authentic, transparent, and long-lasting.
Evaluate candidates as they move through the pipeline: Assessing the candidates throughout the pipeline is critical to ensuring the quality of hire. Leverage surveys, recorded interviews, assessments, and more to vet their potential.
Leverage automation to reduce time-to-hire: By taking too long to move candidates through the funnel, you risk losing quality candidates to your competitors. Automate routine tasks and spend the saved time doing meaningful activities without compromising the candidate's experience.
Tap into the past candidate and current employee data: Data is gold. Having a data pool of potential candidates from past interviews can help with future job openings, while the data on current employees can help upskill them to fit the dynamic market we are in today.
Embrace the New Normal of Recruiting
In conclusion, remote hiring is not just replicating what you do offline in an online environment. It is essential for organizations to keep the workers at the center of operations and build innovative recruitment strategies that would encourage frontline workers to choose the employer. The candidate's experience must be carefully crafted to give a genuine sense of your work environment. Adopting cutting-edge technology can help you hire the best talent faster while not compromising the candidate's experience. 
The Talview ebook, "5 Best Practices to Recruit Frontline Workers," explores the challenges of recruiting frontline workers and discusses five practical steps to hire the best frontline talent.