Topic Covered
1. Why remote certification is important?
2. What remote proctoring means?
3. Comparing Human proctoring Vs. Remote proctoring.
4. What Are the Essential Features of a Remote Proctoring Solution for the certification providers?
The significance of remote certification
In the digital age, remote certification testing is more important than ever to address the growing skills-gap in technical and highly trained talent. Businesses and technical certification providers need to make sure that their exams are being taken in a secure and reliable environment. This is where six essential capabilities for remote proctoring solutions come into play, especially for certification providers.
What remote proctoring mean?

Remote proctoring meaning in the context secure exam is monitoring and invigilating online exams, assessments, or tests to ensure their integrity and authenticity. It involves the use of technology to supervise and observe test-takers remotely, typically through a webcam, microphone, and screen-sharing capabilities. The primary goals of remote proctoring are to prevent cheating and maintain the security and credibility of online assessments.
Comparing Human Proctoring vs. Remote Proctoring.
Human Proctoring:
- In-Person Presence: Physical proctor on-site.
- Direct Oversight: Proctor directly observes test-takers.
- Physical Environment Control: Control over the testing environment.
- Face-to-Face Interaction: Immediate in-person assistance.
- Limited Scale: Typically confined to physical locations.

Remote Proctoring:
- Virtual Presence: Proctors not on-site, monitor remotely.
- Technology-Based Oversight: Webcam, AI, and screen-sharing.
- Limited Physical Environment Control: Less control over the environment.
- Digital Communication: Chat or video for remote assistance.
- Scale and Convenience: Suitable for online testing, scalable.

Opting for remote proctoring instead of human proctoring has become essential in today's world, even post-COVID, primarily due to the flexibility it offers in taking exams from any location and at any time.
Why is it Important?
As the business paradigm increasingly shifts from office work to remote work, the demand for online/remote proctoring services has grown exponentially. The pandemic has accelerated this trend, as remote work has become the new normal for many people.
This shift has been especially pronounced in the education and certification industries. Far beyond universities and colleges, certification providers – from programmers to software users and technical staff across industries – have moved their exams online. In addition, many business certifications can now be taken remotely.
However, this remote testing comes with its own set of challenges. How can you ensure that your exams are being taken in a secure environment? How can you prevent cheating, malpractice, and the sharing of exam content?
This is where remote proctoring comes in. Exam integrity is essential to the validity of online certifications. Successful cheating on a technical exam can invalidate the certification for everyone involved, casting doubt on the abilities of other certified professionals. To prevent cheating, remote proctoring solutions should have features like video and audio recording, stringent authentication protocols, and real-time monitoring.
An effective remote proctoring solution ensures the security of online exams by deterring cheating – monitoring exam takers for suspicious behavior, with a choice of automated proctoring software, qualified human proctors, or a combination of both.
How Does Remote Proctoring Work?
An enterprise-class remote proctoring solution offers a combination of live proctors and automated technology to continuously monitor all test takers. Live proctors can watch exam takers via webcam, or they can review recordings of the exam session later.
Suspicious behavior will be flagged automatically, easily accessible for proctors to review. For example, if a test taker is looking at a mobile phone or looking offscreen for extended periods of time, the automated proctoring solution can flag this behavior for human proctor review, including time and date stamps in the recording.
With an effective remote proctoring system in place, online certifications can be just as secure and reliable as in-person exams. Remote proctoring solutions can provide a high level of security and oversight, making online testing a viable option for certification exams.
Remote proctoring solutions should provide a number of benefits for certification providers, including:
Enhanced security: Remote proctoring solutions can help to secure your online exams and prevent cheating.

Improved accessibility: Make it easier for candidates to take exams, regardless of bandwidth, device or operating system.

Increased flexibility and a superior experience: Offer test takers increased flexibility, allowing them to take their exams at a time and location that is convenient for them.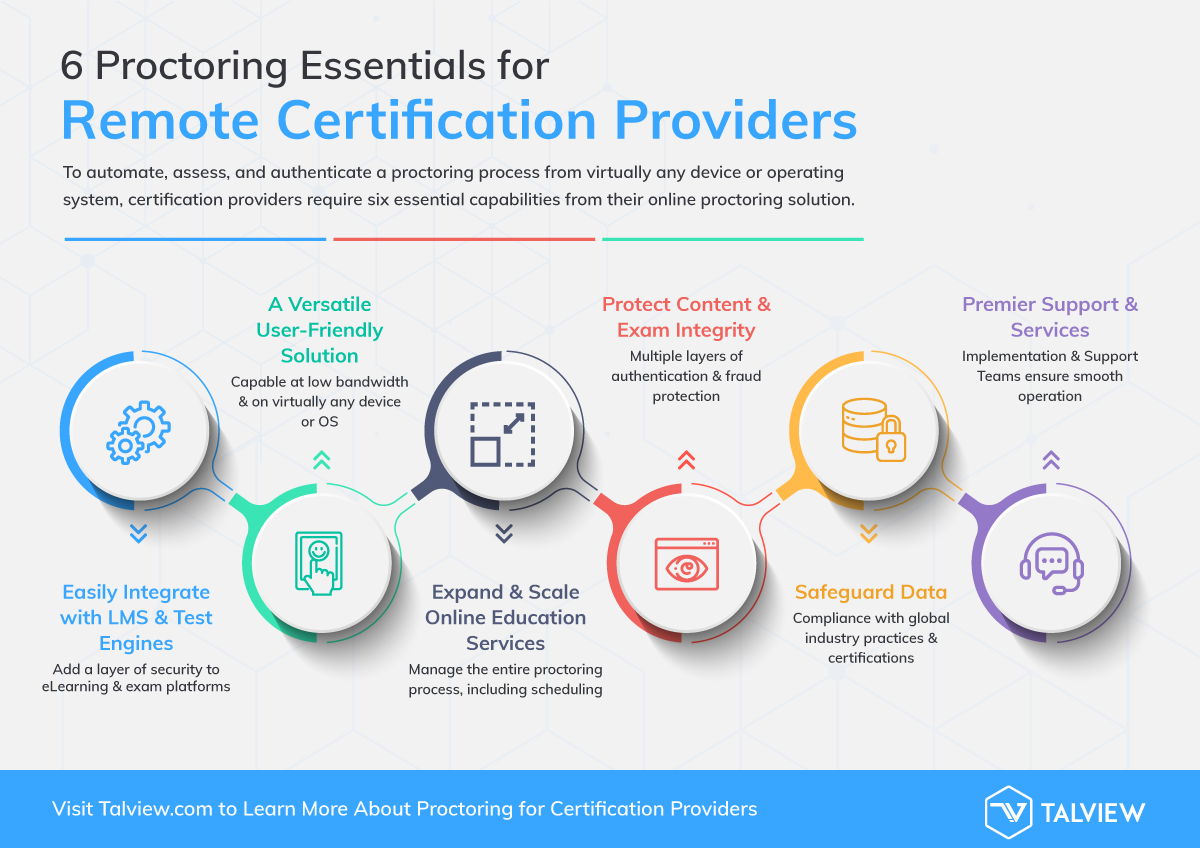 What Are the Essential Features of a Remote Proctoring Solution for the certification providers?
To automate, assess, and authenticate a proctoring process from virtually any device or operating system, certification providers require six essential capabilities from their online proctoring solution.
1. Easily Integrate with LMS & Test Engines
Flexibility and integrations are key when it comes to remote proctoring. Any remote proctoring solution should be flexible enough to accommodate different types of exams and test takers. It should easily integrate with learning management systems, test engines, and simulation platforms, adding a layer of security and trustworthiness to test results and certifications.
2. A Versatile User-Friendly Solution
Versatility is another must-have capability in a remote proctoring solution for certification providers. Make it easier for test takers, allowing them to focus on the content, not the interface. The solution must be capable of operating at low bandwidths and on virtually any internet device (mobile, tablets, laptops) or operating system (Android, iOS, Windows, MacOS, Linux).
3. Expand & Scale Online Education Services
An enterprise-class remote proctoring solution will allow you to manage the entire proctoring workflow from a single solution – scheduling, proctoring, authenticating, managing test takers, sourcing live proctors, and monitoring – regardless of the number or frequency of test takers.
4. Protect Content & Exam Integrity
The proctoring solution should help ensure the integrity of your exam with multiple layers of authentication, fraud detection, and a lock-down exam browser.
5. Safeguard Your Data
With all the cyber-attacks and malicious actors being reported on a daily basis, it's vital that a remote proctoring solution complies with global industry practices and certifications, such as GDPR, PDPA, CPPA, ISO 27001:2013, and SOC 2.
6. Premier Support & Services
Enterprise-grade implementation and support services teams are the number one way to ensure your online certification programs run smoothly.
Talview Simplifies Remote Proctoring for Certification Providers
The Talview remote Proctoring Solution for Certification Providers is engineered to be secure, flexible, and easy to use. The solution's ability to scale guarantees it can be efficiently deployed by organizations of all sizes and industries. Visit Talview.com to learn more.
Even prior to the pandemic, companies across technology and BFSI industries struggled to access the talent they needed. Now, in the context of remote work, accelerated digital transformation, and the Great Resignation, it's become even harder for these businesses to find skilled workers.
The advent of The Great Resignation has compounded an already altered landscape that is still dealing with the fallout of COVID-19, with companies across technology & BFSI bearing the brunt. This has resulted in a significant skills-gap in the worldwide talent pool.
The Talview white paper, Addressing the Demand for Skilled Talent, explores methods of managing the talent supply chain.