This article has been updated on November, 2022.
Sanjoe Tom Jose is a thought leader, author, and well-known keynote speaker in the HR Technology space, as well as the Co-founder & CEO of Talview. He is passionate about building technologies that make talent management at organizations more effective and efficient. His innovations include a comprehensive suite of Hiring Solutions and Proctoring Solutions.
In 2022, he introduced HR and talent acquisition professionals to two new solutions to address the major changes in today's hiring and certifications landscape:
Talview Interview Insights

, providing insights into both the candidate and the interviewer's performance, as well as a feedback loop to improve the interviewer skills.

Talview Exam Solutions for Certification Providers

, designed to orchestrate everything you need to cost-effectively test and proctor online, while providing a secure, accessible experience and 24/7 real-time support to test takers.
Sanjoe continues to study the hiring process at scale for enterprises, developing solutions like the Instahiring Experience. His goal is to use Artificial Intelligence, Cloud, and Automation technologies to empower organizations to meet their talent needs, while enabling candidates and learners to succeed to their fullest potential.
Sanjoe Tom Jose has been honored with a Gold Stevie Award in the Tech Innovator of the Year – Services category, and a Bronze Stevie Award in Entrepreneur of the Year – Business & Professional Services. He has also received the Thought Leadership and HR Excellence (Provider) Award from the HRO Today Association Awards.
Under Sanjoe's leadership, Talview has won the IBM Beacon Award for Outstanding Talent Management Solution, and the Partner Category Award at Microsoft's AI Awards 2.0. Talview's latest offering, Interview Insights, took home the Top HR Product of the Year, Talent Acquisition, Award.
A serial entrepreneur, Sanjoe founded Talview in 2017 and has driven its vision and strategy since its inception. He is an author and well-known keynote speaker in the areas of AI, Startups, and HR Technology. He has spoken at various international forums like Microsoft Industry Days, IBM Business Connect, Horasis, StartupBridge, SEAAGE, SHRI, PeopleMatters, etc., and been featured in leading podcasts and magazines.
He enjoys writing articles and sharing insights on various platforms and publications. He is a contributing author for the Forbes Magazine (linking a few of his articles below). You can his writing on the Talview website, LinkedIn, and on the partial list below.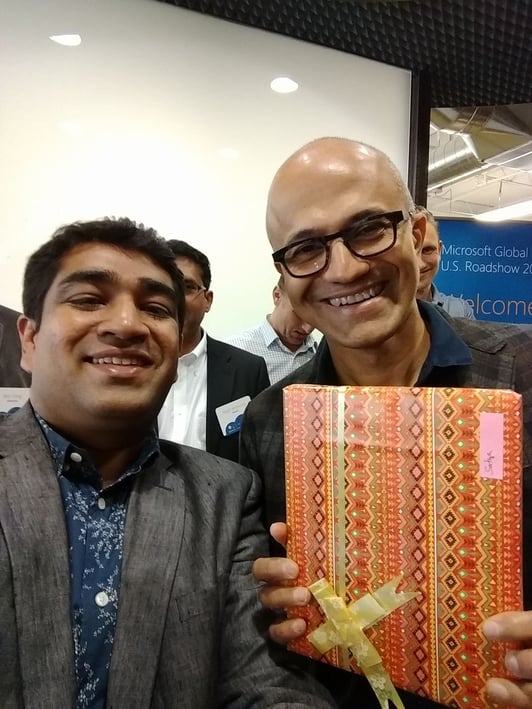 Sanjoe with Satya Nadella, Microsoft CEO
Recently Published Articles: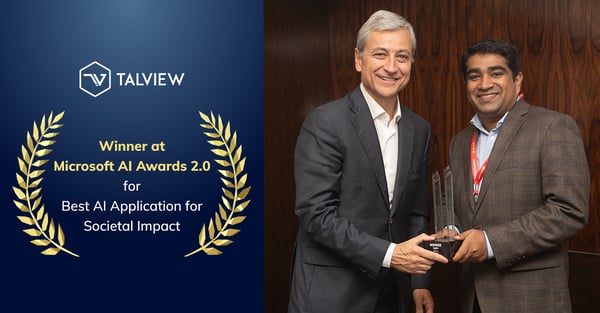 Talview wins the "Best AI Application for Societal Impact" at Microsoft's AI Awards 2.0
Sanjoe actively participates in various industry-specific events, interviews, webinars, and conferences where he was called as a speaker. Talview / Sanjoe has also won several international awards.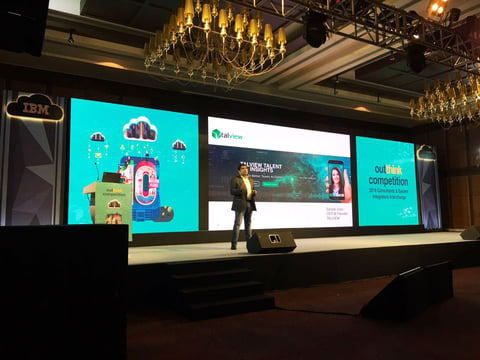 On many occasions, Sanjoe and Talview have been featured on various publications. Here's a list of popular articles that have featured or mentioned Talview or Sanjoe.