Assessments provide key insights beyond a candidate's resume. They can verify the knowledge and skills a candidate possess. They can be used to quantify factors such as communication skills, behaviors, motivations, and more. They can be used to determine the level of cultural fit between a candidate and an organization.
The bottom line? Companies use assessments to predict future work performance. This can be useful for both hiring and internal mobility, such as lateral or promotional role change within the organization.
Below are a few videos from the Ask Dr. Fred series.
We Use Assessments, But Still Have Poor Work Performance?
Organizations rely on pre-hire skill assessments to gauge a candidate's future performance, but frequently overlook the value of behavioral assessments for personality, motivation, and attitude. This oversight can render your hiring process less effective and efficient.
Not Having Success Hiring the Best Employees?
Too often, organizations overlook the value of assessments for other aspects such as communication, personality, behavior, and motivation. This can negatively impact the cost per hire, time to hire, and the overall quality of hire.
Employee Retention - Will Assessments Help?
We all know the goal of any hiring process is to fill an urgently needed role at the organization. Retaining your best employees remains the single most effective strategy to maintaining operational efficiency. Using assessments for aspects such as personality, behavioral tendencies, and other factors that influence employee performance and cultural fit can significantly improve employee retention.
Who is Dr. Fred Rafilson?
Dr. Fred Rafilson is skilled industrial/organizational psychologist with over three decades of experience. A recognized expert in all aspects of the assessment industry, Dr. Rafilson has authored and published over 30 employment exams that assess cognitive abilities, skills, personality traits, motivation & attitude, etc. He has developed and implemented assessment processes for hundreds of companies/ organizations as well as federal, state, and county/municipal agencies. He has also conducted scientific research and program evaluations, providing presentations and training to executive level private and public-sector groups. As an expert for employment litigation cases, he often works closely with agencies under DOJ consent decrees. Dr. Rafilson is the Chief I/O Psychologist for Talview.
Ask Dr. Fred a Question about assessments, psychometrics, cognitive ability testing, the use of AI in assessments, interview best practices, and more.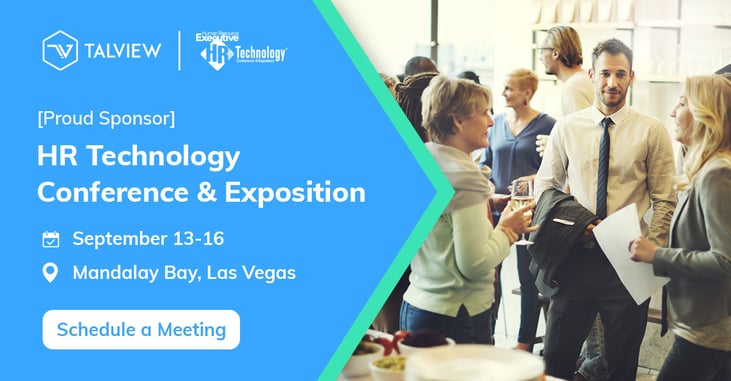 HR Technology Conference & Exposition
Talview and Dr. Fred will be at the HR Technology Conference & Exposition, the industry's leading independent event for HR and IT professionals from businesses of all sizes, all industries and across the globe.
Talview Session on the Candidate Interview
Dr. Fred will be presenting a Conference session, Build Exponentially Better Teams Through Best-in-Class Interviewing, along with Sanjoe Tom Jose, Founder & CEO of Talview.
Talview at Booth #2429
Drop by booth #2429 to hear our big news about our latest innovative Hiring Solution.
Enter Our Drawing for an E-Bike!
We will be holding a drawing for a Swag cycle EB-5 Plus Folding Electric Bike. Pedal or go full throttle with the battery to reach your destination. Enter to win at our booth. We will ship the folding E-Bike to the winner at no cost. We're excited to award the E-Bike to one lucky winner!
Schedule a Meeting with us to reserve time to see a personal demo of our new Hiring Solution and to discuss your organization's specific recruiting, talent acquisition, and proctoring needs.
We look forward to seeing you at the Conference.