If you want to provide the best candidate experience, you must stop thinking like an employer and start thinking like a consumer or candidate.
In our 5th Annual HR Conference — Instahiring 2021, Breaking the Barriers, Abhijit Bhaduri of Abhijit Bhaduri & Associates joined us for a keynote session on creating a consumer-like candidate experience.
Mentioned below are some of the highlights from the session. You can also watch the keynote on demand by clicking the image below.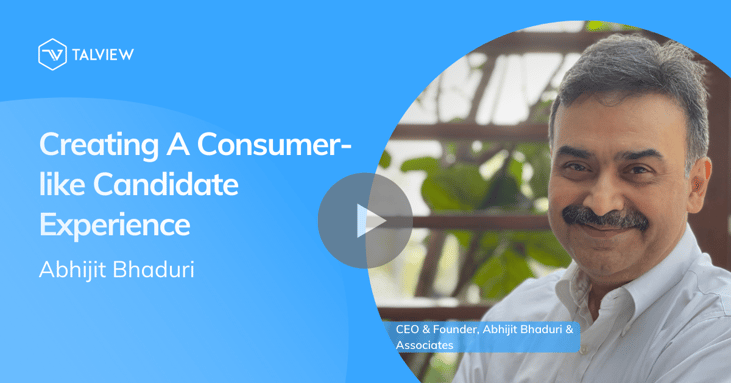 01:45 — Importance of understanding consumer behavior
14:30 — In-depth analysis and secrets to creating top-notch candidate experience
35:05 — Q&A
An employee is a candidate who has felt valued.
Bhaduri started the keynote highlighting the importance of understanding a candidate's behavior and thought process. He spoke about how the candidate today has tons of choices, because of which it is imperative for the employers to make sure the candidates have an exceptional experience throughout the hiring process.
Per Bhaduri, one of the most important things to keep in mind is that our definitions of time have become very sharp. He goes on to share a personal experience that emphasizes on how the older definitions of time are no longer valid. He also talks about how technology has made people quite impatient, and how that affects a consumer's expectations and experience.
People assume only candidates from urban areas look for a great hiring experience, and that is not true at all. Candidates from every corner of the world look forward to a top-notch hiring experience.
He then highlights the significance of interaction in the hiring process. People today want to be a part of the process as much as possible. Bhaduri dives deep into why time is of essence when you want to provide a top-notch candidate experience. The best candidate is available in the market for only 10 days, and if your recruiting process is any longer you are in the danger of losing your best candidate.
It is high time employers map a candidate's journey and see where it is that they can save time to ensure a great experience for the potential employee.
According to Bhaduri, experiences matter a lot more than processes. He sheds light on why employers should step into the shoes of the candidates if they really want to provide an unforgettable experience. Bhaduri then points out four elements that are a crucial part of the experience economy — Speed, ease of use, real-time communication, and comparison shopping.
Candidates have a lot of choices, and if you don't think like them, you will never find the best talent. Stop thinking of them as a candidate and start seeing them as consumers.
This is not all. Learn the three factors that are driving candidate experience today, secrets of a great candidate experience and many such exclusive information by accessing the session on-demand right away.