Cognitive Analytics To The Rescue
My boss and I had decided we need more people in the team. We set up assessments sent out invites - they were mostly freshers or referrals. I got notified that candidates took the assessments - I shortlisted a few and sent the videos over to my boss. He further shortlisted a few and sent it back asking me to make the final selection. I was so confused whom to hire! I started browsing the internet for articles on how to make better decisions while hiring. First of all, there weren't many articles to help me with and to top that some articles told me I should check their behavior and what not. I wasn't going to do all that!
I was only hoping something helps me with the decision making process of considering if the candidate is good or not.
Don't you wish decision-making process was made simpler for you? Find out from how he talks about his attitude without depending on recruiters?
Also, a study by Harward Business Review said, "The use of analytics can hugely improve the quality of [hiring manager's] decisions and can increase decision process efficiency by as much as 25%." So, it is important to rely on an unbiased, scientific tool that bases itself on well-proven psychometric and psychopathology theories.
Why it is important for me to look at the behavior? Our team is perfect right now, it's just that we need someone to take the load off, someone who matches our wavelength. Without that, he will only be an outsider, who will forever be called "the new guy." Worse, team squabbling over every single idea!
What if there is a magical wand like that? I'm kidding! There's no wand like that, but there is a platform that can help.
It all started when my boss started talking to his clients who were in a similar fix about whom to hire?
So, the platform is called Talview Talent Insights - it helps hiring managers select the right candidates based on skills, competencies (you name it: coding, typing test, grammar test, aptitude or anything else for that matter) and behavior.
With the help of people analytics and learnings from one million video interviews that we have hosted for our clients, Talview has come up with this tool that helps hiring managers hire candidates that match your team's attitude. And if you are freshly building a team then you need not look very far.
Using cognitive filtering techniques based on Big Five Intrinsic Needs and Values Model, you can identify the best candidate options; this will help hiring managers take complex decisions.
And no it will not be scary numbers and too many graphs, the platform offers magic graphs, smart visualization and analytical recommendations for easy execution.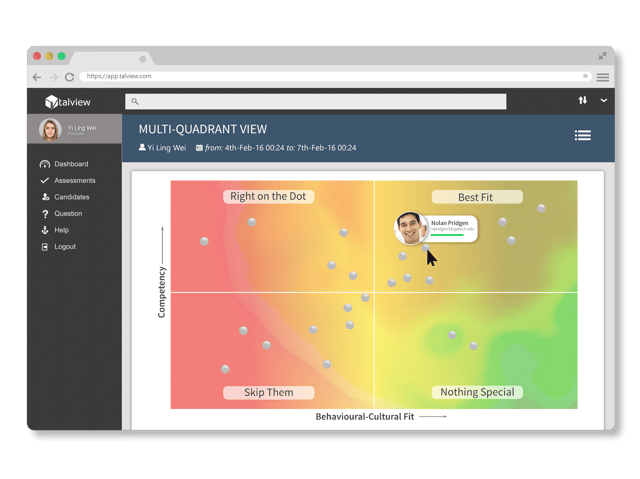 With Talview, decision-making is more objective - it helps organizations assess candidates on multiple aspects and help them compare candidates in a visually appealing multi-quadrant view. It leads to better decisions...better teams and better organizational competitive advantage.
It is made for hiring managers - using models recruiters are comfortable with - bearing business success on mind.