Imagine screening as many as 25,000 job applicants in one day! That's exactly what Best Buy encounters during the height of their hiring season for the holidays. 1,000 new hires a day with 35,000 in October 2020 alone.
During our Instahiring 2021 - Breaking the Barriers virtual event, Colin Danaher, VP of Sales, Talview, interviewed Sarah McPherson, Senior D&T Product Manager – Hiring and Onboarding, Best Buy, on a variety of topics related to Best Buy, recruitment automation, and the future of remote work.
We summarized the key topics from the fireside chat below. You can also watch the Fireside Chat with Best Buy on-demand and skip to these sections of the conversation: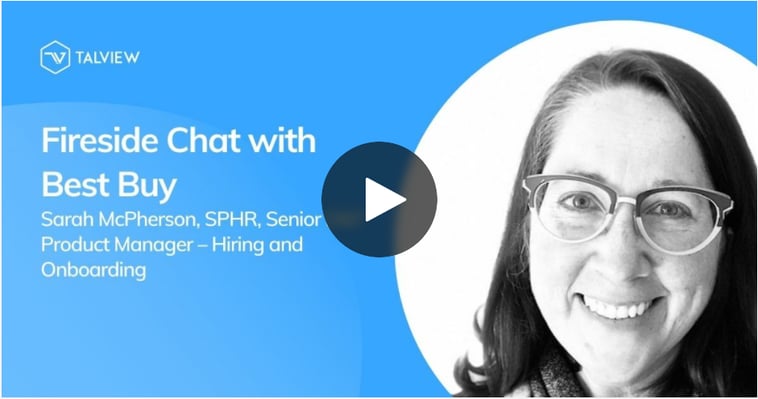 18:35 Why Best Buy chose Talview
26:20 The vision and primary use case for high volume hourly hiring of 35k employees
30:25 The role of asynchronous video to represent the Best Buy brand
33:00 How Best Buy plans to use AI
34:36 The store leader role & human interaction
37:35 Hiring for a global workforce post pandemic & opportunity
One Key Business Challenge was Time to Hire
When asked to highlight the business challenge for considering hiring software like Talview's, McPherson shared an anecdote. On a call, a retail executive remarked to her, "I am just tired of having the stores tell me that by the time they get a hold of an applicant, they already work for another company."
Ultimately, if candidates are on the market for only 10 days, then Best Buy's hiring process had to be better. After honing their process for the last 2 years, McPherson said that the company was ready to incorporate a "more on-demand interview solution to help facilitate an even faster process… to get down to 8-10 days."
Infusing Feeling into Video Interviews
A video in itself is not impersonal. A video done right can be very personal.
When asked about the role of video with regard to the company's brand and experience, McPherson pointed to commercials and video as ways to effectively communicate one's culture. It starts with the process and a quality video that then communicates culture.
A significant component is incorporating what McPherson called "feeling". For example, when the company was revamping its career page, corporate employees remarked on the "feeling" they had when they walked into the corporate headquarters. For store employees, that feeling was the interaction with employees.
As a result, Best Buy consciously considers how to instill this "feeling" at the beginning of an asynchronous video interview. Instead of having the question appear on the screen, Best Buy has a person ask the question in the tone and manner as one would in real life.
Finally, video production value does matter.
Use of Artificial Intelligence in Hiring Decision Making
Regarding the use of AI as part of the hiring process, McPherson indicated that since the company is early in the journey, they intend to use AI to help stack rank candidates initially. They also are taking their store leaders into consideration.
For store leaders, they are building a culture at their location or as McPherson stated, a family. Therefore, Best Buy is being conscientious about not removing a touch point where a team member assesses job applications for that store location's culture. Once they determine that using AI is non-biased and a good experience, McPherson indicated that they may reconsider this in the future.
Danaher clarified that the technology Best Buy will use is Talview Behavioral Insights, which is, "an AI algorithm that translates speech to text from these videos that candidates go through and evaluate the text for the competencies that the Best Buy team has determined to be core to their organization." Ultimately, this reduces bias in the hiring process as evaluation is not based on tone, inflection, or facial gestures.
Beyond a Technology: Talview as a Partner
According to McPherson, Best Buy had several requirements to consider in a technology partner:
On-demand, engaging interviews
The mechanism to automatically schedule in-person interviews from on-demand interviews
Ability to conduct live interviews virtually
Another factor is the role of AI to recommend the best talent to hiring managers in a nonbiased way.
In the case of Talview, the AI wasn't a "black box" with algorithms working behind the scenes. Rather, the company's Talview Behavioral Insights functionality provided tangible reports that were transparent in how talent was ranked, and which responses were tied to which factors. Beyond technology, it also came down to Talview's commitment to adapt and work with Best Buy on their initiative. Per McPherson,
They [Talview] can do everything we want. We're comfortable with the way their AI works. They check all the boxes and on top of that, we also feel like that in them we don't just have a technology delivery mechanism. We have partners.