For many CEOs, retaining top talent is critical for the success of the company. Why? Because it has a direct impact on company revenue.
During our Instahiring 2021 - Breaking the Barriers virtual event, Lisa McGill, CHRO of Silver Peak and former CHRO of CrowdStrike, spoke on how manual processes or traditional methods and disconnected HR systems can slow your HR and talent acquisition teams down, especially when you're hiring quickly and at scale due to growth, market expansion, or a new project. She discussed how the right HR technology and AI can help automate your process, methods, and fill positions quickly without compromising the quality of talent.

We summarized the key points from the presentation below. You can also watch Hiring for Hyper-Growth on demand and skip to these sections of the presentation: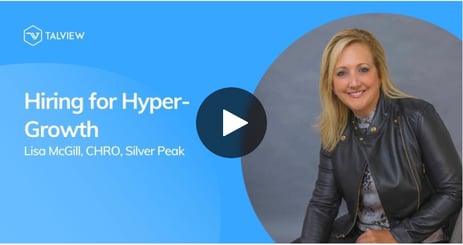 Introduction
02:20: Why hiring the right people impacts revenue
05:21: CrowdStrike case study on using recruitment software and AI for engineering and sales hires
17:50: The Employee Lifecycle – building a long-term relationship
23:15: Q&A with Lisa McGill
Hire the Right People First
McGill starts by spotlighting how important it is to recruit and hire the right people first. As an example, she cited a Gallup poll that indicated that best performing salespeople frequently sell 4-10X as much as average performers. These individuals create more profitability for the company, develop good relationships with customers, which in turn increases customer loyalty.
Recruiting the best people and getting it right the first time has a direct impact on revenue.
In terms of engineering talent, hiring innovators can dramatically improve results because innovators have 10-25x more output than their counterparts.
CrowdStrike Business Case: Moving to Recruitment Automation and AI
When McGill first joined CrowdStrike, the company expected to grow revenue 4x in anticipation of an IPO. This required aggressively growing the company from 500 to 2,500 employees in 2 years. Yet, the company had challenges related to hiring sales and engineering talent.
For example, they discovered that engineering managers were spending half of their time recruiting, interviewing, and testing talent. This was causing product delays, burn out, and costly productivity loss.
As she described the hiring process at the time:
Our manual processes and doing things in kind of the traditional method – disconnected HR systems, no collaboration – it will seriously slow you down and need to improve hiring speed without compromising the quality of hire.
The company turned to digital transformation to improve automation and streamline their HR process and systems. They brought in AI tools for interview scheduling, candidate assessments, and behavioral insights. While there was initial resistance from the TA and recruitment teams, who feared that AI would replace them, McGill successfully communicated that:
AI was never going to replace the value in their relationship building. Their ability to sell the company to candidates. Their ability to build that trust, that rapport. Nothing could replace that.
They brought in a 3rd party company to test and interview engineers. This lowered the amount of time hiring managers spent on the recruiting process by 25%, which enabled them to have focused conversations with qualified candidates regarding the role, expectations, and CrowdStrike. Ultimately, the digital transformation saved the company money in terms of time savings, candidate experience, and improved quality of hire.
Employee Lifecycle – Building a Long-Term Relationship
According to McGill, while recruiting is a key part of HR and recruiting, proactive communication and engagement throughout the employee lifecycle is critical. This requires reinforcing why employees should stay, learn, grow, and be challenged throughout their career. These relationships are critical for "finding, hiring, and keeping the very top people."
How is this done? Effective relationships require continual connection, such as:
Transparency and authenticity during the recruiting process
Regular feedback when employees take on projects or seek promotions
Recognition throughout the employee lifecycle
In quoting Richard Branson of Virgin, McGill stated:
If we train people well enough so they can leave, but treat them well enough, they won't want to [leave].