After months of countdown, nerves, and jitters, Instahiring 2020 finally took place on 19th and 20th February, and was a massive success; thanks to the organizers, speakers, delegates, and sponsor!
Unlike the years before this one, Instahiring 2020 was a two-day event where over 500+ HR leaders and practitioners from across organisations (United Nations, SUN Pharma, Accenture, Cerner, Philips, HGS, and Coca Cola, etc), industries, and countries (USA, Singapore, India, & Thailand) came together to engage on the latest recruitment trends and technology.
It doesn't end there; Instahiring 2020 saw delegates from HR coming from varying industries (like ITeS, BFSI, B2B, B2C, Retail, etc), from organizations that are well established or start-ups, entrepreneurs or exceptional practitioners.
Conceptualized as TalQuest in 2016, the event has since been a staple annual feature comprising of over 25 knowledge sessions, 50+ speakers, breakout sessions, hackathon, certifications, awards, and fun entertainment with a mentalist and live music. Here's a brief overview of both the days.
The theme of the event was Beating Hiring Lag; reiterating the significance of 'time to hire' in the modern recruiting scenario and discussing strategies to beat hiring lag in organizations. Where the sessions on Day 1 mainly focused on industry-wide issues related to recruitment faced by enterprises and how to beat them, day 2 was more about diversity in the workplace, transforming work spaces, and building strong work cultures.
Day 1 started with "A Day In The Life '' video that describes a typical Instahiring experience that lets you hire candidates within hours. You can watch the video here: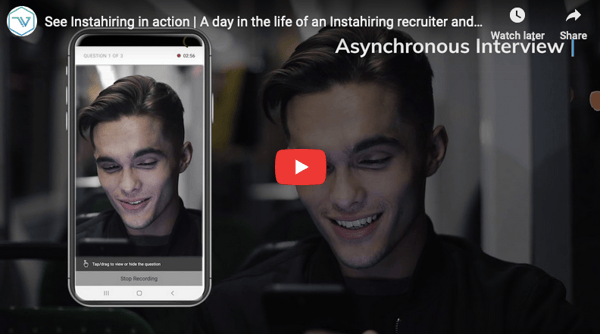 Thought-Leadership Keynote Sessions
Sponsored by Microsoft, the event saw HR professionals, leaders, practitioners and even students from across the globe coming together to discuss industry-wide challenges, solutions and trends. There were keynote sessions by global speakers like Scott Wintrip, the author of High Velocity Hiring and the founder of Scott Wintrip Consulting; Sanjoe Tom Jose, Founder and CEO at Talview; Vir Kashyap, director at Indeed; Nabomita Mazumdar, Ambassador to Ministry of Women and Child Development; Chad Fife, VP of Marketing at Talview; Abhijit Bhaduri, founder of Abhijit Bhaduri & Associates; Dan Arildson, VP Business Development and Alliances at Talview; and Sanjay Iyer, Technology Solution Lead at Microsoft. Having global speakers ensured that the conversations and debates taking place in the room were not restricted to a specific region only.
In his opening keynote session, Sanjoe showed the importance of time to hire by linking many powerful metrics to hiring speed and reiterated that Instahiring is the future of recruitment. He spoke about the various hurdles that stop organizations from achieving a seamless hiring process and how organizations can overcome these hurdles through automation, reusing of old/existing data, and using an anytime, anywhere & any device tool.
Chad talked about how Gen Z values companies and jobs that have social worth based on observing his own teenage kids and how Gen Z wants to search for experiences, not jobs. He showed examples of how career paths and career mobility are key factors of the future.
Abhijit emphasised on the joint effort of humans and technology in recruitment. While technology brings efficiency in the process, humans are and will always bring the effectiveness. With this, Abhijit showed us the power and importance of hiring speed through his beautiful illustrations and stories which definitely impressed the audience and kept them hooked.
"Speed of hire can be a game-changer for a recruiter while shaping candidate experience…while technology must be leveraged to automate repetitive jobs, the role of the recruiter is to build relationships." - Abhijit Badhuri
In another keynote, Vir had invited a middle-aged man on stage who happily shared his experience as a gig worker in an upcoming organization. This broke the image of a gig worker being a millennial or a Gen Z person for many. Discussing these issues made the event very dynamic and informative, even for experts who have been in the industry for decades.
Bringing the entertainment factor was Scott Wintrip who came all the way from Florida to inspire us to pick our candidate deal-makers and breakers and teach us the Hiring Shuffle which pumped the room with a boost of energy. Watch Scott in action in the below video!
Engaging Panel Discussions
The panel discussions at Instahiring 2020 were one of the best and quite well received. They were rich in information, innovative, and received much applause for covering a diverse range of topics and having a good mix of panels for each session.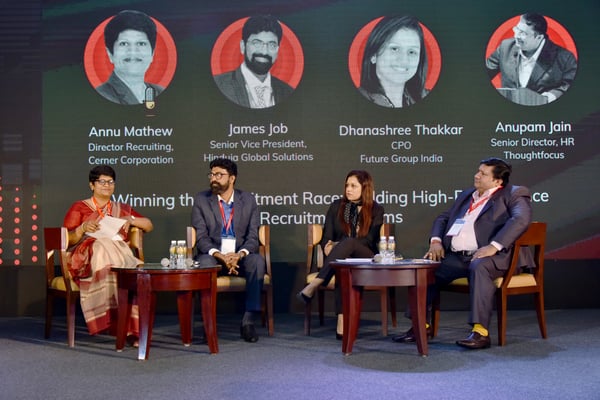 When talking about the talent pool in the market today, Lathika Pai, country head of Microsoft said,
"It's not the big eating the small, it's the fast eating the slow."
Another interesting panel that stood out for most was the one on campus hiring, where the panelists decided to change the agenda and invite fresh graduates on stage alongside campus recruiters and experts with the aim of bridging the gap between the two parties during drives.
"Business, campus, student, interview panel — all 4 have to be engaged in synergy to make campus hiring a success."
Advanced Knowledge-Sharing Sessions and Certifications
Apart from its assorted mix of knowledge sessions that highlighted the event for most of us, Instahiring 2020 also had in store Certifications, Braindates, Transformation stories, quizzes, leadership dinner, live music, and a mind reader with some mind-boggling tricks for evening entertainment.
We had Fast-Track Certifications and Black-Belt Certifications that were a part of Transformation stories at the event, taught by our Instahiring Advisors, for anyone who wanted to become a certified Instahiring Master Recruiter or an effective digital transformer in the new age of recruitment. There were HR leaders carefully selected to talk about the advantages and benefits of Instahiring. These leaders who presented their individual organizational transformation stories were Prithvi Shergill, Girish Sharma, Satadru Banerjee, & Rajeev Menon from organizations like KPISOFT, Accenture, Aditya Birla Group, & Talview.
If that wasn't enough, all through the two-days of Instahiring, there were quizzes at the end of each session that worked as a survey of questions pertinent to Talent Acquisition or that again saw excellent participation from the delegates who had to answer the questions on their phones. For example, this is a question that was asked after a panel discussion on gig economy: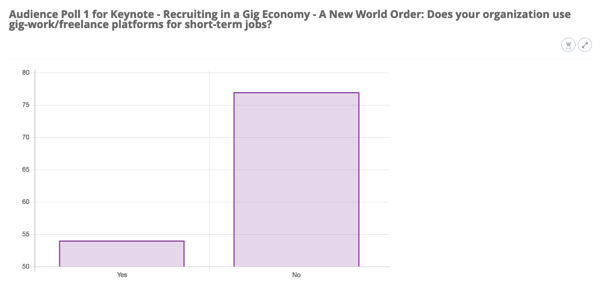 Conclusion
From making HR professionals dance at a conference and having panel discussions with a twist to organizing a one-of-its-kind Hackathon for Human Resources and wow-ing everyone with psychological tricks, Instahiring 2020 brought out all sides of its speakers as well as its delegates and gave us much to learn and think about the continuous innovation in this shape-shifting field of talent acquisition. Our event hashtag #Instahiring2020 and #Instahiring garnered much love as we had around 500+ tweets that helped us trend #1 on Twitter locally on 19th February.
A key outcome of the event was a unanimous consensus on the pivotal role of 'time to hire' in ensuring quality hires and a positive candidate experience, hiring lag as the common 'enemy' and Instahiring experience as the way to beat it. Looking ahead in 2020, Talview aims to expand the Instahiring community globally with similar in locations across the globe such as San Francisco, New York, Singapore, and other cities.
For updates regarding the event, you can subscribe to our monthly newsletter by filling the form at the bottom of the page. If you missed the event this year, I'm sure after reading this, you will not want to miss it next year.