Instahiring events from Talview have always had a distinct flavor of being a technology-driven, solution-centric forum enthusiastically attended by Industry experts and Tech enthusiasts alike. The Instahiring 2023, held on Jan 19, 2023, was no different and despite the challenges of post-pandemic environment, was attended by industry leaders to help shape the future of mass hiring in ITeS/ BPM industry. We couldn't be more thankful to the hard work and dedication of the organizers, Talsters, and all the speakers and attendees who helped us in making the event such a huge success.
The event was split into two sessions - the morning session was focused on volume hiring in the IT-BPM sector and the afternoon session on campus recruitment. Around 200+ HR leaders and practitioners from across organisations (Microsoft, Sagilityhealth, HCL, Velocity, IBM, TCS and more) and industries came together to engage on the latest recruitment trends and technology.
The event not only focused on business, but also featured a live culinary demonstration by celebrity MasterChef Shipra Khanna. Talking about the challenges of maintaining a balance between work and a healthy lifestyle, she expanded on the importance of mindful eating habits. With that in mind, she prepared some easy healthy snacks with millets, which was also voted the International Food of 2023.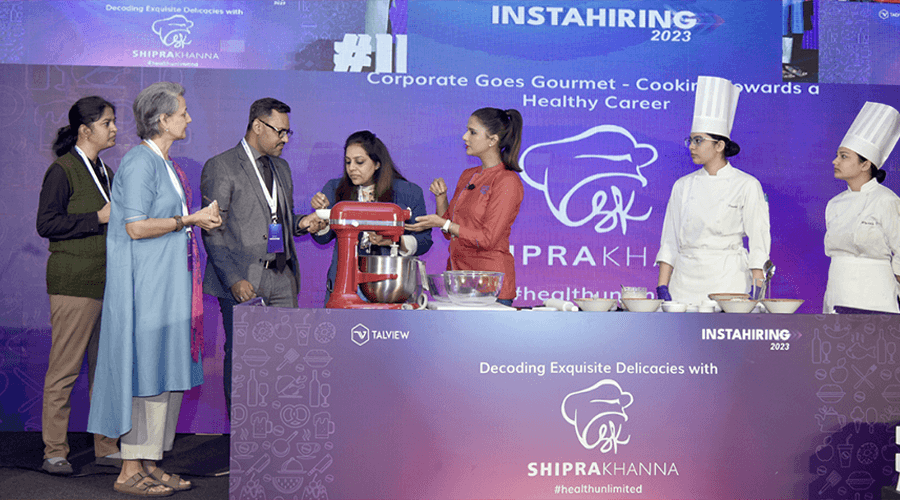 The theme of this year's Instahiring event was Volume Hiring, which centered on the difficulties organizations face when hiring at scale. With the launch of Talview's newest innovation, Volume Hiring Module, we were able to showcase how we plan to tackle these unique challenges.

In his opening keynote session, Sanjoe Jose CEO of Talview, talked about the volume hiring landscape and what challenges do organizations typically face while planning and executing mass hiring drives.
We also had various distinguished speakers from the industry discussing the future of volume hiring: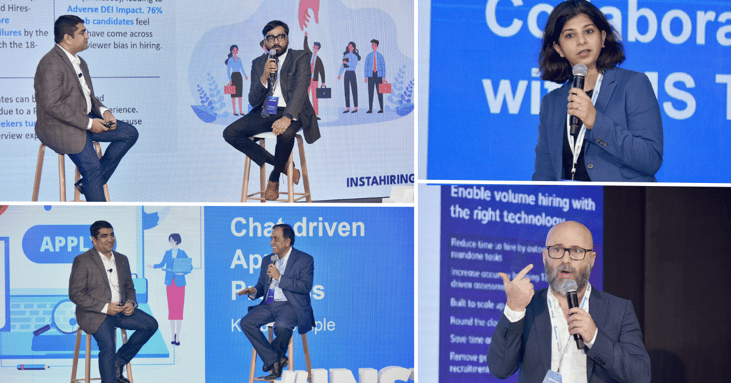 The sessions at Instahiring 2023 covered a range of topics related to mass hiring, including the increasing prevalence of candidate impersonation in online interviews, especially in the tech industry. The event also delved into the interview experience from the candidate's perspective, the inefficiencies in the interview process, and ways to eliminate bias through automated interview insights, which provide feedback to interviewers and much more.
Our in-house experts Rajeev Menon, Sayan Gupta, Harjoth Singh and Ayush took the stage to share their expertise and explain how Talview's new volume hiring solution can benefit organizations accompanied by videos to showcase the solution. They highlighted the key features, including intelligent interview scheduling, e-Lobby, interview insights for evaluating interviewer skills, automated workflows with an integrated chatbot, assessments, and video interviews.
Interactive Booths
Demo booths were setup for the delegates to experience the volume hiring solutions. We had a fantastic interaction in all the booths. We had demo booths on – Intelligent Scheduling & Event Hiring, Metaversified Hiring & Chat Driven Apply Process, AI Insights for Interviews, Talview Talent Exchange & Assessments and Preventing Proxy Hires.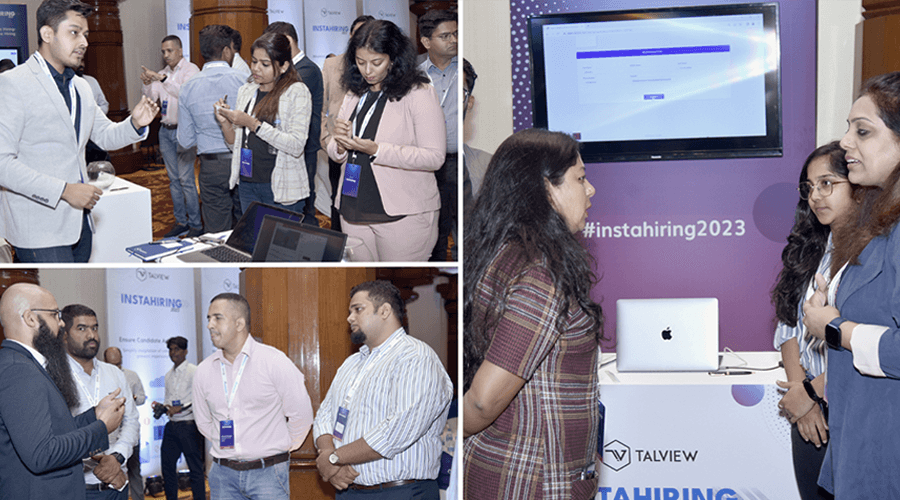 Instahiring 2023 was a dynamic event that not only provided attendees with insights into the challenges of volume hiring, but also demonstrated how Talview's volume hiring module can be used to address those challenges. The event brought together a diverse group of speakers and delegates and offered valuable lessons and perspectives on the constantly evolving field of talent acquisition. If you missed the event this year, be sure to subscribe to our monthly newsletter by filling out the form at the bottom of the page to stay informed about next year's event. You won't want to miss it!