For thousands of years, humans have lived alongside each other as equals. Over time, we developed new ways to communicate, faster transportation, and more productive ways to live and work.
But, we also developed new biases.
Research shows that hunter and gatherer tribes were not actually the macho patriarchies that we think about today. Studies show these tribes were egalitarian with gender and sexual equality. In fact, some are even pushing to change the term "hunter and gatherer" to "gatherer and hunter" because of the fact that women gatherers provided roughly 80% of tribal sustenance.
It wasn't until much later, roughly 12,000 years ago, that humans began to settle in agricultural societies that patriarchy, and sexism, began to dominate.
These gender-based biases still persist today.
According to global research, 90 percent of people are biased against women, with beliefs ranging from 'men make better political and business leaders' to even roughly 33% of those surveyed believing it's acceptable for a man to beat his wife (it's not.) Those deep-seated biases impact our workplaces, as well.
In 2019, PayScale's The State of the Gender Pay Gap study reported women still make only 79 cents for every dollar men make, women's careers progress much slower than their male counterparts with 47 percent of men and only 40 percent of women reaching management positions by 30, and women of color see higher levels discrimination with Black, Native American, and Hispanic women making only 74 cents per dollar men make.
Despite beliefs about women as employees, teammates, and leaders, research consistently shows that women outperform men in several key leadership skills and business performance outcomes. Pew Research Center reported in 2018 that women outperform men in creating a safe and respectful workplace, valuing people from different backgrounds, considering the societal impact of business decisions, mentoring young employees, and providing fair pay and good benefits. Even more, there's significant evidence supporting that diverse and women-inclusive teams significantly improve decision making and even outperform financially all-male teams.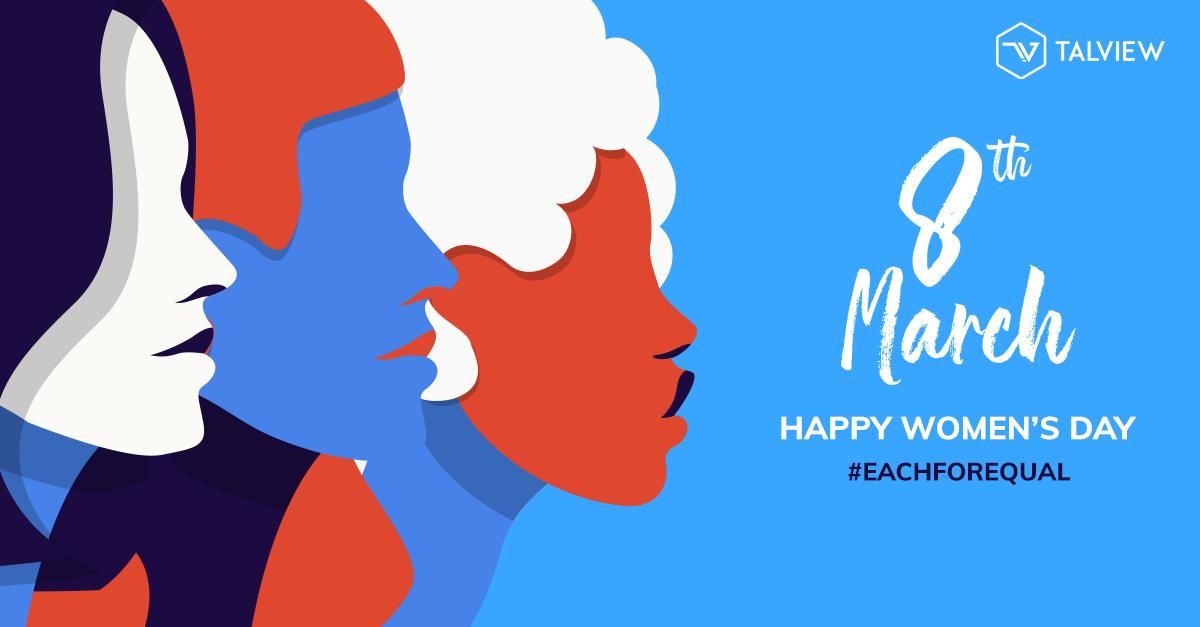 Here at Talview, we've always operated with a mission of helping increase access to great jobs. For International Women's Day this year, we're celebrating by encouraging organizations to be more mindful of who they hire, listen to, and promote, as well as to actively design and implement strategies supporting the advancement and equality of women.
Last month, we partnered with experts Keirsten Greggs and Torin Ellis to host our Diversity Hiring Strategies webinar on which, Keirsten spoke about the need for women, especially black women to value themselves and their work properly so others do the same. We also had a chance to hear from the Ambassador to the Ministry of Women and Child Development, Nabomita Mazumdar, at our Instahiring conference about ways we can work together to achieve equality.
Earlier this week, we met with Talent Acquisition expert, leader, and Forbes HR Council Member Anisha Patel from Unisys to get her advice for women, as well. Hear what she has to say.
Finally, here's some thoughts from amazing women HR Influencers on ways we can all improve together. HR Business Partner, Kyra Matkovich says, "You are stronger than you know! Surround yourself with people who encourage and support you to be better. Ignore the haters. Their negativity is a reflection of their insecurities, not yours."
Wendy Dailey, Senior Talent Adviser and Host of the #HRSocialHour podcast says, "Find strong female friends who will support you & lift you up. They will keep you grounded and help you fly!"
Talent assessment and development expert, Breanne Harris, advises, "Find strong female leaders who will mentor you and invest in your success. Also, be very aware of the subtle ways women are treated in the workplace. Don't be the note-taker or coffee-fetcher even if you think that builds rapport with leaders. It doesn't. It minimizes you."
Jeanne Achille of The Devon Group shares, "Trying to be a people pleaser isn't an effective strategy."
Finally, at #IAMPHENOMCON this week, we asked conference-goers to vote on their favorite organization and vowed we would make a donation to the most-voted on charity. In lieu of your vote and International Women's Day, we're proud to announce we will be donating $1,000 to Girls Who Code.
Thank you to everyone who is helping us celebrate International Women's Day, voted in our IAMPHENOM poll, and all our amazing Talview women.
Happy International Women's Day, everyone! #BalanceForBetter #IWD2020