Why is there a marketing team for your business? To make your business look better than most your rivals; to ensure that there is a constant connection between your contacts and the company.
To reach the right talent, we need multiple tools, strategies and people to recruit them. With technology taking over small components of your work like an ATS that screens resumes faster and video interviews that'll soon replace the telephonic rounds.
Although none of the above can replace recruiters completely, but it can make it difficult for you to find a job for yourself because there will soon be data to show that much of what recruiters do can be done much better, faster, and cheaper by data-driven algorithms and software.
To make yourself an integral part in the entire recruitment process you need to update yourself. Candidates today are more subjective than before. Just any job won't do.
They'll want a company that they have heard about from friends, a company that is actively tweeting, blogging - they're interested in the culture and brand that it possesses.
This is where marketing your recruitment strategies can prove to be instrumental. Recruitment marketing is a comprehensive approach to attract, engage, nurture, and convert candidates. It allows you to take control of what candidates see about your company and accordingly dole out strategies to strengthen your current processes.
With internet, smart phones and social media, finding candidates is not a challenge. With real-time access to what you offer, engaging with candidates is that much easier. Referral programs, other drives will be a piece of cake with recruitment marketing in place.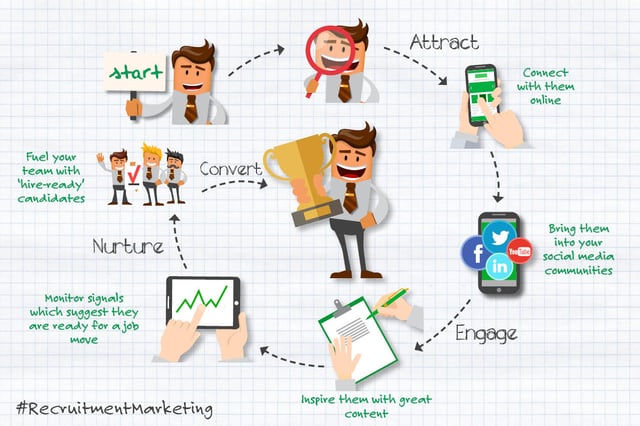 Josh Bersin, HR Expert and Founder of Bersin by Deloitte, said, "Recruitment has shifted from a "sales" focus to a "marketing focus" today. Companies that create a compelling, authentic employment brand, communicate their values and mission, and clearly articulate the nature of their workplace are winning out in their recruitment efforts."
Nurturing and building a relationship with your leads is just as important as attracting them—31% of applicants often complain that they never hear back after applying and 44% feel the lack of response from recruiters is the most frustrating part of the recruitment process. There are your pressure points, start working on it so you can build relationships with your contacts and search for talent at the same time.
Once you have a talent pipeline, you can begin building relationships through email campaigns, direct mail and text messaging. Take help from your company's marketing team. Make the content available for them, they can help you out in your initial days as a recruitment marketer.
Creating a social media account isn't a one-day thing; it takes perseverance, effort and planning to see the results. That's your only secret sauce to finding good candidates.
HR people have to handle among many other tasks on a daily basis: candidate attraction, employee referrals, recruitment volumes, niche skill hiring, campus recruiting, candidate experience, social recruiting, employer brand strategy, and so on. All of these initiatives are imperative to an organization's recruitment effort.
Recruitment marketing can make things so much more interesting and easier. Yes, it's a lot of investment with respect to time but it's important you do so.
Josh Bersin continued to say, "I encourage recruiters and entire leadership teams to make recruitment a corporate mission, driven top down by the CEO and VP of Marketing. Not only does this improve candidate quality, but it gives the company valuable feedback on how it is perceived in the marketplace."
What's the bottom line? Every business needs recruitment marketing; because for every business drives on good candidates and they need to be wooed. Recruitment marketing is important to sugar coat everything you have to say to them and advertise what it is that you do. This article by a Google employee will make you want to work at Google; this is a sweet experience that he shared and that's how you market your recruitment practice.