The COVID-19 pandemic had a significant impact on recruitment in organizations globally, sparing no industry. HR, recruitment, and talent management leaders and practitioners had to reevaluate their processes overnight and turn to technology as a solution.
As the pandemic proved to be the catalyst for digitization across industries, the BFSI industry in particular was one of the few that was able to sustain this transition relatively well.
In fact, in October 2020, the Bureau of Labor Statistics reported 293,000 job openings in financial activities, with 216,000 hires and 192,000 total separations (includes 120,000 quits), meaning that the financial industry is seeing a rise in employment.
For recruitment, the majority of organizations cited the need to find, attract, and retain top talent (58%), along with improving the employee experience (42%) as their top concerns for HR technology purchases in a recent PwC's HR Technology survey.
But the problem is that these new job openings in the financial industry are not for the same roles as they used to be. With the increasing popularity and adoption of financial technology or fintech, automation tools are changing the operational framework for the industry, creating roles such as data scientists, cloud computing experts, etc., that could prove to be a challenge to the industry and its recruiters.
They have to struggle to find the right talent that is not only skilled but can also accommodate digital transformation. Along with that, the financial services industry has to compete for this talent not just with industry rivals but also with other tech companies.
Hence, recruiting in the financial services industry can prove to be a difficult task.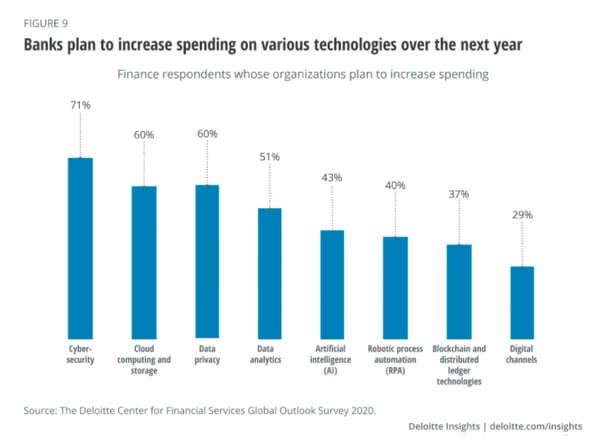 Source: Deloitte, 2020
So, let us first understand the key challenges in financial services recruitment and then see how we can solve them.
Key Challenges in Banking and Financial Services Recruitment in 2021
1. High Skill Gap
The Hays UK Salary and Recruiting survey revealed that 68% of employers have experienced moderate to extreme skills shortages in accountancy and finance, impacting the overall team's productivity. As the skill gap increases, employers grow desperate and may increase salary packages in order to attract more skilled professionals.
But the real issue here is that the old and basic financial skills and roles such as data entry, salary upload, passbook update, KYC detail verification, are no longer sufficient to get the job done.
Moreover, there is an emergence of new roles in banking and finance, such as data scientist, blockchain, cloud computing, artificial intelligence (AI), and software engineers — and not many universities used to offer this even just a decade ago.
Typically, interested employees/students have to take up a Masters course in Fintech or an online certification course in order to qualify for these roles.
2. Low Retention Level
Only 10% of millennials currently working in the sector said that they planned to stay in their current role for the long term, compared to 18% across all sectors according to a study done by PwC.
And out of the ones working in the financial industry, 48% said that they were actively looking for new opportunities.
Retention has been a challenge in the industry since the financial crisis in 2007. The reasons range anywhere from concerns related growth opportunities, compensation and benefits, the management, and more. Regardless, most of it is under the employer's control. (Read the second half of the blog to see how employers can improve their retention level.)
3. Long and Manual Processes
Half of millennials prefer to communicate electronically at work rather than face to face, or even over the telephone. This study by PwC reveals how millennials routinely make use of their own technology at work and believe that access to technology makes them more effective at work.
It is possible for employees to leave their organizations or even industries if they find the organization still using old and manual processes when there are automation tools available in their place.
If candidates today have to wait for hours or even days just to receive an email about their status in the recruitment process with your organization, for example, they would prefer to drop off in the middle of the process and apply to companies with a much swifter process.
4. Poor Candidate Experience
In a survey by PwC, 49% of candidates working in high-demand sectors like Technology, Banking, and Energy said they're more likely to turn down a job if they have a poor recruiting experience.
A poor candidate experience can have a lasting negative effect on your hiring efforts. It has implications on your brand reputation as well. 56% of respondents stated that they would discourage others from applying to an organization if they had a bad recruiting experience with them.
Employers need to make note of this as it could stop potential right hires from even applying to work with them simply because their hiring experience was not candidate-friendly. Hence, this could be their chance to redeem themselves and realize the importance of a good candidate experience.
What are the Solutions to Improve Finance Recruitment?
Let us look at some of the finance recruitment solutions to understand how you can hire better in 2021:
1. Automate the Process for Faster Hiring
As faster adoption of technology is one of the major goals of the industry currently, TA is one of the key departments to push-start this technological transformation.
74% percent of companies surveyed by PwC already plan to increase spending on HR tech in 2020 to address pressing talent needs. You don't want to be the one left behind.
And let's not forget, automating recruitment can help recruiters throw a bigger net to find talent. That means that banking and finance recruiters can find the right talent faster without any location constraint, helping them bridge the existing skill gap in the industry.
You can start with a basic recruitment automation tool or software that helps you automate and streamline the basic steps of recruitment — sourcing and preliminary screening of candidates.
For instance, this can be done with the help of a recruitment chatbot that can be added to your social media and careers pages to answer any questions from onlookers or passive candidates lurking on your website.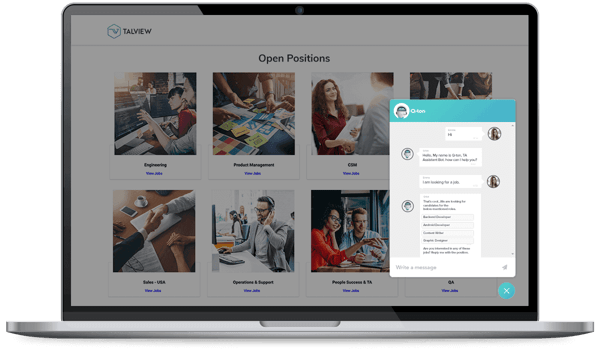 Talview's recruitment chatbot
This way, you will not just engage candidates that were not being reached before, but also be way ahead of your competitors in doing so.
If you've already achieved basic automation in your organization, your next step should be to automate pre-recruitment assessments. You can either look for standard online question papers or customize one according to your requirement that can help the recruiter save hours of time and effort that goes into manual pen and paper tests.
There are platforms such as Talview that help finance organizations with end-to-end recruitment automation requirements to find the best talent and also improve their hiring process.
To learn more about how Talview helps financial services with personalized solutions, click here.
2. Conduct Accurate Skill-Based Assessments to Find the Right Talent
Sometimes organizations tend to stick to their old routine and hand out outdated pre-recruitment assessments to candidates that no longer assess the candidates ability to do the current job role. This leads to an increase in the number of wrong hires, adding to your already high cost of hire.
Instead, organizations are quickly adopting skill-based assessments to assess and hire quality talent that will not just fit the role on paper, but in reality as well.
What are skill tests? These are tests that are specifically designed to understand and evaluate the skills of a prospective employee for a particular role. Some examples of skill tests include STEM tests, coding tests, typing tests, essay and grammar tests.
Recruitment tools like Talview offer such skill-based and various other types of pre-recruitment assessments to help organizations find the right talent faster. You can either use an already existing assessment for the particular job role from their question bank or customize one to suit your requirements better.
3. Improve Retention Rate with Behavioral Insights
As discussed previously in the blog post, the financial services industry suffers due to its low retention rates. But the solution to that is well within the reach for any employer looking to solve it.
One of the ways in which employers can streamline incoming talent and make sure they fit the role, the team, as well as the organization's culture could be if they could gain insights into the candidates' behavior.
Enter Talview's Behavioral Insights.
Talview Behavioral Insights or TBI is a behavioral assessment tool by Talview that uses psycholinguistics to create a behavioral profile of candidates. It uses asynchronous video interviews, open-ended behavioral questions, tone analysis, and emotion recognition to build a candidate's wholesome behavioral profile from their natural speech during a video interview.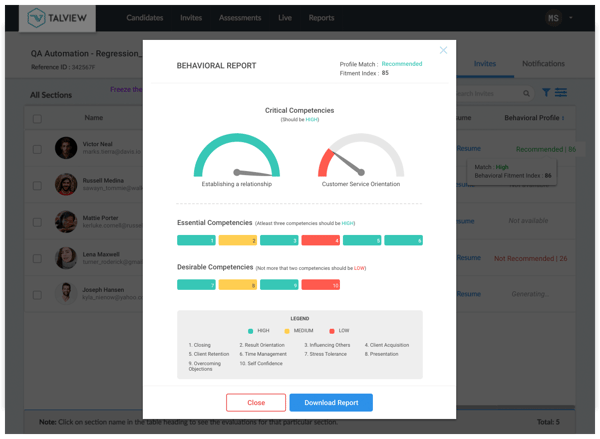 A behavioral report of a candidate on the Talview platform to check if they fit the role
This can help BFSI recruiters hire the most suitable candidates by accurately assessing candidates' behavior, in turn, improving the overall retention rate.
Also read: One of the global insurance leaders and a customer of Talview, was looking to double their sales staff and pre-screen a high number of candidates in a shorter amount of time. Not only were they able to double their staff, but they were also able to find high performing candidates with 75% greater accuracy.
4. End-to-End Mobile Recruitment to Provide a Superior Experience
58% of Glassdoor users today are looking for jobs on their phones. On top of that, 35% of job seekers say that they would prefer to apply for jobs from their phones.
Post-COVID, almost everything you do manually can be done via an app on your smartphone. So, if our lives have taken the technological turn, why should recruitment stay behind?
Through the pandemic, employers have a chance to meet their competitors on a level playing field. To win the war of talent, you have to have something that your competitors don't but your candidates and employees love: a great mobile experience.
Nearly half (49%) of job seekers working in in-demand fields like technology say they've turned down an offer because of a bad experience during the hiring process, according to this PwC study.
This means a bad hiring experience can cost you the right person for your team. Hence, employers have a chance to win over any talent through mobile recruiting technology.
Modern HR tools and software today such as Talview help organization's automate their entire hiring process smoothly. They provide an end-to-end digital solution right from screening, assessing, interviewing, till the final offer. The recruiter can screen, interview and hire candidates on the go.
5. Lower Time-to-Fill by Reusing Existing Candidate Data
The long and manual hours of finance hiring make the whole recruiting experience bitter for most of the candidates as well as recruiters. Multiple interviews, tests, various points of contact and reference checks, email back and forth, etc. can be enough to push good talent away from applying to your organization.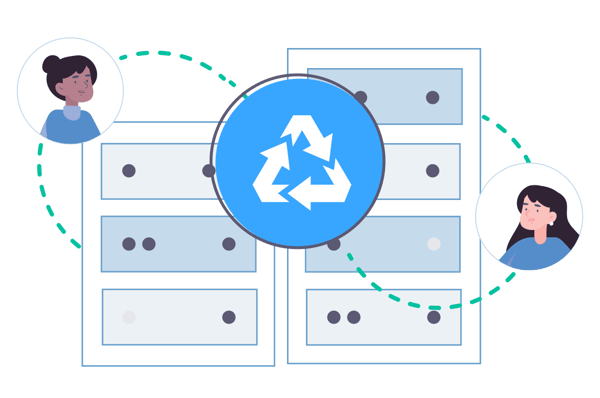 But what if you could record and save all good applications you have received, that for some reason did not qualify for a current position, and use them to create a talent pipeline? You could reach out to them later for a new vacancy in your organization and you would not have to start the sourcing process all over again.
Data reusing can help save recruiters' time and reduce the average time to fill for the organization.
Talview provides this as a part of its solution. Essentially, when a candidate gets rejected at any stage in the recruitment process, the platform records their profile and saves it for future reference in the ATS.
At any point in time, if a role arises in your organization that fits the same candidate, the platform notifies you about the same. That way, you can fill positions almost immediately, reduce your average time to fill considerably, and have a recruitment process that your candidates love.
Conclusion
As the financial services industry sustained the effects of COVID-19 gracefully, their actual challenge might be how they use this to step up their game and improve existing processes to stay ahead of the competition. Recruitment automation and remote hiring can prove to help the industry solve its old challenges and attract more millennials and Gen Z to work with them.