It's tough to determine the quality of an interview, and it's even tougher to measure its effectiveness in predicting job performance.
Without appropriate technology, recruiters have to make hiring decisions based on gut feeling and fuzzy memories, which can result in bad hires. There is also a lack of visibility into candidate experience and scalability for large hiring campaigns.
After the pandemic, the challenge further aggravated as virtual interviews became the new normal, leaving very less scope to gauge non-verbal cues via a conventional video call interview. Recruiters were left with a tricky challenge that had to be dealt with to ensure seamless high-quality recruitment.
Enter interview intelligence. In this blog, we will explain all about an interview intelligence platform, its key features, and things to consider while choosing an interview intelligence platform.
What is An Interview Intelligence Platform?
An interview intelligence platform is a solution that helps recruiters assess and measure the effectiveness of interviews. It provides insight into how each candidate performs during the interview process and enables recruiters to make informed hiring decisions.
The interview intelligence platform leverages AI-driven algorithms and an extensive database of previous successful interviews to evaluate candidate responses in real-time. The platform records and analyzes conversations between recruiters and candidates using natural language processing (NLP) and produces actionable insights on candidates' performance.
Importance of An Interview Intelligence Platform in the Recruitment Process
Here is how interview intelligence software can help recruiters:
Improves Quality-of-Hires: The interview intelligence platform records interviews and generates transcripts that help to evaluate candidates' skills and capabilities in real-time. It assists recruiters in making better hiring decisions, resulting in improved quality of hires.
Reduces Interview Bias: The software can detect unconscious interviewer bias during the interviews and nudge recruiters to focus on candidates' skills rather than personal traits. This helps organizations ensure fair interview experiences and enables them to achieve their DEI goals seamlessly.
Makes the Process Data-Driven: An interview intelligence platform allows recruiters to track and measure candidates' responses during the interview process and provides detailed insight into their performance, allowing organizations to make more data-driven hiring decisions.
Reduces Time-to-Hire: These platforms can help recruiters streamline the entire interview process and fill roles faster by automating tasks like generating reports on candidate performance and sharing feedback with stakeholders.
Improves Candidate Experience: By leveraging interview intelligence software, recruiters can ensure a fair and equitable hiring process, which can boost the candidate experience.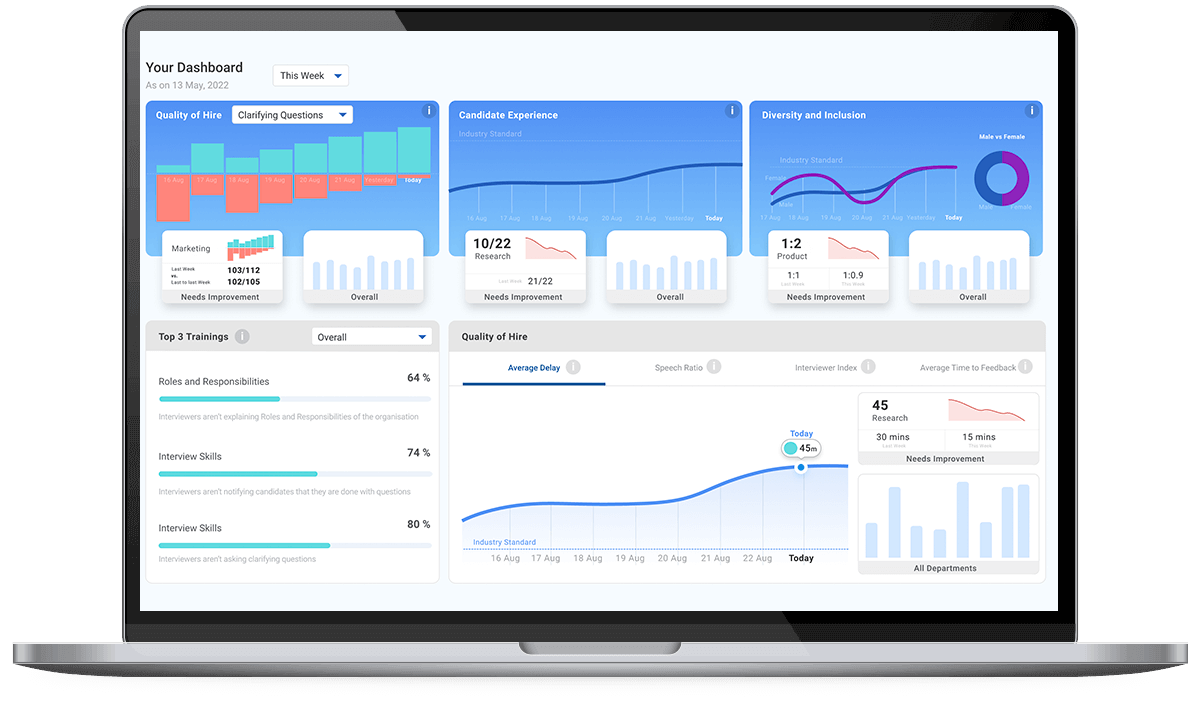 Key Features of an Interview Intelligence Platform
1. Interviewer Coaching Analytics
The interview intelligence platform should provide recruiters with actionable insights into how the interviewers conduct their interviews. This will help the hiring managers identify the gaps in interview techniques, opportunities for improvement, and areas of bias. With this information in hand, recruiters can design training programs for interviewers that can enhance the effectiveness of their interview process.
2. Artificial Intelligence
The interview platform should leverage AI-driven analytics to capture and evaluate interview data. These analytics can provide detailed insights into the candidates' responses that recruiters wouldn't be able to easily pick up on their own.
3. Video and Audio Interviewing
An interview intelligence software platform should include an integrated video and audio suite that enables recruiters to conduct interviews remotely without any hassles. This will ensure that candidates and interviewers can better connect with each other, and the interviews are conducted smoothly.
4. Candidate Comparison
Another essential feature of an intelligent interview platform is its ability to offer instant insights into candidate performance by automatically comparing the answers of the candidates. It allows recruiters to recognize top talent and make informed hiring decisions easily within short turnaround times, which further reduces the chances of top talent slipping away due to unstructured and lengthy evaluation procedures.
5. Analytics & Reporting
The analytics and reporting capabilities of an AI interview tool give recruiters the power to monitor their interviews and pinpoint gaps for improvement in the recruitment process. Such a feature can also play a crucial role in enhancing the candidate experience while boosting interviewer productivity.
6. Data Visualization
Data visualization helps recruiters quickly identify trends and patterns within the interview data. Good platforms should be able to provide real-time visualizations that can help recruiters gain a better understanding of candidate responses which can further help them optimize the interview process for better results.
7. Data Security & Compliance
Data security is of paramount importance when using an interview intelligence platform. Hence recruiters should look for a platform that has integrated protocols to keep the data safe and has strong encryption capabilities. The platform must be compliant with industry-specific protocols such as GDPR, PDPA, CCPA, AICPA, etc. This will ensure that all data related to the recruitment process is kept safe from any type of attack or an unprecedented system failure.
8. Performance Metrics
Candidate performance metrics are essential for evaluating a candidate's suitability during the interview process. These metrics provide recruiters with valuable insights into the skills, abilities, and attitudes of applicants by measuring their responses to questions.
An interview intelligence platform should be able to independently track the performance of recruiters and the interview process in real-time against these metrics. This information can then be used to assess a candidate's communication skills and the degree to which they are able to connect with others during an interview. With such data points, recruiters can more easily identify top talent while also reducing the likelihood of making biased decisions in the recruitment process, all while saving the time to manually input findings against each metric.
9. Sentiment Analysis
Sentiment analysis is a process of gauging the overall feelings of candidates based on their answers and getting a true understanding of what they think about the interview process. For instance, facial recognition technology can detect subtle cues that candidates may not be aware of, such as expressions and body language. With this data in hand, recruiters can gain deeper insights into candidates as well as their interview processes.
10. Multilingual Support
A major factor to consider when choosing the right interview intelligence platform is its multilingual support. The ability to support multiple languages is essential for organizations that need to recruit candidates from across the world.
11. Collaboration
It's important to ensure that the interview intelligence platform has collaboration tools built-in so that multiple stakeholders can review interviews together without any hassle. This will improve the communication among the team members and allow for a smoother recruiting process.
12. Interview Summaries and Transcriptions
Interview summaries and transcriptions enable recruiters to easily review interviews and understand the candidates, which thereby reduces duplication of efforts spent in internal coordination between various recruiters after the interview. The summary report should be able to provide comprehensive detail of the interview process and highlight strengths, weaknesses, and any other relevant information required to make the hiring decisions.
How to Choose the Right Interview Intelligence Platform
Questions to Ask When Choosing an Interview Intelligence Platform
Is the platform easily integrable with our Applicant Tracking System?


First and foremost, you must ensure that the interview intelligence platform you choose is compatible with your existing Applicant Tracking System or ATS. The platform shouldn't cause any disruption in your current hiring flow.

How long will it take to implement the solution?


Knowing the timeline to set up the interview intelligence platform is crucial. Quicker implementation means you can expeditiously bridge the gaps in your interview process and improve the quality of your hires.

Is the platform easy-to-use?


Go with the platform that offers a good user experience. It should be intuitive and easy to navigate so that recruiters don't have to spend much time learning how to use it.

Is the platform committed to ensuring data privacy and security?


Data privacy and security is a must when it comes to interviewing intelligence platforms. Choose the platform that takes candidate data privacy seriously and has measures in place to ensure that the recruitment data remains safe and secure at all times.

Who is going to access the platform in my organization?
It's important to identify the people who are going to use the platform. Depending upon their roles, you should choose a platform considering their needs and preferences in mind.
Tips for Selecting the Right Interview Intelligence Platform for Your Organization
Focus on Automation Capabilities


Look for an interview intelligence platform that offers robust automation capabilities. Create a list of tasks the interview intelligence platform can automate and the processes it can't. This will help you with your decision-making process while choosing the right platform.

Scalability


As your organization grows, your recruitment requirements will also inevitably change. Hence, make sure the platform you choose is capable of scaling with your recruitment needs. The platform should also be able to provide a seamless experience for both recruiters and interviewees, regardless of your company size.

Pricing


Consider the cost of the interview intelligence software in relation to your overall recruitment budget. Many platforms offer tiered pricing plans, so you can choose the plan that best fits your needs and budget to get ahealthy ROI.

Customer Support


The customer support team should be available to answer any questions or queries you may have about the platform. They should also be able to offer help in setting up and running the interview intelligence process smoothly. Choose an interview intelligence platform that offers round-the-clock customer service and easily accessible resources.

Check for Customization Options


It's vital to ensure that the interview intelligence platform offers customization options so that you can tailor it to your organizational needs. This will enable you to get the most out of the platform, design a more personalized recruitment process, and optimize your recruitment efficiencies.

Check User Reviews


Before making a purchase, read user reviews from employers who have already used the interview intelligence platform and get their feedback to learn more about its features, advantages, and disadvantages. This will help you understand if it's worthy of your investment or not.

Test it Out Before Making Your Decision


The best way to make sure that the interview intelligence platform you are choosing is right for your organization is to test it out first. Many interview intelligence platforms offer a free demo so that you can get a good idea of the platform and how it can help with your interview process.
Talview's Interview Insights Solution
Talview's Interview Insights is a comprehensive interview intelligence platform that helps organizations make better hiring decisions with the help of AI-powered algorithms. Talview leverages machine learning and natural language processing (NLP) technologies and evaluates candidates' responses during interviews.
Here are key features of Talview's Interview Insights platform:
Measures the validity of questions asked during the interview
Offers insight into the performance of candidates as well as interviewers
Built on proven psycholinguistic frameworks to monitor unconscious biases in the interview process that helps organizations achieve their DEI goals
Generates detailed interview summaries and transcriptions that have search capabilities
Enables recruiters to quickly assess applicants' verbal reasoning, communication skills, and soft skills
Talview offers around-the-clock customer service and ensures a smooth implementation of the platform
Conclusion
Choosing the right interview intelligence platform requires careful consideration, as making the wrong decision could cost you time, money, and resources in the long-run– and most importantly, leave you with bad quality hires. Weigh all your options carefully and use these tips as a guide when selecting an interview intelligence platform that fits your organizational goals and budget.
Look out for features such as automation capabilities, scalability, pricing, and customer support before making your final decision. With the right interview intelligence platform in place, you will be able to reduce recruitment costs, streamline operations and gain valuable insights into your recruiting process.
Talview's AI-powered Interview Insights platform can provide you with everything you need to make accurate, informed hiring decisions and can be easily customized to meet your organization's specific needs.
Visit Talview to try the demo today!