Security and Flexibility: Must-Haves for Online Proctoring
Shopping for a remote proctoring solution can be challenging if you're not sure where to begin. A Google search will likely yield endless options, but how can you be sure that the solution you choose will be the best fit for your organization?
We've created a Complete Buyer's Guide to Remote Proctoring to help you understand what to look for as you research the various solutions available. Over the coming weeks, we'll dig into the abilities and functionality a remote/online proctoring solution should possess.
Part I: Versatility & Flexibility and Security & Privacy

Part II: Accessibility & Exam Integrity

Part III: Eliminating Bias & Total Cost of Ownership
Versatility and Flexibility
A remote proctoring solution in today's market must be able to adapt to the rapidly changing business and hiring landscape. Every organization will have their own unique needs. A proctoring solution must be customizable, able to cater to various types of assessments, tests, certifications, and industries.
The right proctoring solution will allow you to deploy multiple types of exams, whether it's a technical coding test, communication skills assessment, or a test that features multimedia elements. At the same time, the solution needs to be versatile enough to give administrators the option of human or artificial intelligence (AI) monitoring.
Even if you're looking at a platform and thinking that you won't need some of the features offered, it's great to have that extra flexibility in your arsenal in case your needs change. If it weren't for COVID, we wouldn't have as high of a demand for remote proctoring solutions as we do. Things can change in the blink of an eye, and it's better to be prepared.
Despite having numerous features, no proctoring platform should be difficult for people to use. A solution needs to be accessible to the least tech-savvy user, whether that's the admin, proctor, or test taker. Your solution needs to provide a user-friendly experience for all involved, no matter how complex the exam.
Integrating an Online Proctoring Solution
The best remote proctoring solutions can connect/integrate with other systems already in use. You may need to integrate your proctoring solution with your assessment delivery platform or learning management system.
Integrations save everyone time by creating one login credential to connect each person's profiles on each platform. It streamlines the assessment process by ensuring everyone has access to the tests they need to take and a clear roadmap for delivering the results back to the test-taker.
Buyer's Checklist for Versatility and Flexibility in a Remote Proctoring Solution
As you shop for a remote proctoring solution that offers the most versatility and flexibility, look for software that:
Comes with Multiple Examination Formats
From simple multiple-choice tests to graphics, audio bites, coding sequences, etc.
Allows the User to Grade Exams in the Platform
Grade within the platform & the ability to grade multiple-choice exams automatically.
Will Hold Certifications within the Platform
Store results & certifications within the system for access to records and credentials.
Is Easy for End-Users to Navigate
User-friendly for test takers, administrators, and proctors.
Can be Integrated with Other Platforms
Should be able to connect/integrate with other exam software.
Security and Privacy
One of the primary concerns with remote proctoring is maintaining security and privacy. On the one hand, the administrators need to know the people taking the exam are those who signed up. On the other hand, the students need to know that their sensitive data is safe.
Unfortunately, cybercrime has increased significantly as our world transitions to more virtual and remote solutions. Your remote proctoring solution needs to have the right certifications and tools in place to combat any attack.
Security begins with login credentials. It's beneficial to employ a platform that uses some form of multi-factor authentication. Multi-factor authentication asks users to submit their passwords and pass a second test to verify their identity.
Multi-factor authentication can take the form of clicking on a unique link sent to their email address, a code texted to their phone, or using biometric data authentication (Face ID or fingerprint). Multi-factor authentication is especially beneficial because most data breaches occur because of a weak or compromised password.
Another thing to look for in a remote proctoring solution is end-to-end data encryption to protect the transfer of sensitive information. If you're administering virtual tests, you need to ensure that the data isn't tampered with as it's passed between you and the test taker. Data encryption scrambles the text included in a test and only decodes it when the proper person logs in to access the exam. The best solutions make it easy to set access permissions, so you limit the number of people who have access to sensitive information.
One of the easiest ways to ensure your platform maintains the highest level of security and privacy is to check its compliance credentials. If it's not clearly stated on their website, you'll want to talk to the provider about how they manage personally identifiable information (PII), whether they're SOC 1 or SOC 2 compliant, and how often they conduct compliance audits for various data privacy laws. You can also ask if they've received any third-party certifications for compliance.
Finally, you'll want to ensure your platform can protect the intellectual property of the tests you design and deploy. Some proctoring platforms enable users to apply watermarks on test questions or use secure browsers to prevent screenshots.
Buyer's Checklist for Security and Privacy in a Remote Proctoring Solution
As you shop for a remote proctoring solution that provides the highest levels of security and privacy, look for a system that offers:
Multi-Factor Authentication
Requires users to verify their identity with a password and another form of ID.
End-to-End Data Encryption
Platform encrypts information as it's transferred from point A to point B.
System has a clear method of classifying sensitive data and storing it appropriately.
The solution has a specific privacy strategy for handling user data.
SOC 1 or SOC 2 Compliance
Certification with SOC 1 or SOC 2, the American Institute of CPAs' (AICPA's) standards for how organizations manage consumer data.
Compliance with Data Privacy Guidelines (e.g., GDPR or COPPA)
Compliance with local, national, and international data laws as required, and conducts regular audits to ensure compliance is maintained.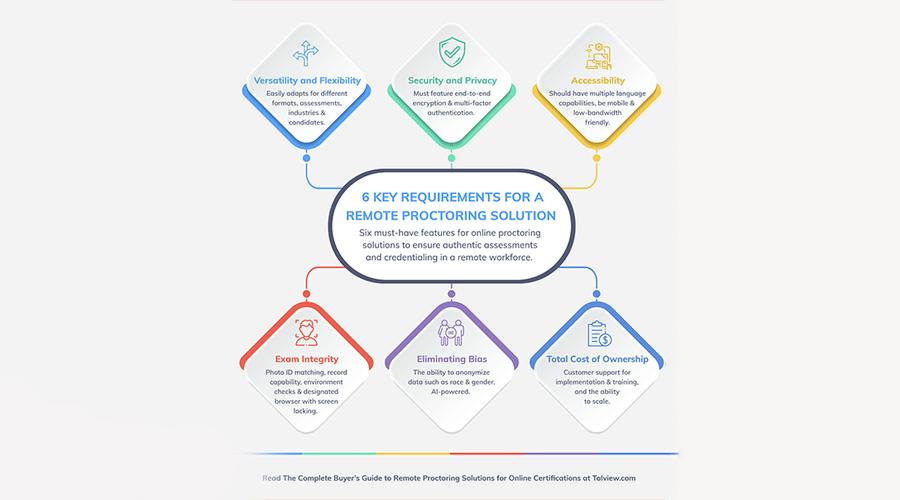 Wrapping Up
We hope this provides a solid jumping-off point for your search. Before you move ahead to Part II, we wanted to recap the key takeaways from Part I:
The best solutions will come with the flexibility to administer tests of any kind, anywhere.

The right solution will be able to integrate with the tools you already use.

A remote proctoring solution should have appropriate measures in place to safeguard sensitive data.

The best solutions will have compliance certifications and a clear system for managing private information.
Part 2 of Key Requirements for Remote Proctoring Solutions
In Part II of this series on remote proctoring solutions, we'll shift our focus to accessibility and exam integrity.