Labor Market Growing Despite Possible Economic Downturn
According to the monthly job reports from the Bureau of Labor Statistics, U.S. employers have added 3,72,000 jobs in June alone this year. Despite an impending recession around the corner, the labor market seems to be going in the right direction.
With more jobs being created, it is time for the recruiting teams to pull up their socks and hire faster, smarter, and better. Unfortunately, the chances of hiring the wrong candidate are high in this race to hire at the speed of the best candidate. The cost of a bad hire can be exorbitant and negatively impact your business.
The solution here is to leverage in-depth candidate insights. Before we discuss how candidate insights can lead to better hires, let us understand why the quality of hire matters.
Why Quality of Hire Matters
In simple terms, the quality of hire is the value a new hire adds to your company. It includes their contribution to an organization's development, growth, and profits. If the pandemic has taught businesses anything, it is that having the right talent in your organization is of utmost importance to ensure business continuity.
"Per our latest survey, at least 80% of decision-makers are focused on improving the quality of hire in their talent decisions."
Hiring the wrong candidate can result in a waste of resources, time, and effort. It also means the organization would not be achieving the goals it has set for itself and can potentially lose revenue. 
Balancing Hiring Instincts with Data-Driven Insights
Hiring someone because of "gut instinct" has been common among recruiters. While having the power to gauge a person's potential correctly would make the recruitment process a lot easier, more often than not, these "gut instincts" have a high probability of being biased.
Even seasoned recruiters have been guilty of unconscious bias over the years. And we are not only talking about losing the right candidate because of recruiter bias; we are talking about hiring the wrong candidate, which is often more expensive than the former. 
The key to hiring top quality candidates is to strike a balance between hiring instincts and data-driven insights. However, many recruiters today face data-related barriers. 
Also Read: How Data Is Changing HR Practices
In-depth Candidate Insights Lead to Quality Hires
Our survey found that 60% of the recruiters say their candidate insights fall short in timeliness, quality, depth, and breadth. While some recruitment tools in the market today provide HR analytics, most of their processes are siloed.
Did you know that the average organization uses 4-5 hiring tools throughout their recruitment process? Do these tools integrate to effectively share candidate data? While leveraging HR tools is a great start, knowing what to use and how to measure its ROI is equally important.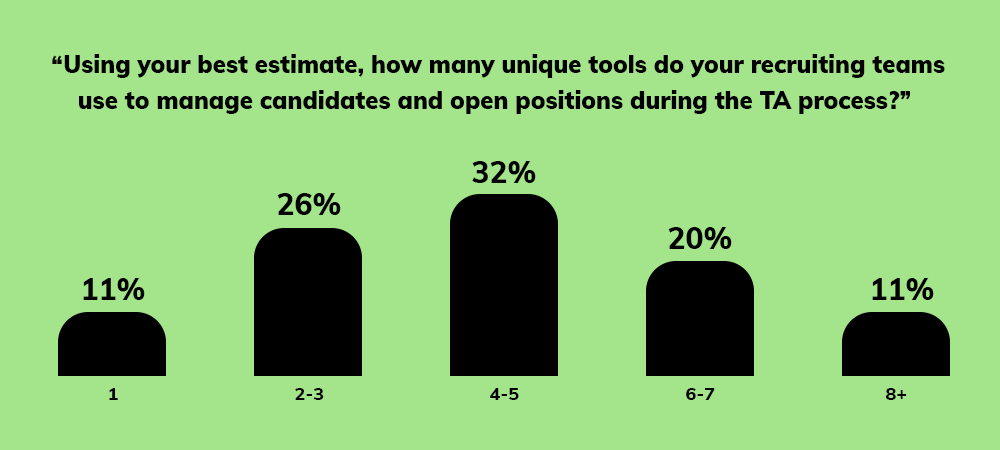 Forrester Opportunity Snapshot: A Custom Study Commissioned by Talview | April 2022

One key component that we talk about often is talent measurement. A Talent Measurement platform provides a one-stop, integrated data repository about candidates throughout the talent lifecycle.
With a unified, central source of in-depth data insights, it becomes possible to add an intelligence layer. Artificial Intelligence, when thoughtfully and ethically integrated into the platform, becomes a key component of hiring quality candidates. 
Bonus: Here's a quick Hiring ROI Calculator for the Talview Talent Measurement Platform.
Candidate insights can shed light on a candidate's technical skills, soft skills, cultural fit, behavioral fit, and more. They give companies a complete 360-degree view of the candidate beyond what is included on a resume or profile.
Ethical analysis of a candidate's personality can help ensure they are the right fit for your organization. These insights can also help an organization analyze and evaluate their recruitment process and work towards making it more efficient to hire quality candidates and weed out the rest.
The Talview Talent Measurement Platform
Talview offers an award-winning talent measurement platform that orchestrates hiring and proctoring workflows throughout the talent lifecycle: screening, interviews, assessments, and proctoring.
Organizations seeking more efficient, effective, and intelligent decisions throughout the talent lifecycle can access a single, AI-powered platform for intelligent insights. A 360-degree view of talent potential enables quick, confident, and bias-free decisions, providing an equal opportunity for all.