With our features, we enable Instahiring - The fastest way to hire.
It's all about convenience, and your convenience is our priority!
Experience a refreshingly new login screen
Adding on to your Instahiring experience, we've redesigned the login screens for you. Now experience delightful hiring with Talview's Instahiring theme of Remote, Automate and Reuse, right from the login page!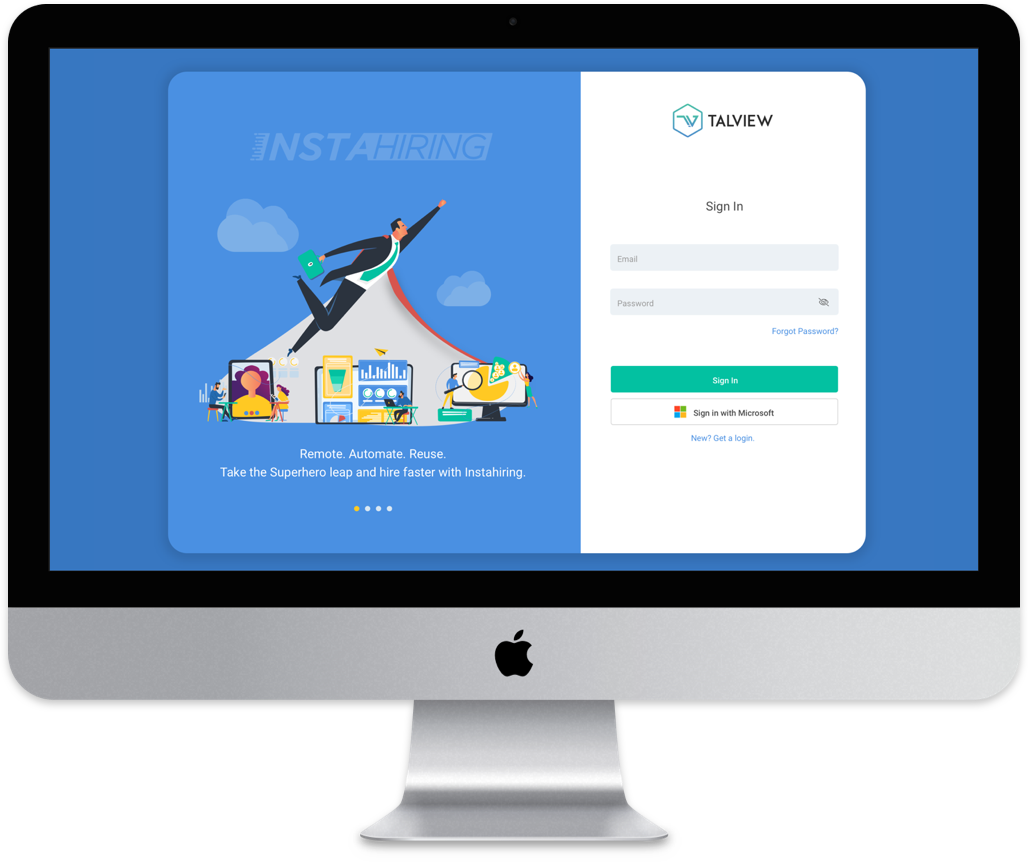 Enhancing TBI for more languages
In the previous release, Talview Behavioral Insight reports were available in Italian and Romanian languages. As promised, we are enhancing TBI for more languages.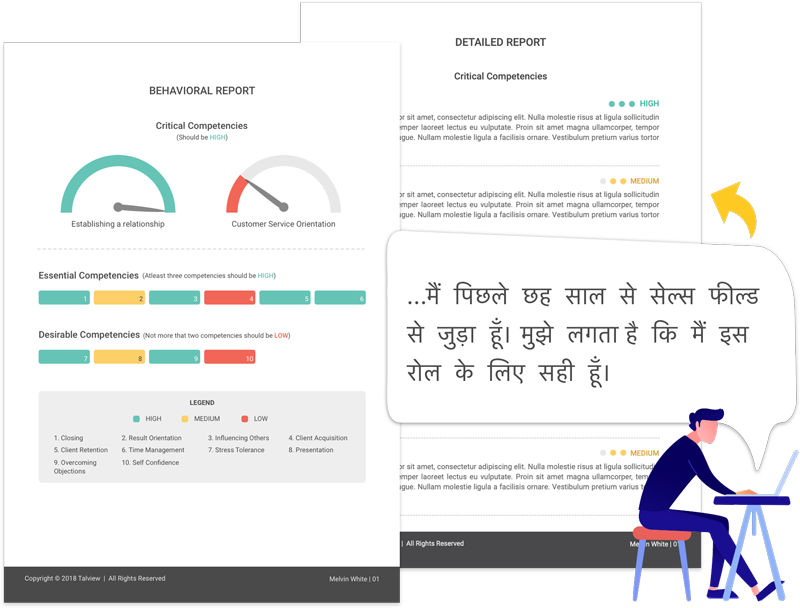 With the latest update, TBI reports are available for the candidates answering in Hindi as well. Now, the candidates can speak in Hindi, English, Italian or Romanian and you get a report generated in English, Italian or Romanian, based on organizational configuration making it convenient to both candidates and recruiters.
TBI helps you understand the candidates intuitively for effective hiring. Click here to know more about this one-of-a-kind feature.
Introducing the reinvite button
Nothing can hamper a good candidate from getting hired. Also, you shouldn't miss a potential candidate because of low performance in assessment due to any external inconvenience(like internet or power disruption) faced by the candidate at the time of attending the assessment.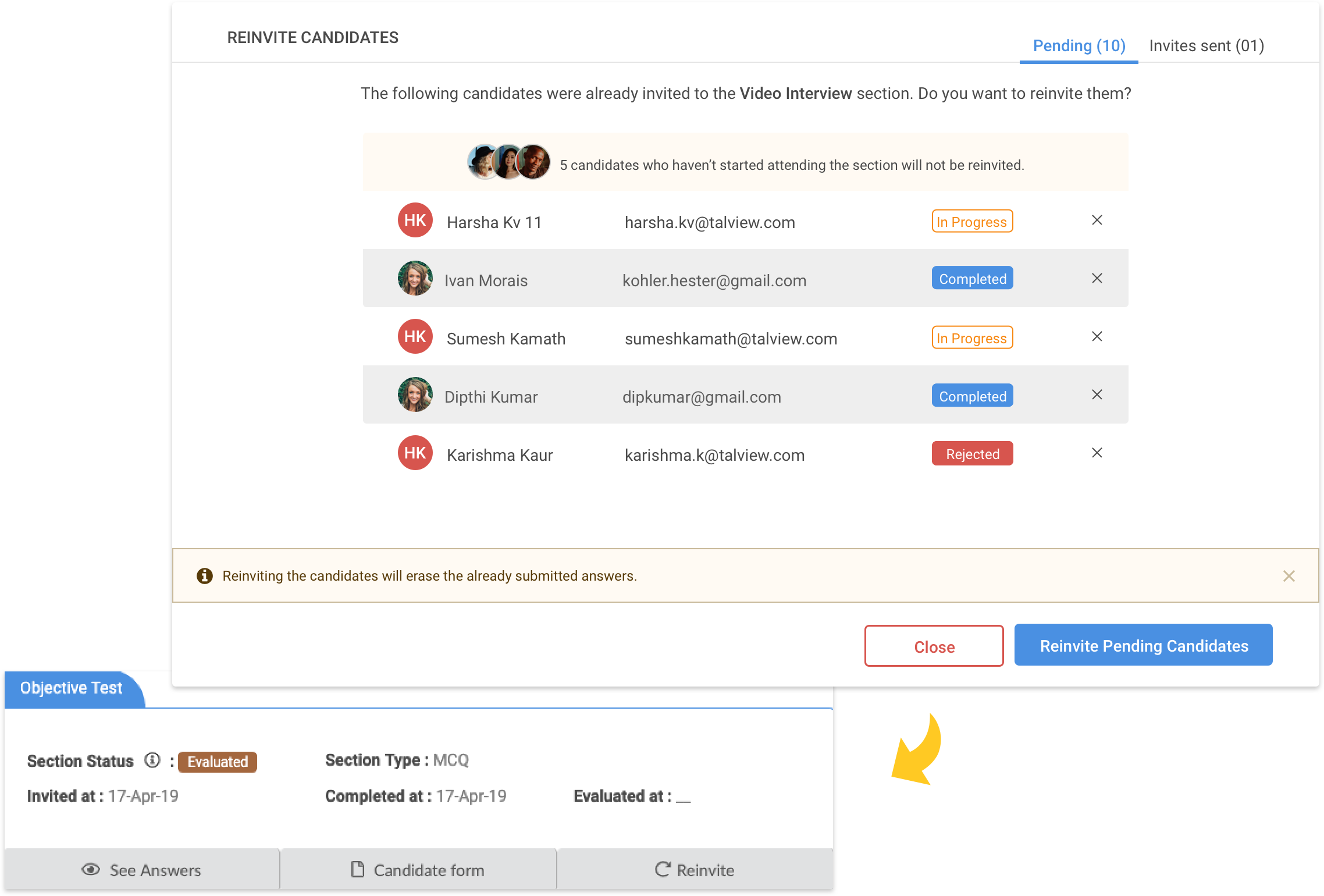 To help you invite those candidates to the assessment section again, here we are with a new feature that enables reinviting candidates to the same section.
Reinviting will erase the previous data and the candidate can give the assessment once again. A fair chance for fair hiring!
Read-only access:

a simple way to keep your assessments safe.
Many teams like support, ops, etc in your organization use Talview for other work apart from recruitment.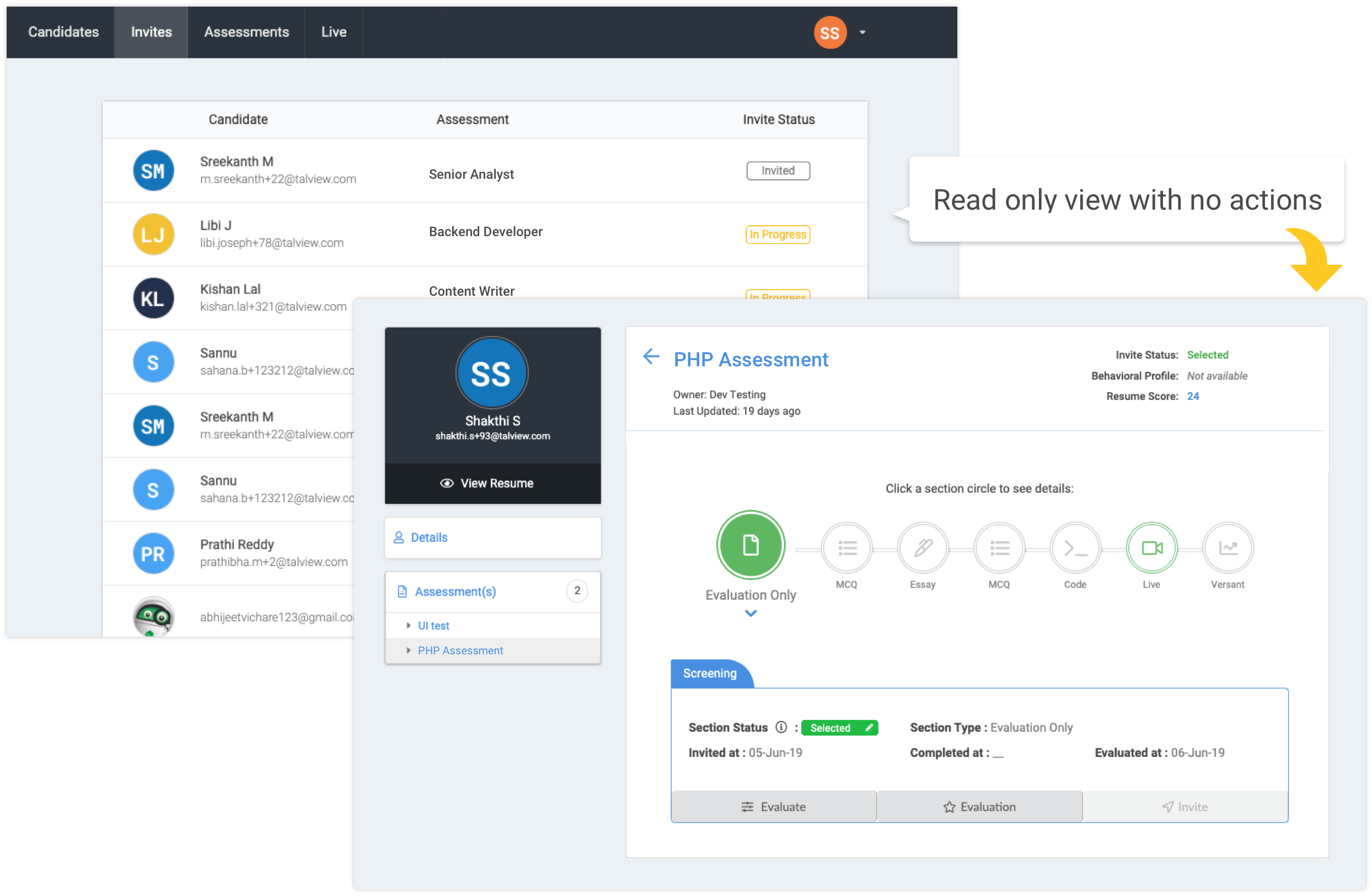 To give more control on who can edit your assessments, introducing the read only access feature. With this feature, your organization will choose actions performed by each person who is using the Talview platform, and can give edit access only to TA team.
That way, other teams can only view your assessments and will not be able to edit them.
Get the recruit web app in your own language!
What's more convenient than using an app in your native language?
With the latest update, Talview Recruit app is available in Italian language. You can switch the language in one single click.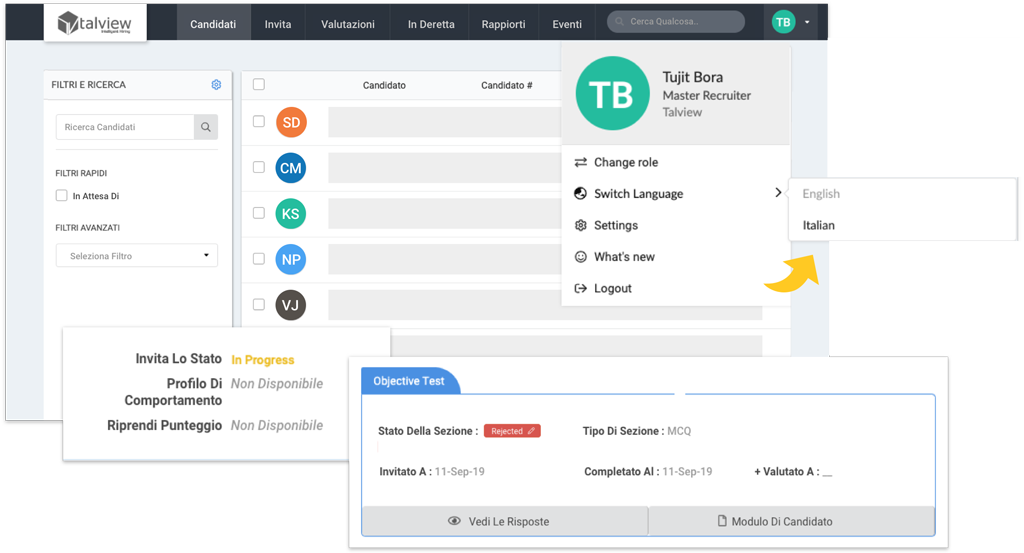 We assure you, we'll bring more languages to the app soon. Stay tuned!
Enhanced candidate profile to make better hiring decisions in live sessions.
Knowing the candidate's background leads to an effective interview process. While you had a candidate profile summary to see candidate performance in previous assessment sections, we thought you would also be interested in knowing the candidate's authenticity performance index to understand the candidates better.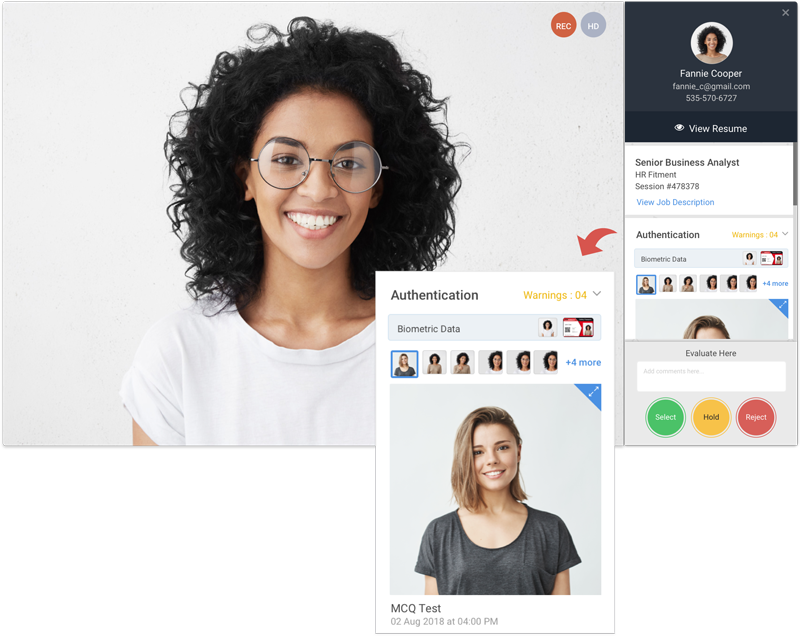 Now see candidate authentication details of previous sections in the live session profile summary. A small addition in a candidate profile to help you decide better as you talk to the candidates in the live session.
Here's the assessment/workflow freeze feature for a fair evaluation of the candidates.
Working with multiple recruiters and workflows, it's often challenging to keep track of changes made in the assessments. Also, for a fair evaluation, the parameters and assessment sections rendered to all candidates should be of the same standard, without a change in the workflow pattern.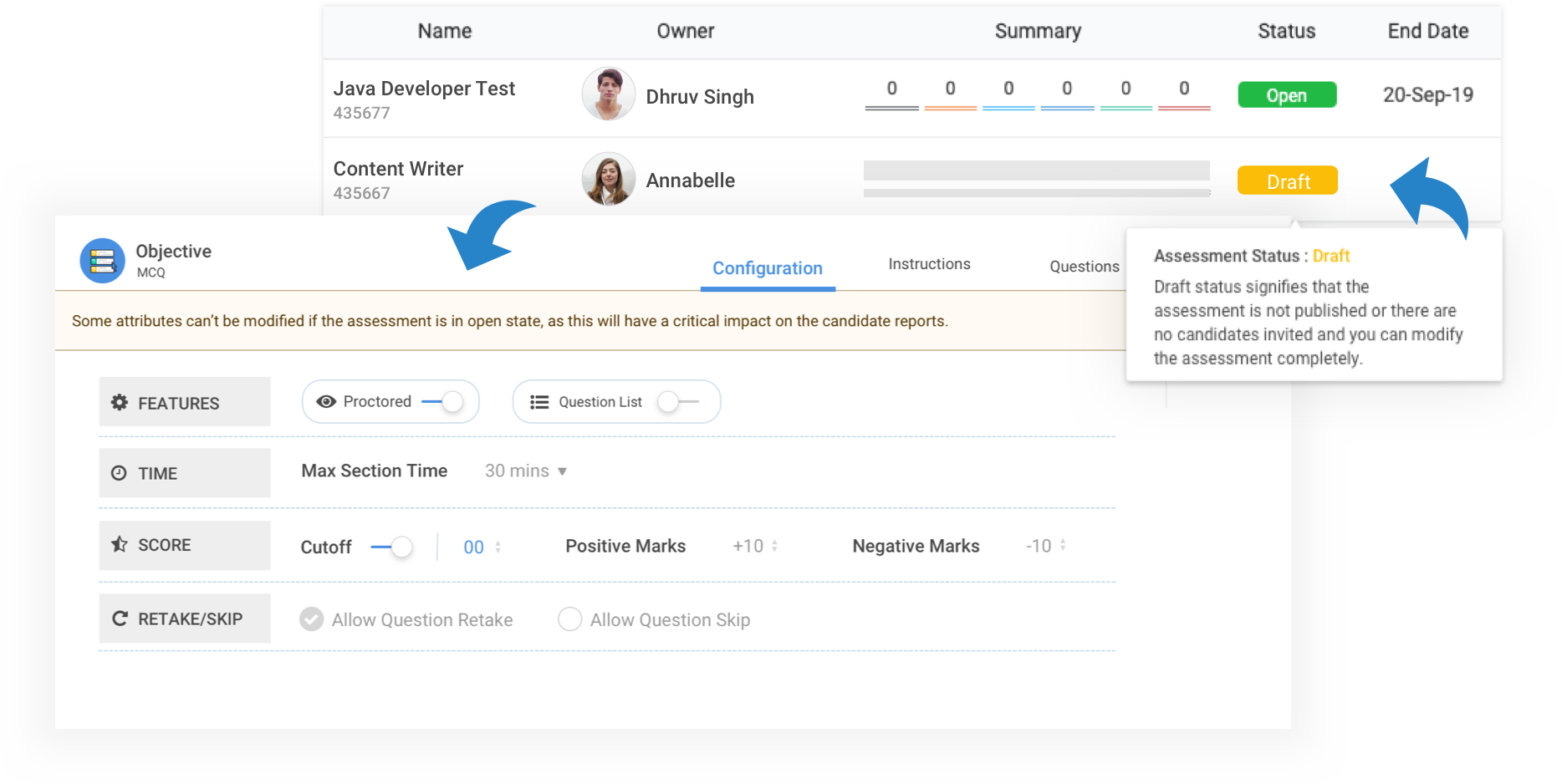 To tackle this issue, here is the new assessment freeze feature to help you. Now when an assessment gets published or candidates are added to the assessment, a few attributes get frozen and workflow cannot be changed. This will help recruiters assess the candidates with the same evaluation parameters.
This way, it's easier for a recruiter to get a consistent report of candidates that is easier to compare.
Few more features and enhancements for you!
Proview is even more reliable with the recent enhancements we've made on proview face and voice authentication.


You may now download Talview Behavioural Insights(TBI) comparison reports of all the candidates at assessment level. This report will help you in easy comparison of candidates for the best pick!


You need not check each email individually as we validate the email formats and notify you of any errors. We are becoming super smart, just like you!


Also, we are making it hard for candidates to copy anything from the platform. Yes, we have disabled copying content from the candidate web app. Assessments ought to be confidential after all!

TL;DR - Talview is enabling an easy and effective hiring process, while not compromising on your convenience and quality.
And this is just a beginning - there are so many more new features we'd like to walk you through.
To know more, get in touch with us at us@talview.com