What is Moodle LMS?
Moodle LMS, also known as Moodle (Modular Object-Oriented Dynamic Learning Environment),is a widely adopted learning management system used in the education sector, certification programmes and corporate traning departments. It is a popular choice due to its flexibility, customizability, and user-friendly interface. Its open-source nature allows for cost-effective implementation and customization, while the active community support ensures continuous improvement and compatibility with emerging trends. Moodle's intuitive interface makes it easy for educators to create and organize course content, while providing learners with a seamless learning experience.
Moodle LMS offers educators and learners a comprehensive range of features and advantages:
Effective course management with content organization, objectives, and assessments
Collaboration and communication tools for learner-instructor interaction
Assessment creation, grading, and automated feedback
Learning analytics, provides valuable insights into learner progress and performance
Mobile compatibility for accessing course materials and activities from various devices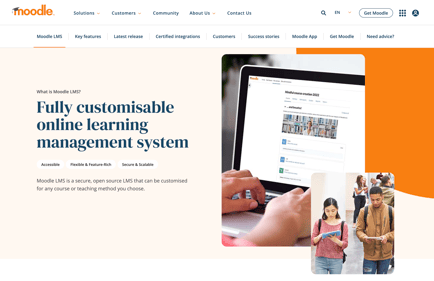 Features of Proview Proctoring Solution
Powered by Talview, Proview Proctoring Solutions provide a range of features and benefits for exam administrators. It offers 3 types of solutions i.e. Automated Proctoring, Live Remote Proctoring and Record and Review Proctoring, allowing effective monitoring of test-takers in real-time, ensuring the integrity of assessments. AI-based behavior monitoring detects suspicious activities, and alerts proctors for immediate action. Proview Proctoring also offers Talview Secure Browser, which prevents unauthorized access to the test browser. Automated flagging and review simplifies the process of identifying potential violations. Customizable proctoring settings cater to specific institution requirements. The scalability and cost efficiency of Proview Proctoring Solution make it suitable for both large-scale and small-scale assessments without additional infrastructure investments.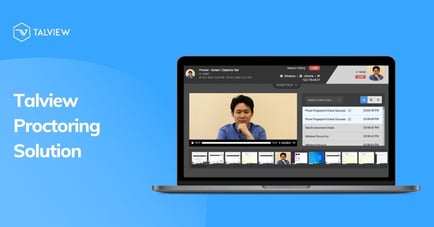 Proview Proctoring and Moodle LMS Integration: Advantages and Benefits
Enhanced Security and Exam Integrity
Ensures a secure exam environment, preventing cheating through real-time monitoring and AI-based algorithms, deterring unethical behavior.


Simplified Assessments for Educators and Learners
Provides a unified platform, automates proctoring functions and provides convenient access within Moodle, enhancing learner engagement, and reducing costs.
Streamlined Process for Time and Cost Savings Effortless test management by consolidating tools and features, saving time by eliminating platform switching, and providing a user-friendly experience.


Two-Factor Authentication and Integrity Scores Offers the advantage of Face & Voice authentication and provides integrity score to indicate the level of potential malpractice.


Customizable Proctoring Settings
Institutions can tailor proctoring settings to meet their specific assessment policies, ensuring flexibility and compliance with diverse requirements.
Conclusion
The integration of Proview Proctoring Solution with Moodle LMS enhances assessment security, streamlines processes, and offers customization. It ensures scalability, reduces costs, and creates a secure exam environment. Embracing this integrated solution enables institutions to deter cheating, simplify workflows, and provide a fair platform for learners to demonstrate their skills.