Innovative technology backed solutions in the Recruitment & HR market are bridging the existing gap between potential candidates and top recruiters today. Online Interview tools such as Automated Interviews and Live Interviews are paving the way towards a new era of hiring, spurred by technology.
Technology-induced recruitment solution providers help in making the hiring process more time-efficient and accurate in identifying the right candidate. These platforms facilitate candidates as well as recruiters with effortless options to conduct interviews. This makes the entire hiring process more convenient and seamless for both parties.
The bar graph below instantiates average time to hire candidates. France takes a month to hire, Germany, UK, and Australia follow the pursuit.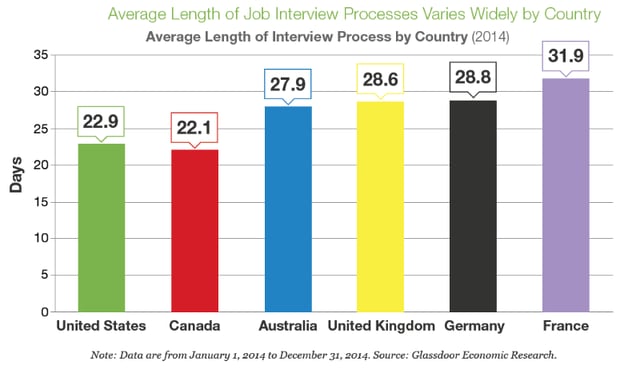 The recruitment industry is witnessing several inventive hiring paradigms. The techniques of Video Interview, Online Assessment and Referral Hiring are being increasingly used. In addition, recruiting through social networking sites has already entered the mainstream hiring process. Technology solutions make junior and mid-level hiring more convenient, and thus, in-sourcing and hiring process outsourcing are set to become big influencers in the market.
The quirky or uber-creative experiments in recruitments, such as digital video interviews (also known as automated or asynchronous video interviews) give the employer an idea of the potential candidate's communication skills, over and above the regular information about his experience and education. These techniques have also turned out to be cost-effective and efficient for recruiters who deal with two major hiring constraints -- cost and time. Moreover, a technology enabled interview tool is an interactive medium to communicate effectively without demanding physical presence of panel or candidate. The graph below shows the candidate screening trends in the US, this process substantially adds to the time taken to hire candidates increasing the effort, time and cost in hiring candidates.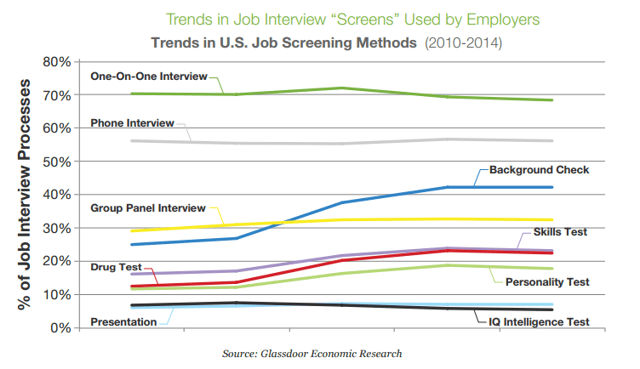 Online interview platforms are helping recruiters extract talent from locations they do not have direct access to. Thus, candidates from remote areas from anywhere between San Francisco to London can now work for top firms like Google and Apple. This applies to these top employers also, as they can tap into candidate pool across the globe.
Here's a list of best use-case specific practices we have provided to our clients:
Effective Sales Hiring
Referral drives usually have smaller candidate pool as opposed to centralized hiring with online Interviews where, candidates across the time-zones are interviewed at their convenience. This can later be screened by recruiters for further evaluation. Efficient candidates with who would work for the company for a long-run is pursued, this can be efficiently delivered with video interviews as the candidate pool to choose from is larger.
Hiring Talented Engineers:
Technology is evolving, finding the right talent who will evolve with it is difficult. But online video interviews change this scenario with video proctored written assessments, which includes code evaluation engine. A plain vanilla test is not the best case to assess a developer's skills, you should rather do a code test in a real-life code complexity scenario. Also, just technical skill evaluation does not reveal candidate's persona - one needs to go through an all-round evaluation on motivation, culture fit, and suitability.
Campus Recruitment:
Online Interview Assessment has been popular for its cost & time-saving attribute. Candidates from all over the state, country, and the world can attend the interview. This feature makes hiring easier during campus drives. Time consumption - the most exhausting factor in a campus hiring is eliminated with online video interviews. All students need to possess is a computer, headphones with microphones and an internet connection. They could attend the test online; recruiters could assess the tests and call for a face-to-face interview to selected talents. This saves logistics, travel time, and effort.
The following graph depicts time taken by each sector and country to hire candidates - considering the security and risk factors while hiring, Government sector takes the longest in each country mentioned below. US takes the longest, followed by UK, Canada, and Australia.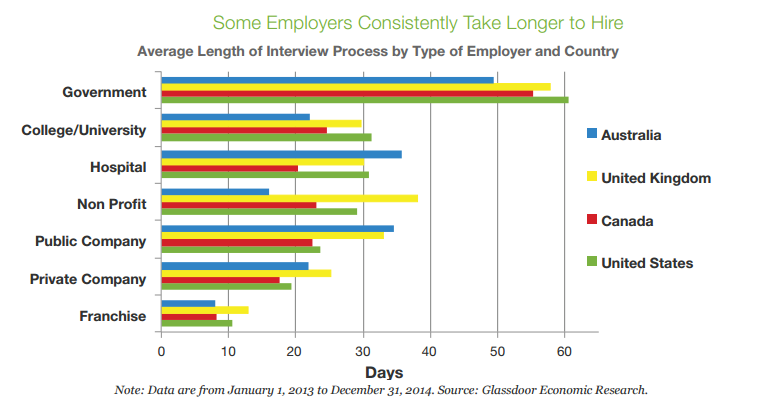 Needless to say, many recruiters across the globe are hiring through this technology backed approach. There are challenges the new hiring market environment has posed - firms which are able to adapt to the new market conditions will thrive and flourish. Investments in technology and finding new business opportunities will be the key to recruitment services growing in the near future.