It is very important to neutralize negative candidate experience before you start any recruitment marketing efforts to attract new candidates.
When we plan to buy a new electronic item, we often ask our friends or peers who are already using it about the functionality, look and feel of the gadget. Working for a company, its recruitment process, and interviews also works on the same lines. Candidates often want to know what does it feel like to work for a particular company. And they'd like to believe someone already working for the company, rather than the HR s/he is in contact with. Glassdoor has provided one such platform to voice employee's interview experience and other such nuances of working for the company.
This platform has helped more than a few thousand job seekers find the right company for them.

By providing insider information to potential employees, Glassdoor's service has been appreciated by many - it has helped create more transparency in the workplace, worldwide. I know many of my current co-workers who have commented that it was the first place they went when they decided to look for a new job. Don't just take my word for it, I've put up statistics from a research report by Software Advice. Here's what they have to say.
Approximately half of all respondents, (2201 to be exact) have used Glassdoor at some point in their job search, and most consulted reviews to find top employers before they even thought about applying at a company. That being said, how does it affect your employer branding?
Close to 50% of the job seekers were impacted by the review of the company that was less than six months old. As Software Advice says it, "Having a strong and positive presence on Glassdoor can improve your brand and help pique applicants' interest in your company...Simply having a profile on Glassdoor increases your company's visibility to potential applicants." So, checking these reviews is a necessity for employers to maintain good brand perception among job seekers.
Handling Glassdoor Reviews
I have put together a few best practices to improve and maintain a good employer perception online.
Respond to any and all reviews about your brand on Glassdoor, even if it is negative in tone. This ensures that you can keep the negativity under check and you can improve your offering (if necessary) to new job seekers. This also gives you an upper hand of staying up-to-date about the happenings around and job seekers will know that you are active and are interested in understanding their needs and qualms.

The research said that the recency of the reviews matter. What best way to handle this better than having a biannual Glassdoor review session at your workplace? Make it a routine, you can know what your employees think, mould the perception through your responses. Nevertheless, don't offer incentives to write good about you; if Glassdoor suspects it, they will remove it.

Positive reviews about compensation and benefits mattered most to the job seekers, which was followed by work/life balance. These two can be directly handled by you in the company and hence, these factors must be given more importance.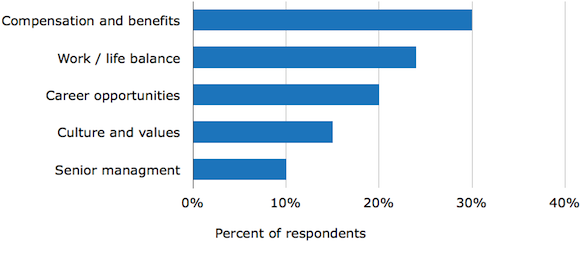 Most Important Categories to Have Positive Reviews | Graph Courtesy: Software Advice
Improve their interview experience by employing a tech-savvy, convenient and comforting interview process that you can use anytime and anywhere. First impression is the best impression, some say and we should swear by it. A research we conducted shows candidates loved the experience with video interviews. The research also showed how offering a unique interview process helped employers build a good rapport with the job seekers even if they were not hired by the company. The candidates still appreciated the employers for providing a good experience. It brought positive reviews to the companies who employed video interviews.

Redesign your exit interview. Yes, that's a start to handling Glassdoor reviews on a deeper level. Rework on the questions you ask and the entire process as such. Trust me, it makes a lot of difference. It is a tried and tested method across companies dealing with Glassdoor Reviews disaster.
These are a few 'first aid' and 'deep healing' tips to handle Glassdoor reviews at your end. If you haven't already checked the experiences on Glassdoor, it is late, but don't delay it any further because online damage control can sap the luster out of your shiny brand image.