As technology is rapidly changing markets and products, organizations are scrambling to find the right talent at the right time. The requirement for skills is evolving with the growing industries, and recruiters often struggle to keep up. And talent acquisition is a costly affair, as the researchers at Bersin by Deloitte found - it costs companies an average of $4,000 per hire.
In a Harvard Business Review Analytic Services survey, it was the almost a third of organizations reported they 'struggle' to find the talent they need, and nearly 60 percent anticipate talent shortages in the next three years.
Efficient talent management is critical in today's world. Adept talent management practices are a buttress for every organization. There are usually two ways in which companies address this.
On the one hand, companies do nothing - they have reactionary responses to talent needs and typically resort to outside hiring to fill in the gaps. On the other hand, companies resort to traditional, antiquated talent management planning techniques that were created in the 1950s, a time when markets were stable and predictable.
Companies then would have 5-year strategic plans, but with today's dynamic markets, companies pivot, change strategies, relook at direction almost every year! The question is, how do businesses today leverage this time-honored knowledge to adapt it to operate in the current erratic world of business. How do we utilize old ideas as new concepts?
Businesses now need a more responsive talent management system. It is imperative to start looking at talent management from a new perspective - through the lens of supply chain management.
Peter Capelli, the author of Talent On Demand and Director of Wharton's Center for Human Resources, addresses the problem very succinctly - "the challenge for talent management is first to get our hands around the uncertainty - how big is it? And second is, how do we become responsive to that?"
An intelligent and holistic talent supply chain management system allows companies to have a steady pipeline that ensures access to the right talent at the right time, for the right value. Such systems are a dynamic and sophisticated way of sourcing, screening, interviewing, evaluating and selecting candidates within short timelines.
Talent Management Against the Backdrop of Supply Chain Management
By definition, talent management involves anticipating the requirement of human capital in an organization and planning to meet those needs. It uses strategic human resource planning to improve business value. Such strategies link closely to business strategies to be effective in identifying and predicting talent needs.
In Dave Ulrich's words, "Talent management is the systematic process of creating and sustaining individual competencies that will help business deliver strategy".
Supply chain management systems essentially predict the requirement of goods and plan how to get the required material, while reducing costs and maximizing efficiency.
Since the 1950's, supply chain models have made seismic leaps; inventory has become smaller, processes have become leaner and faster, and the entire system has been optimized to ensure the right product reaches the right place at the right time.
The supply chain blueprint can help talent management systems respond better to the ever-changing markets. Inventory (that supply chain managers try to maintain at a minimum) is what HR professionals call a 'deep bench,' or a talent pipeline. Operations specialists work on reducing bottlenecks, accelerating processing time and fine-tuning product forecasts to reduce mismatch costs.
Much in a similar way, recruiters are always trying to reduce bottlenecks in the hiring process, speeding up candidate processing time by reducing the screening and interviewing rounds, and improving forecasts to avoid the problem of over-supply or under-supply of hires.
Talent Supply Chain Management Steps In
The challenges with the static talent pools that organizations currently maintain are that they are either over-supplied or under-supplied and are not responsive to unpredictable needs of the market.
An intelligent talent supply chain management system helps recruiters with 'build, borrow or buy' conundrums by responding to talent needs proactively, rather than reactively.
Looking Inward First

The reflex action to unplanned talent requirements is to hire outside. This is not surprising, especially in large decentralized organizations. But more often than not, large companies already have the talent they are looking for.

This talent could be working in a different team or on a different project, and looking inward is a cost-effective method of hiring. In such cases, L&D programs and efficacious assessments are a great way to benchmark and identify employees with the potential and motivation to fill new roles.
Talent supply chain management systems can help organizations leverage data to find the best talent fit in the shortest possible time.

Maintaining an Inventory

In order to keep the talent pipeline full, some organizations resort to high volume recruitment, especially during graduate hiring drives. With such an over-supply of talent, organizations are often unable to utilize the resources they hire (and pay for). While inventory can be kept on a shelf, talent made to sit on a bench, in anticipation of an opportunity or a project, will most probably leave and the company will have to spend time and money sourcing, screening, selecting and training a candidate to replace this loss. This adversely affects the organization's brand image and increases attrition rate.

Staggering hiring drives throughout the year can ensure teams aren't overstaffed and talent isn't underutilized. This allows companies to take another look at market trends and re-evaluate their talent needs.

Some companies have found innovative ways of keeping employees 'on the hook'. Cisco employees can take a voluntary sabbatical and Deloitte keeps former employees plugged into their system for at least five years. This way companies can get access to trained talent whenever the need arises.

Shortening the Forecasting Cycle

While it isn't possible to see the future, data-based predictions come pretty close. We now need to move beyond traditional forecasting techniques and leverage simulations to aggregate individual estimates up to an overall projection for the company.
The biggest goal, Cappelli believes, is moving from a planning model to a responsive model.

One well-known case of planning gone wrong is that of Unilever's Indian operations. After the recession in 2001, the model talent developer found itself top-heavy and saturated. Its pipeline, once smooth-running, was weighed down by 1,400 well-trained managers in 2004, an increase of 27% from 2000, even though the demand for managers had fallen.

Using existing data - attrition rate, rates of promotion, outside hires, etc., and keeping track of political changes and market forecasts, can help organizations maintain a repository of candidate profiles, both internal and external. Such pools can give organizations an estimate of the kind of talent they have access to and the type of talent they need.

Redesigning Development Programs to be More Responsive

'Repurposing' internal talent is one of the most cost-effective methods of managing talent. Skill development programs not only boost employee morale, they also help organizations foster a culture of learning and development.

Some organizations have 'personal pursuit' and 'self-nomination' programs that encourage employees to engage in development initiatives. Reliable and validated assessments, especially in emerging fields, not only helps employees gain more control over their career development, but they also help them assert their command over the domain in question.
Such programs help HR managers maintain profiles that are accurately skill tagged, that can be used for just-in-time hiring.
Envisioning a Supply Chain Management System for Talent
A holistic approach to talent supply chain management is imperative to maintain an active talent pipeline. Organisations need to identify, evaluate and sustain talent pools in order to keep up with the changing talent requirements. Recruiters decide whether they need to build, buy or borrow talent. There are different ways in which such pools can be found and sustained.
Talent is available internally but in a different team

Sometimes skilled talent is available in within the company or business unit itself. Internal Recruitment or Internal Job Postings help managers understand if the firm already has an employee with the required skill set.

With an inventory that is up-to-date with an employee's skills and competencies, it is easier to sift through and identify potential candidates for the job role. This way the requirement is matched with the talent within the organisation itself.

Talent is available internally but needs to be trained

Skill development programs are a great way to assess the competence of employees in various fields. Assessments help calibrate the technical capabilities, critical thinking and decision-making skills of employees and help you have a database of their performance. This helps maintain a continuously updated pool of potential candidates that are already hired in the organization.

Talent is unavailable internally and needs to be sourced

When talent is not available internally, organizations resort to full-time hires, part-time hires, or tap into the burgeoning gig economy. Maintaining a warm pool of such candidates can help recruiters have access to this large talent pool.

A comprehensive report of technical capabilities and behavioral tendencies can help recruiters easily sort and sift through such candidates to hire quality talent right on time.

It is critical to ensure the validity of the assessments, especially when it comes to remotely recruiting a candidate. Advanced remote proctoring is important in such cases as they assure the integrity of the test scores.
Points to Note While Selecting a Talent Supply Chain Management System
With the right kind of technology, managing the talent supply chain is not difficult. While application tracking systems (ATS) that enable companies to manage their recruitment needs, the importance of maintaining profiles that are up-to-date and properly skill-tagged cannot be stressed on enough.
Talview is working towards becoming an end-to-end solution for enterprise talent needs. Its Talent Assessments and Video Interviewing capabilities when combines with Talent Supply Chain Analytics and Candidate Database Management becomes a powerful tool for enterprises.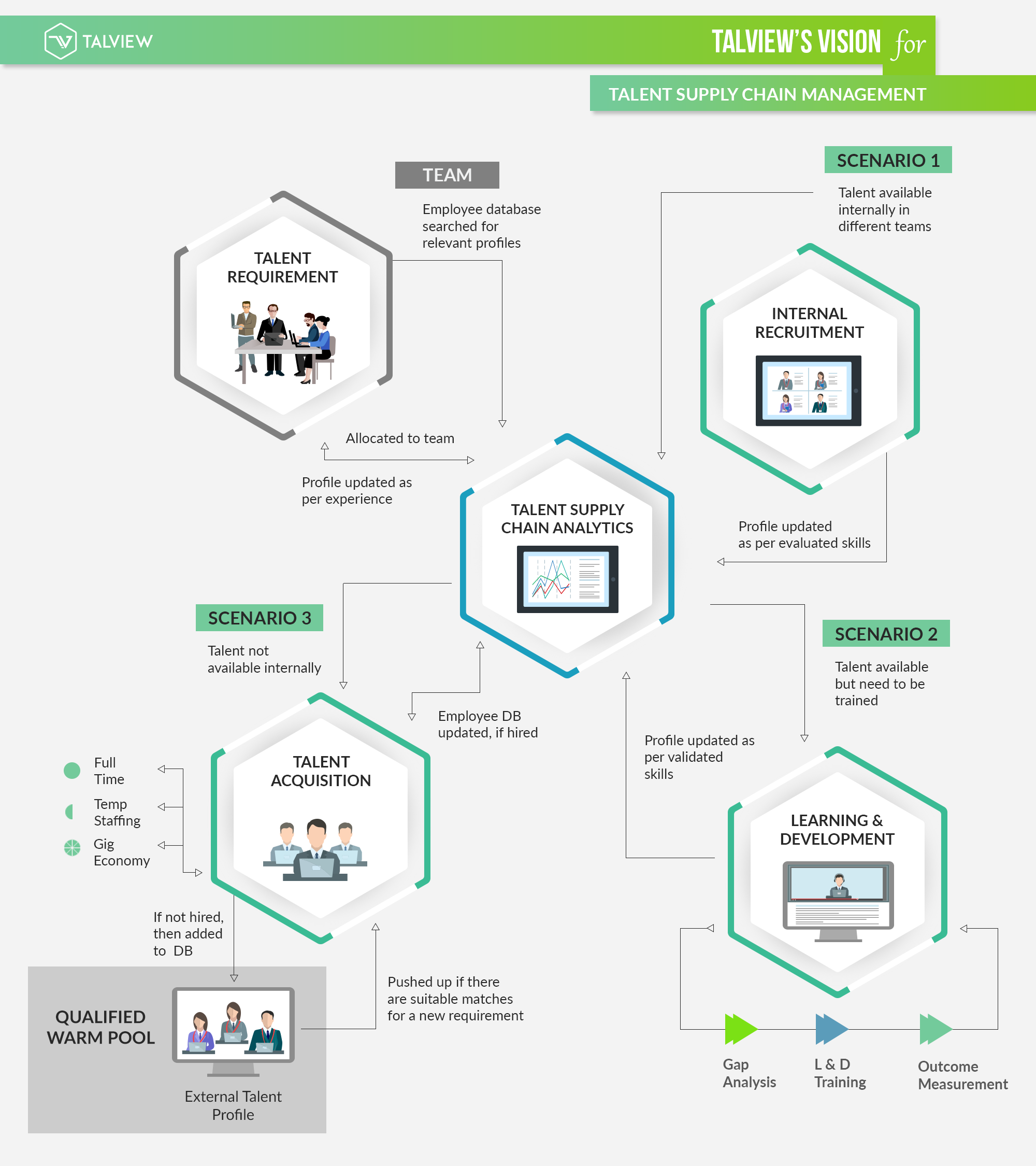 In the above scenarios, there are a few key points to note while trying to maintain an effective talent supply chain.
Updated employee profiles come very handy while headhunting internally. For recruiters to sift through all the applications, having a comprehensive profile is necessary.
That is where a continuum between Internal Recruitment and Learning Development comes handy. Competency profile of employees are updated based on various assessments which happen during the employee lifecycle and is available for recruiters to search for the right candidates. Although hard skills are easier to quantify and assess, the role of soft skills in such cases cannot be understated. Assessing the behavioral tendencies can help hiring managers select the right candidate for the job.
Softwares like Talview Behavioural Insights have helped companies generate and maintain behavioral profiles of employees and candidates to reduce the need for human intervention in the recruitment process. Such insights can help hiring managers match an employee's behavioral tendencies to the requirements of the job role.
When talent is not available internally and needs to be developed, organizations engage employees in skill development or learning and development programs. Such programs help build talent within the company, offsetting the cost and time needed to hire and onboard new talent. For L&D programs to be successful, it is necessary to perform skill gap analysis and measure learning outcomes.
Talview's Benchmarked and updated assessments validate the efficacy of the development programs.
When talent is not available internally, recruiters resort to sourcing talent from the outside. Depending upon the requirement, companies hire employees on a full time or a part-time basis.

These days lot of companies are tapping into the burgeoning gig economy to hire talent in niche fields for a short period of time. Video interviewing can be an especially useful tool when it comes to remotely recruiting candidates. It provides the candidate and the hiring manager the convenience of attending interviews and evaluating candidates in their own time. In such cases, it is crucial to assert the authenticity of the assessments.
Advanced proctoring engines like Proview raise red flags every time a malpractice is detected.
However, the most critical element which can transform the way today hiring happens and improve hiring process multifold is the concept of qualified warm pool of candidates.
Employers spend a lot of time and money on assessing a large number of candidates year after year and many a times candidates who were not the best fit for one role could be a good fit for another role.
However, even when hiring for similar roles the entire assessment process is often repeated as companies do not keep records of candidates who were ultimately not hired. With Talview's qualified warm pool mechanism recruiters can now tap into pre-qualified candidates.
Leveraging the capabilities of modern technological advancements like Artificial Intelligence, Natural Language Processing, big data, etc. can help companies reduce the time and resources spent on recruitment.
Hiring has an impact on an organization's bottom line and optimizing the costs is the need of the hour and shifting the recruitment paradigm to a supply chain one has shown significant results.