Talview Talent Insights is the world's first hiring solution that harnesses the power of Advanced Data Science, Machine Learning Algorithms, Video-Audio Analysis, Social Media Analytics, Psycholinguistics, and Speech Recognition along with the experience of enabling three million video responses to help companies build better teams. Talview Talent Insights is a futuristic hiring tool that redefines hiring to help discover the candidate. An IBM Watson powered tool that helps companies gain the competitive advantage by building better teams faster than the competition and also reduces the time to hire by up to 75%, increases the quality of hire by 30-40% and reduce resource requirement by 60%.

Agenda
6:00 PM - 6:45 PM : Registration and Networking

6:45 PM - 7:00 PM : Inaugural Address

7:00 PM - 7:45 PM : Panel Discussion

Topic : "HR Technology Today and Unsolved Business Problems"

7:45 PM - 8:20 PM : Product Launch

Launch of Talview Talent Insights: Sanjoe Tom Jose, Talview

Insights on Importance of Behavioral Fitment by Prof Ravikumar, IIM Bengaluru

Recruitment Marketing: IBM Keynote by Nick Kouma, IBM

8:20 PM - 8:30 PM : Valedictory Note

8:30 PM onwards : Dinner and Cocktails
Product Launch Speakers
Prof R Ravi Kumar | Organizational Behaviour & HR Management, IIM Bengaluru

Prior to his joining IIMB in 1986, Professor Ravi Kumar was associated with Andhra University, OsmaniaUniversity, Berhampur University and Government of India's National Institute of Micro, Small and Medium Enterprises, recognized as a center of excellence by UNIDO for its pioneering endeavors in the area of Entrepreneurship and Small Enterprise Management.
Sanjoe Tom Jose | Chief Executive Officer, Talview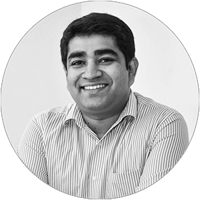 Sanjoe is also responsible for new initiatives and product strategy at Talview. He is passionate about building technologies that help make hiring easy. He is currently working on a cutting edge technology that can impact the world. He is an Engineer from Cochin University and an MBA from IIT Bombay.
Nick Kouma | Senior Client Partner, Smarter Workforce Asia Pacific, IBM


Nick Kouma, based in New Delhi, India, is the Asia Pacific Region Senior Client Partner for IBM's SmarterWorkforce business. He specializes in workforce analytics as an enabler for business outcomes, talent engagement for business growth, workforce optimization in a digital era, and leadership effectiveness methods across all industries. He originally comes from the US (Nebraska) where he obtained his Bachelor's Degrees in Business Administration-Strategic Human Resources and German from Doane University.
Panel Speakers
Suman Akkiraju | Associate Vice President - HR, HCL Technologies
Suman is an HR professional specializing in Global HR Policy, Process & Structural design, and Technology Enablement to achieve efficient HR organizations. He is currently leading a team involved in Designing Policies, Processes, and Technology for HR, globally. He is also responsible for HR Compliance Globally and setting up and running of the HR Service Center to move all operations to a central team for standardized delivery of HR operations.
Jatinder Salwan| Seniour Vice President - HR, Societe Generale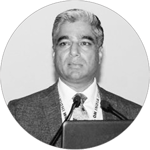 Jatinder has over two decades of experience in Human Resources across fields. He now handles an employee base of 5500 employees over three centers for all businesses across IT/ITES and Banking Operations, supporting Societe Generale's global banking business. Have functional expertise in HRIS, and is a part of Global evaluation and implementation team for HRIS.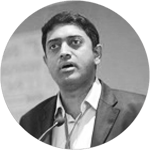 Rajeev Menon | Independent Consultant- Talent Measurement

Rajeev started his career as an accomplished sales professional and moved on to be a thought leader in assessments. He is a product innovation specialist who has been responsible for the creation of several behavior/personality assessments. He has patents to his credit for devising processes to solve problems faced by exam bodies. He envisages that the Human Capital Measurement is set to undergo significant changes both in design and delivery and continues to draw best practices for assessments as an advisor/expert at Sylvant.
George Oommen | Director - HR, Technology & Process Consulting, Cognizant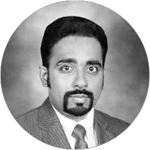 George has helped vision and structures the talent technology ecosystem & architecture spanning across the associate lifecycle, enabling key processes and programs in talent acquisition & supply chain, talent engagement & development, performance management, total rewards and HR operations. He has leveraged internal & best-of-breed capabilities for deploying a wide range of global apps or Systems of Engagement. His function has won key accolades, including the Chief People Officer Leadership Award.
Event Details
When : Wednesday, 17th August 2016, 6:00 PM to 8:30 PM

Where : Le Meridien, Bengaluru, Sankey Road, Opposite Bangalore Golf Club, Bengaluru, Karnataka, India

Welcome Kit : Register yourself at the registeration desk to recieve the welcome kit

Directions : From Kempegowda International Airport, Devanahalli, Bengaluru