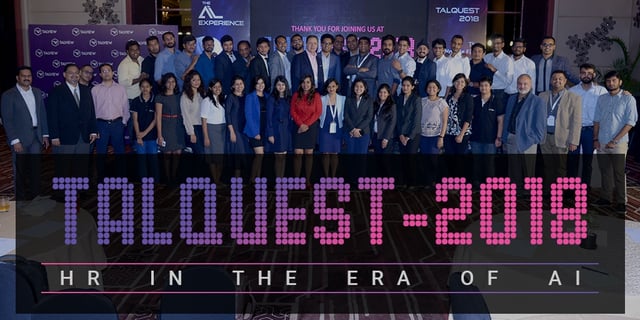 Talquest 2018, Talview's annual flagship user conference, delved deep into the applications of Artificial Intelligence in Human Resources and Talent Acquisition.
The first AI-focused HR Tech conference welcomed 160+ HR leaders from various companies.
Inaugural Address
In the introductory note by Sanjoe Tom Jose, CEO of Talview, set the context for the conference.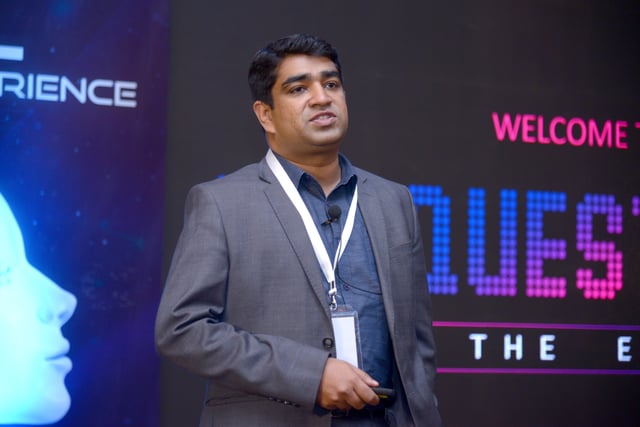 "Technology is changing the world. To respond to this change, organisations must be able to hire the right skills at the right time. Success or failure depends upon how you build your teams and HR is the enabler. This can't be done with the old tools. We need to disrupt", introduced Sanjoe.
Sanjoe was proud to present the company's remarkable growth of 258% in its ARR, with a 120% increase in its customer base in the last year alone. Talview now has a global presence, having opened offices in cities like Atlanta, California, London and Singapore. Along with its growth, the Talview team has also increased by 63% in 2017.
Talview unveiled its new logo during Talquest.
"The new logo is aligned with our vision to use AI in HR and Talent Acquisition. With this, we now usher in the new era of AI in HR" - Sanjoe
Keynote Sessions
Ushering in the Era of AI in HR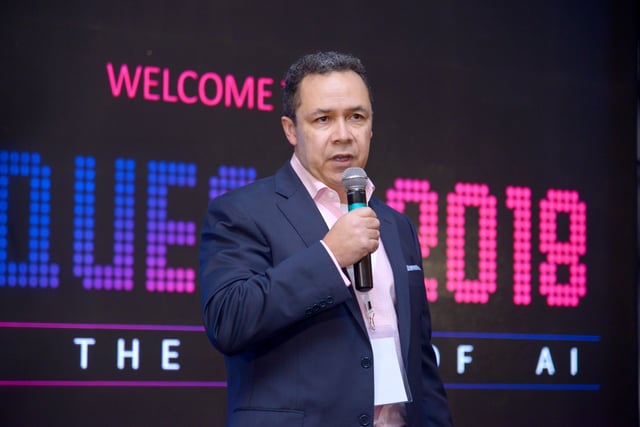 "To meet the challenges of growth, you need to modernize HR" - Matt Pietsch, CSO, Talview
Matt addressed the changing landscape of HR, and the challenges companies can expect as they look to grow. He also shared some insights on how they can prepare for digital transformation this year.
"Still think of Artificial Intelligence as science fiction? Think again. AI is no longer fiction; it is now very real!", says Matt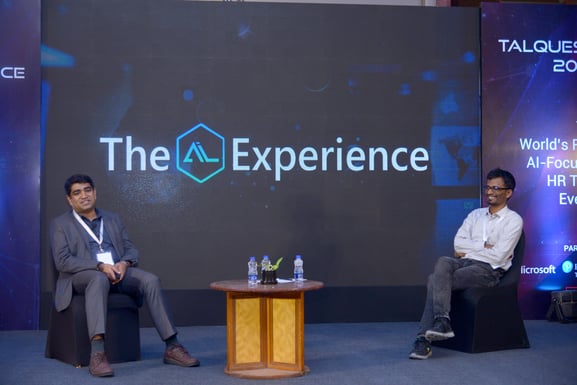 In their keynote session, Mani Ka, CTO, Talview and Sanjoe Tom Jose, CEO, Talview, elucidate the AI Experience. They break down the problems faced in the current recruitment process and provide AI-based solutions to these challenges.
"Talent has never been this vital for organizations and getting the right talent at the right time is more critical than ever for retaining relevance. This is HR's moment for glory; if they can adopt the latest tools especially the power of AI for talent supply chain." - Sanjoe
"Technology is rapidly transforming the workplace and for organisations to stay competitive, it is critical to leverage AI-powered talent acquisition tools for building a strong human capital." - Mani
Panel Discussions
Addressing Challenges and Use Cases of Talent Assessments in the Era of AI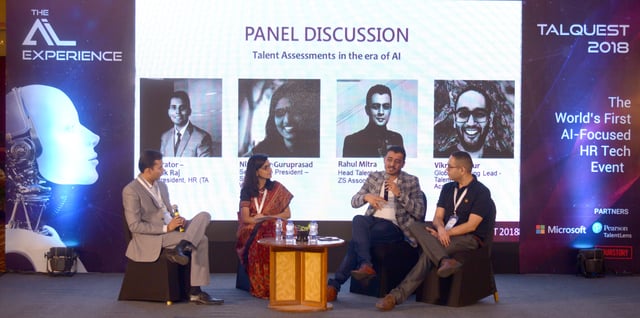 Moderator - Dishank Raj, Vice President, HR (TA Head) at Swiss Re
Panel members -
Nirupama Guruprasad, Senior Vice President – Strategy at Wells Fargo
Rahul Mitra, Head Talent Acquisition at ZS Associates
Vikrant Kapur, Global Sourcing Lead – Talent at Accenture
The first panel discussion dealt with Talent Assessments in the era of AI. Moderated by Dishank Raj, the panel discussed about the challenges with large-scale Talent Assessments. The discussion provided a deep insight into the different use cases of AI technology in the field of TA.
Exchanging Views on How Cognitive Technology Is Transforming Learning and Development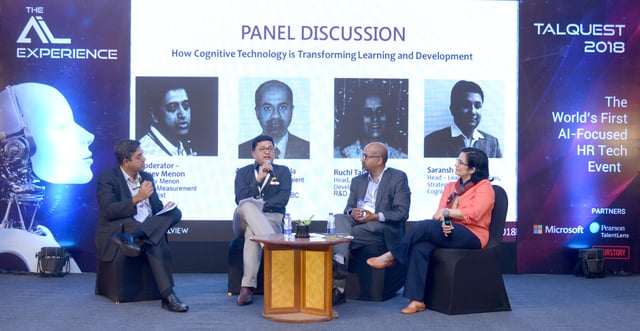 Moderator - Rajeev Menon, Talent Measurement Specialist at Talview
Panel members -
Abraham Zacharia, SVP- Learning & Talent Development at HSBC Bank
Ruchi Tandon, Lead, Learning and Development at Samsung R&D Institute India
Saransh Agarwal, AVP - Learning Sol., Strategy & Technology at Cognizant
The second panel discussion discussed how cognitive technology is transforming Learning and Development.
The panelists shared their experiences with change management in organisations and expressed concerns about the scalability of L&D solutions across multiple verticals within an organisation. The panelists have seen that tech-enabled bite-sized learning and gamified assessments add value to the overall learning experience of the candidate. While they talked about the difficulty in measuring the ROI of L&D technology, they were optimistic that machine learning would enhance learning and user experience by fine-tuning and curating courses.
Success Stories
Trailblazers Share Their Talview Success Stories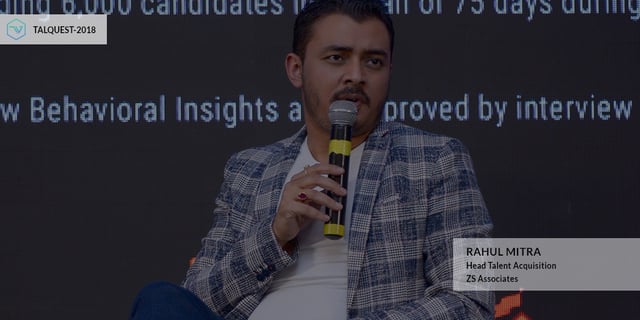 Rahul Mitra, Head Talent Acquisition at ZS Associates, shared his experiences with using Talview during ZS Associates' Talent Acquisition process.
"We used Talview and its TBI module to interview candidates for our three key roles from various campuses across India. We saw a match of about 90% in the human and machine interviewing outcomes, during the pilots and that's when we incurred that this concept is superbly powerful and should be introduced in the mainstream ZS interview process. This technique has increased the efficiency and effectiveness of our interview process manifold, and we are looking to evolve it further in the coming few months", says Rahul.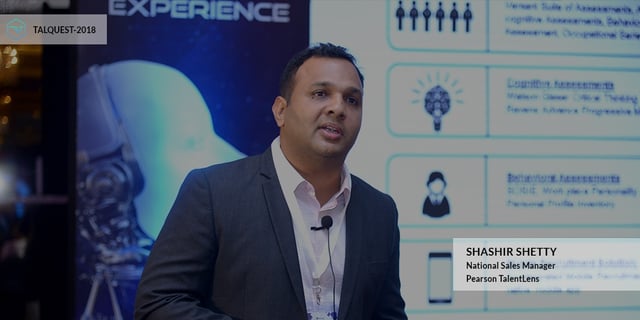 Shashir Shetty, National Sales Manager at Pearson TalentLens, spoke about the challenges they faced during lateral hiring.
Pearson started using Talview's Cognitive Video Proctoring to help their clients conduct online assessments seamlessly. This helped them save 60% panel time and reduced time-to-offer by 30%, while streamlining the hiring process to ensure complete transparency.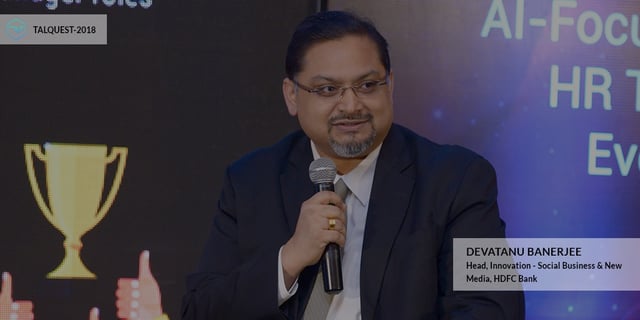 HDFC uses Talview's Talent Insights module in its hiring process. Devatanu Banerjee, Head of Innovation - Social Business and New Media at HDFC Bank talked about the benefits of the interview-less hiring process they employed. Talview's performance prediction model had an 86% accuracy for Relationship Manager roles. HDFC was able to save resource time by 60% and reduce time to hire by 80%.
The AI Experience
Getting a Hands-On Experience of the Future
Talquest also gave a preview of the new technologies Talview is working on –
an interactive chatbot that sifts through profiles and handles frequently asked queries from candidates
a collaboration module that streamlines recruiters and hiring managers for real-time, always-on collaborations
emotion recognition through automated body language analysis from images and video
cognitive remote proctoring by leveraging the multiple capabilities of Computer Vision
getting behavioural insights into a candidate with the help of psycholinguistics
enhancing candidate experience with the help of Augmented Reality and much more
Awards
Recognizing the Companies Spearheading Change Within Their HR Functions

The Talquest Awards recognized leaders in the use of technology in HR across five categories – Excellence in Candidate Experience, Innovation in Campus Hiring, Unique Use Cases, the Best Use of Technology and the use of AI in Recruitment. Cognizant, Mu Sigma, ZS Associates, Cognizant Business Consulting, Aditya Birla Group, NIIT University, Box 8, Securens, D. E. Shaw and HDFC Bank were awarded for their commendable use of technology in their respective categories.
The Way Forward
As organizations are becoming more digital, they are shifting from designing to actively building the new organisation. It was found that while 94% of the companies surveyed said agility and collaboration are critical, only 6% are highly agile today.
People analytics is becoming a business function focused on using data to understand business operations, and embedding analytics into the way we work. To succeed, it is imperative for HR teams to rethink organization and job models, embrace technology and leverage data to make better decisions and predictions.