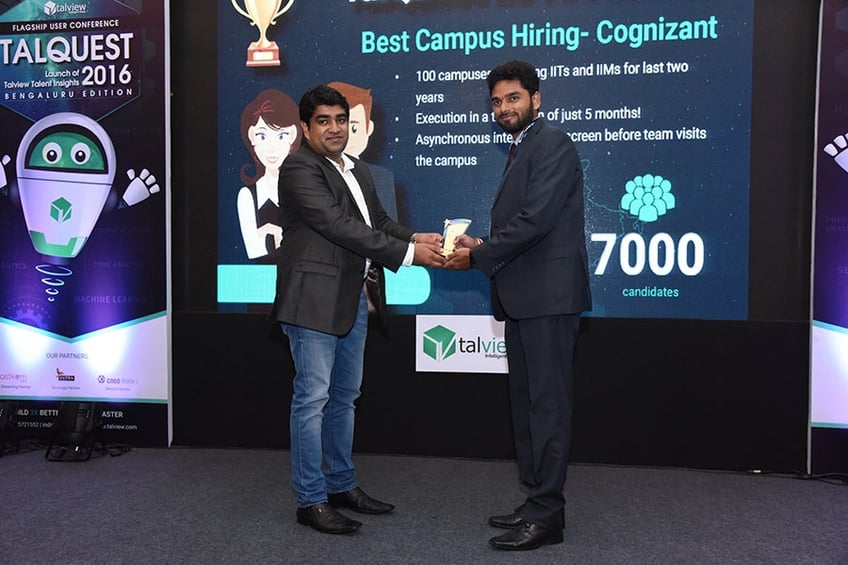 Rohit Singh, Cognizant receives Award for Best Campus Hiring Process from Sanjoe Tom Jose, CEO Talview
The Award for Best Campus Hiring Process recognizes Talent Acquisition teams who have reengineered their Recruitment process to improve the speed of hiring and scaled up the volumes and geography reach significantly.
MuSigma - They reached out to more than 100 campuses in the US and processed more than 3000 students in the space of one year. They used asynchronous interviews for personality assessment, MCQ based tests to assess intelligence, followed by essay writing. All these operations were handled by one recruiter and two evaluators.

Cognizant- They reached out to more than 100 campuses, including IITs and IIMs, processing more than 7000 candidates to hire both interns & full time employees in the last two years. What's fascinating is that they executed the this in a time span of just 5 months! They used asynchronous interviews to screen candidates for personality assessment and communication skills before the team visited the campus. All this was accomplished by a team of mere 2 recruiters!


TCE- Hiring at campus' is one of the most difficult tasks but TCE has made it easy. In their own words "No more carrying heavy bags filled with question papers and OMR sheets". They have hired from campus' all over India from top engineering colleges like BMS and RVCE in the south to the best of Universities like Amity in the north. TCE has visited close to 7 NIT's and all within the span of a few weeks. Has conducted parallel drives in separate Campus' in different regions of India. TCE has truly made the job of their Campus recruiters a joy with the changes they have got into their hiring process with Talview covering more than 20 Campus and interviewing more than 1500 students.