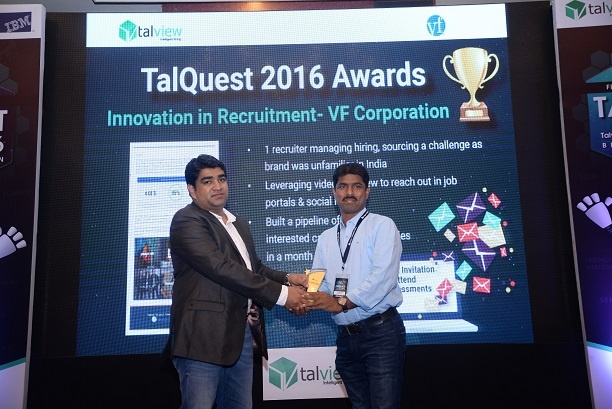 Pushparaj Rai, VF Corp receiveing the Innovation award from Sanjoe Tom Jose, CEO Talview
The Award for Innovation in Recruitment recognizes Talent Acquisition teams who have moved away from the age old Recruitment Techniques and have brought in New Age Innovation in their Recruitment practices to improve the efficiency and effectiveness multifold.
VF Corporation - A single recruiter managed recruitment for the firm's India operations, facing difficulties in scheduling interviews based on the availability of panel and candidates, the latter generally having experience in excess of 10 years. Also, sourcing of candidates was a major hurdle. They overcame their hurdle by leveraging Talview's video interviews to reach out in different job portals & social media. They built a pipeline of qualified and interested candidates for all roles in a month.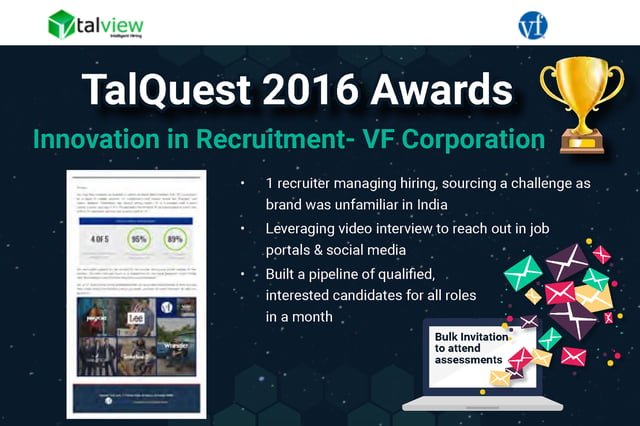 Securens- Securens is headquartered in Mumbai, they wanted to reach out and hire candidates for its offices located in different locations with the help of their smart and efficient recruiters team in Mumbai. They have taken the term 'innovation' a long way, from organizing and taking part in Career Fairs and campus hiring to giving the differently abled a chance to tell their stories through Technology. Securens has done-away with the old ways of recruitment and got innovative even with their questions. A question loved by all "What biscuit would you like to be and why?" May have nothing to do with an installation engineer or a technician's role but they all love answering it.