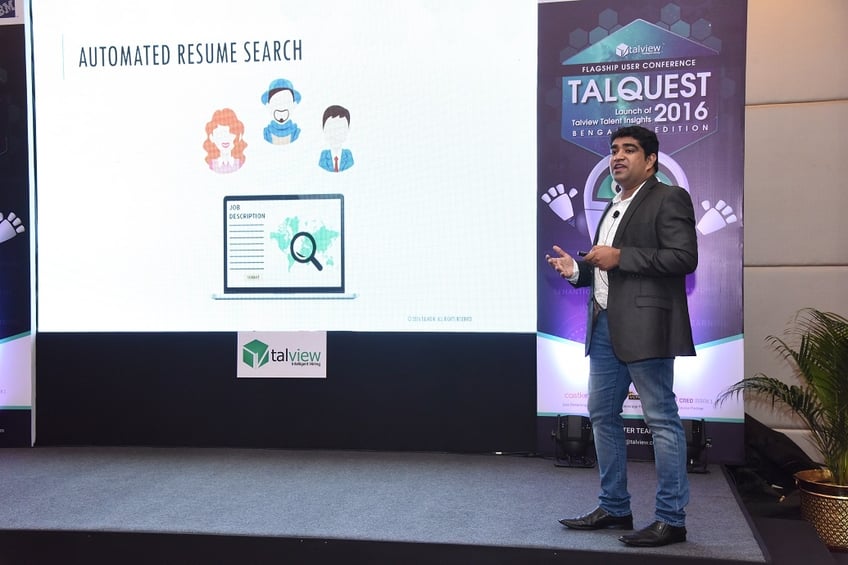 The Most Anticipated Launch of Talview Talent Insights by Sanjoe Tom Jose, CEO - Talview
Amidst a lot of buzz in the air, over 100 HR professionals from various industries had gathered in a swanky conference room of Le Meridien, Bengaluru to witness the launch of Talview Talent Insights. Mr. Sanjoe Tom Jose, our beloved CEO, took to stage and elaborated on the cutting edge technology of Talview Talent Insights - the World's first hiring solution that leverages the power of Advanced Data Science and Machine Learning Algorithms, Video-Audio Analysis, Social Media Analytics, Psycho-linguistics, and Speech Recognition.
His launch note also consisted of a research report on Understanding the Recruitment Troubles and Trends - India. Here's the deck.
Mr. Sanjoe Tom Jose further explained how Talview Talent Insights helps companies gain competitive advantage by building better teams faster than competition and its capabilities to reduce time to hire by upto 75%, increase quality of hire by 30-40% and reduce resource requirement by 60%. He further highlighted how the crucial candidate insights provided by TTI lead to reduced hiring time, better teams and significant competitive advantage with industry validated Big Five model, Intrinsic Needs & Values. He stressed on the fact that the vision here is to make the organizations feel comfortable and confident about using cognitive analytics for hiring, not force them into using it.
Mr. Sanjoe's address was followed by a quick demo of the product, conducted by Mr. Ayush.
For more details visit our website - Talview.