San Mateo, California – Talview, a leading provider of an end-to-end, AI-powered hiring and exam solution for certification providers, is delighted to announce the launch of its Tech Certification Playbook co-authored by Sundar Nagarathnam, a proven leader and innovative pioneer in global education and certification programs with history of success at innovative tech companies.
Organizations recognize the importance and value of implementing or revamping a certification program to maintain the competitive edge in today's constantly evolving technology landscape. The Talview Tech Certification Playbook offers valuable insights for creating and managing successful certification programs to develop a skilled community of practitioners.
This comprehensive guide equips readers with the necessary tools and knowledge to establish and administer effective tech certification programs. Key topics covered include program design, exam creation, candidate experience, marketing, delivery, operations, pricing, and more, enabling readers to design superior certification programs and maximize their advantages.
Sundar will also be leading a series of podcasts and workshops that delve deeper into each topic. He will be joined by guests from the industry, who will share their personal experiences to perform a deeper dive into each topic on how to establish a sustainable certification program.
"To succeed in today's digital world, organizations need to be agile and forward-thinking in managing certification programs that take advantage of changing trends and technologies."

Sundar Nagarathnam

Innovative Training & Certification Advisor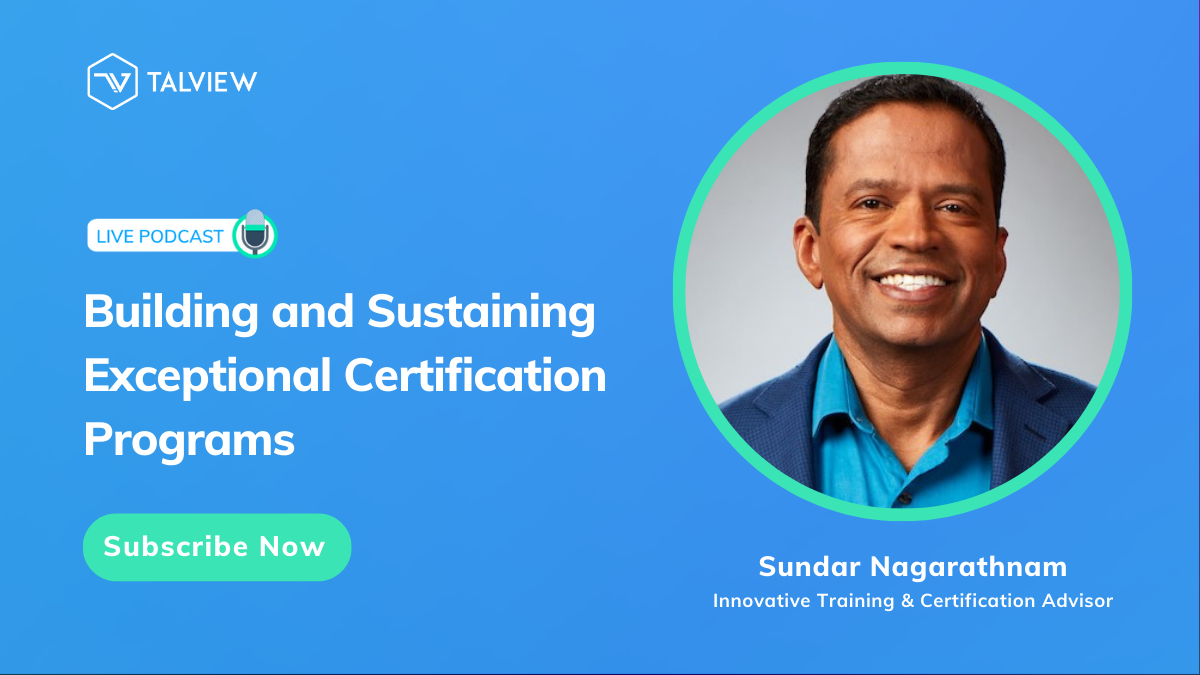 About Talview
Talview offers an award-winning Measurement Platform that orchestrates workflows for hiring and credentialing. Talview Exam Solutions delivers a superior user experience through an interface that is modern, multi-lingual, accessibility friendly, and a proctoring experience that is non-intrusive. Talview Proctoring Solution can integrate into any LMS (Learning Management Systems), Exam Engine, or other web platform, allowing organizations to augment their proctoring capacity, use their own proctors if desired, and easily support Performance Based Exams. In addition, Talview is one of the first providers to incorporate an immersive experience for test takers via the Metaverse. Talview delivers a platform to better engage an industry's community with Candidate Management capabilities. Learn more at Talview.com.