Talview's biggest event of the year is back! For those who aren't familiar with TalQuest, here's a quick blog on why you shouldn't miss Asia's biggest Hiring Tech event.

What:
TalQuest is Asia's first and biggest Annual Event featuring Revolutionary Hiring Technology that is transforming the world. With 16+ star speakers, kick-ass workshops, brainstorming sessions led by industry experts and hundreds of HR leader attendees, we can only say it's nothing less than spectacular.
When:
TalQuest 2019 is set to be held on the 20th of February, 2019 at Radisson Blu, Bengaluru.
Why:
If you're a hiring enthusiast interested in understanding the nuances of cutting-edge HR technology that is implemented by Fortune 500 enterprises, then TalQuest is the place for you! Here's what you'll be taking away at the event:
Kick-ass demos of new technology in the industry

Multiple workshops offering industry-recognized certifications conducted by industry experts

Special sessions by star speakers from across the world

Expand your network by connecting with a palette of HR leaders across different parallels.

Hour-long talks by HR Leaders from Fortune 500 companies

Entertainment session by a celebrity because we won't let you get bored!

Great food and drinks (we promise!)
The journey so far:
TalQuest was an idea set into motion in 2016. From then on, we strive to out-do our efforts every year and put together Asia's biggest HR Tech event. TalQuest 2018 was a huge success featuring discussions, talks, product launches and workshops by HR pioneers around the world. TalQuest 2019 will be the third edition and we aim to make it the biggest of them all.
Getting there:
Talview is a group of hiring enthusiasts dedicated to innovating technology that will change the way we look at things. In our journey towards changing the world, one hire at a time, we aim to bring together the best minds in the industry under the same roof for innovating, networking and curating the best hiring ideas and practices.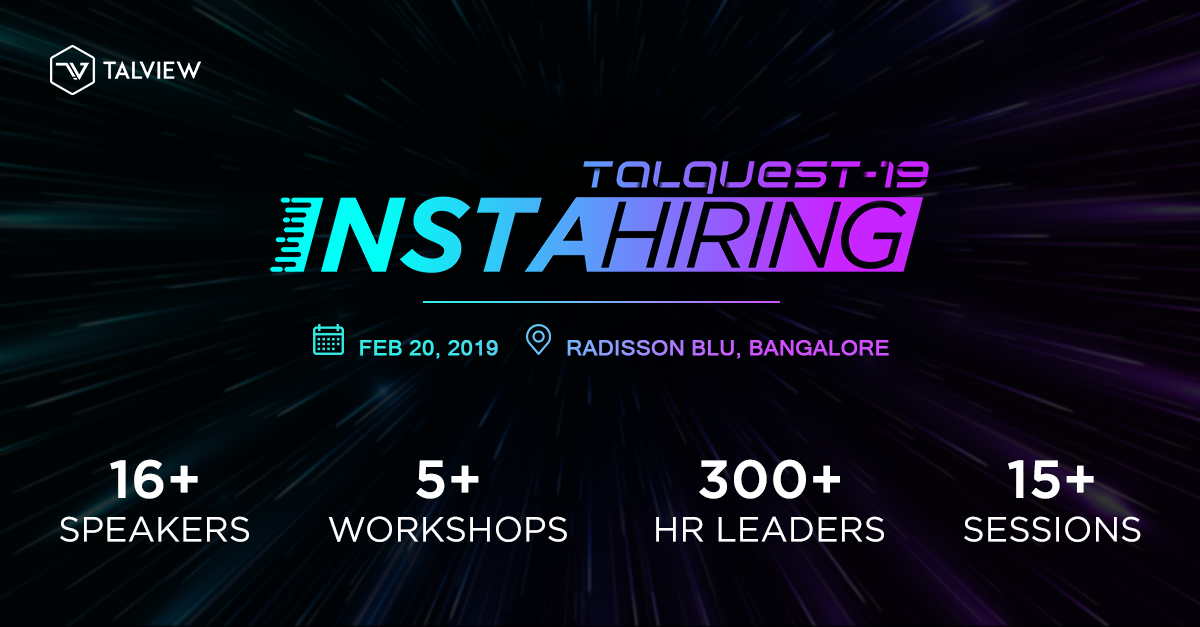 As organizations are becoming more digital, they are shifting from designing to actively building the new organization. It was found that while 94% of the companies surveyed said agility and collaboration are critical, only 6% are highly agile today. People analytics is becoming a business function focused on using data to understand business operations, and embedding analytics into the way we work. To succeed, it is imperative for HR teams to rethink organization and job models, embrace technology and leverage data to make better decisions and predictions.
With TalQuest, we aim to bring the best minds in the hiring industry to brainstorm, innovate and educate the best practices and tools to hire the best talent.
Join us at Asia's biggest HR Tech conference, this February.