With organizations across the globe shifting and adjusting to remote work, the impact on recruiters tasked with finding new talent has been cumbersome. For first-time remote workers or even recruiters accustomed to the traditional face-to-face interviews, adapting to new-age technology can seem daunting. How then can companies hire the right talent while ensuring safety amid a global pandemic?
Here is where technology, like video interviewing, comes into play. However, does it end at just that? No! Technology today has evolved exponentially, paving the way for recruiters to hire intelligently anywhere, anytime. And for this, they need a robust end-to-end platform that helps them re-imagine recruitment. But how do we know what more is needed to enhance the video interviewing experience?
This blog touches upon the following:
Video interviewing and recruitment

What is a video interview?
A video interview is conducted remotely and uses video technology as its primary medium of communication. Provided the current global situation, this can be considered the best option to maintain business continuity and safety while curbing the spread of COVID-19.
There are two primary formats in which organizations can conduct video interviews:
Recorded video interviews

Live video interviews
Recorded interviews are an easy way to screen a high volume of candidates. The employer defines a set of questions on online recruiting software and invites a list of candidates to answer these pre-determined questions. They are designed to elicit responses from the candidates that help the employer get a holistic perspective of the candidate, their skills, experience, soft skills, culture fit, behavioral fit, etc.
By pre-selecting and recording your interview questions as per the role, you reduce bias, since all questions are standardized and there is no human judgement.
Live interviews, on the other hand, are when the interviewer schedules a live video interview with the candidate, and the process happens in real-time. Unlike other video conferencing technology providers, a dedicated HR technology platform can offer a complete end-to-end encrypted solution ensuring 100% safety of the data collected.
Why should you switch to a video interviewing process?
Video interviewing has many advantages, in addition to being a means of communication. Some of them are listed below:
Studies show that it takes 45 days on average to hire a new employee. That is a long time, so anything that can be done to cut down time is seen as beneficial. Video interviews help in doing precisely that. They help reduce the cost, time, and efforts involved in conducting in-person interviews significantly.

A research by Jobbatical.com showed that 47% of the 506 companies surveyed used video interviewing to shorten the hiring time-frame.

It allows you to engage with potential candidates from across the world remotely while providing a standardized, consistent experience. According to research, a positive candidate experience makes them 38 percent more likely to accept a job offer. If a diverse team is what you are looking for, video interviews help you create exactly that!

Video interviewing tools allow branding of the platform with banners, videos, color themes, and logos. This way, your organization will be perceived as tech-savvy and candidate-friendly.

All the videos are available for future reference. Much in the same way, evaluations and comments are also saved for audits in the future. All members of the hiring team can view candidates' recordings on the video interview platform and make well-informed hiring decisions.

It significantly reduces the efforts, time and operational costs involved in conducting an in-person face-to-face interview as these can be conducted from anywhere, and also be rescheduled in case of any unexpected changes.
If you are still not sure, see why candidates love video interviews here.
Commonly used video interviewing platforms

While video interviewing is one of the best ways to conduct an interview remotely, how do you choose the right tool for your need?
Here are the tools which are currently majorly being utilized for video conferencing:

Recruitment today is a lot more than merely calling up a few candidates and manually assessing their capabilities. With HR Tech players like Talview in the market, the face of recruitment has changed for the best. They leverage cutting edge technology like AI-enabled behavioral insights, automated workflows, ATS integration and so much more to take video interviews to the next level.
However, one of the major apprehensions around implementing a video interviewing solution has been the concerns being raised by test-takers around the security and safety of their information.
The recent security debacle throws in multiple questions at Zoom Meeting being not a credible video conferencing platform. Several issues with Zoom have attracted public attention, most notably call hijacking or "Zoom-bombing." This sees uninvited attendees viewing your business meeting, or worse, sharing unwanted content and stealing data. Additionally, they do not offer end-to-end encryption to the users who do not have a paid subscription to the platform.
Similarly, Skype doesn't use end-to-end encryption. That means every message, call, and file can be viewed by the company and stolen by cybercriminals. Voice, video, text, and files sent between Skype users are encrypted, but only between the user's device and the platform's servers. To add to that, their data collection policy is quite opaque and does not clearly specify what data is being collected.
In the case of Google Meet, Transport Layer Security (TLS) encryption is used in transit, but calls are not encrypted end-to-end between users.
Another very important concern is the audio-visual capabilities of these platforms. Audio and video play a significant role when it comes to providing a seamless interview experience. We at Talview conducted in-house research on the platform capabilities at low bandwidth of 256 kbps and high of 300 Mbps.
Here's the detailed comparison performance report: Performance Report
While all the three platforms offer basic video calling capability with features like call recording, screen sharing, and group calling, the real question is - Is that enough to hire the best talent?
Why Talview is the right fit?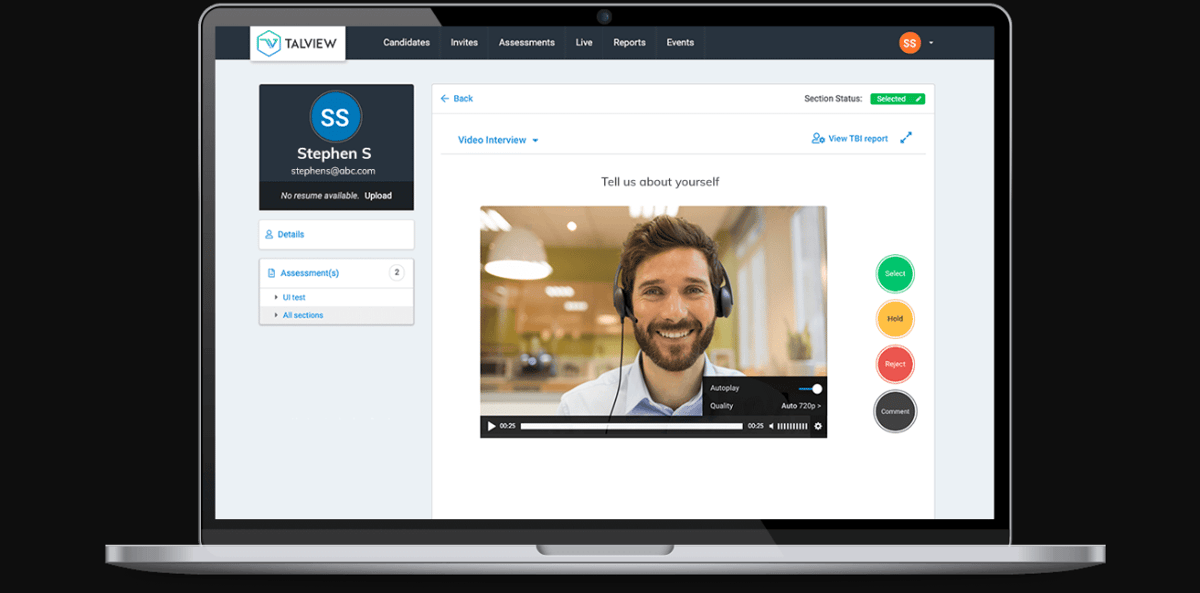 Talview, with its futuristic technology and holistic approach, has transformed the video interviewing experience exponentially. Here's what sets Talview apart from the plain vanilla video tools mentioned above:
One platform, multiple solutions - The star factor that distinguishes Talview from platforms like Zoom, Skype and the like is that it is not just a video interviewing platform. As mentioned above, it is so much more. Talview's AI-powered recruitment platform is the fastest way to remotely screen, interview, and test top talent.
It offers various features like remote proctoring, online assessments in 18 different formats, advanced security checks like the 360° environment check, automated identity validation, 2-factor verification, AI-led facial & voice recognition, and much more! What's more? You can access all the details of the candidates in one place (assessments, interviews, etc); no more choosing multiple vendors for multiple services.

Talview Behavioural Insights (TBI) - Based on established models such as Big 5 and intrinsic values, Talview Behavioural Insights adds AI-powered Natural Language Processing to process data and help recruiters make unbiased hiring decisions 100% of the time. The TBI report can be generated directly from a video interview, eliminating the need for the candidates to take an additional personality or online behavioral assessment.

Reports are auto-calibrated right after the candidate finishes the video interview with the help of competency mapping, ensuring you get an accurate picture of every candidate in the quickest time possible.

You can learn more about the science behind TBI here: Learn More

Applicant Tracking System (ATS) integration - An ATS tracks candidates throughout the hiring process. Without integration, you would spend a lot of time copy pasting candidate details from the ATS to video conferencing platforms like Zoom. This in turn impacts the scalability of the hiring process exponentially. Talview's integration allows to you to schedule interviews directly from ATS and get filled forms back into the ATS. This allows the platform to scale as per your needs.

They offer pre-integration with leading ATS's like LinkedIn Talent Hub, Taleo, ZipRecruiter, SmartRecruiters and many more. In addition, they also undertake integration with any in-house or third-party ATS's as per the requirement.

Mobile-first experience - Talview's video interviewing solutions are available across platforms and devices. It caters to the "mobile-first" user who expects a seamless digital communication experience with exceptional speed and convenience.

Employer Branding - In the current global scenario, it is nearly impossible for the candidates to get a holistic view of the work place as they cannot visit the office physically. Platforms like Zoom offer branding facility, which is limited to just adding the company's logo. However, Talview's platform offers the opportunity to tell the employer brand story and instantly engage potential hires with their brand through job preview videos, banners, messaging, color themes, and much more.
Recorded Video - While the above mentioned platforms provide the feature of making the recorded video available for 30 days (Except Google Meet which stores the video to its Drive), Talview provides the feature for an indefinite period of time. That is, you can access the video and share it among your team anytime after the interview is recorded.

Automated workflows - Conducting a video interview lets you avoid multiple screening rounds and see more candidates in less time. It takes less than five minutes to create an video interview process and invite candidates. With its recent Calendly integration, you can send an invite with your availability marked on the calendar, from which the candidate can select a slot and confirm his availability.

It synchronizes your availability with the candidate's and auto-populates your calendars such as Google, Office 365 and Outlook calendars, and apps like Zapier, saving oodles of time. You can also schedule predefined custom email reminders a day before the interview or at any time and frequency.

End-to-end encryption - Data security and privacy is of utmost importance. There is no denying that. With Talview, your data is in safe hands as it is compliant with GDPR, PDPA, CCPA, AICPA & EEOC. It has an end-to-end encryption policy that ensures your data is 100% safe and secure.

Collaborative hiring - You can now democratize candidate selection and reduce the number of screening rounds by getting multiple stakeholders to join the interview at the same time. With its recent integration with Microsoft Teams, collaborative hiring just became a piece of cake for Talview. It allows you to evaluate candidates and make hiring decisions quicker, together. You can collaborate with your team on one platform and make hiring decisions together quicker

Low internet bandwidth requirement - Low bandwidth has been one of the biggest problems when it comes to online interviews. With Talview, you can conduct uninterrupted assessments and live video interviews in areas with internet speed as low as 1 Mbps.

Real-time support - It is important that there is constant communication between you and your HR Tech vendor. Talview's round-the-clock support gives recruiters and candidates help through phone, chat, and email. 24*7 support helps in understanding the processes and how certain things are to be handled.
See how a multinational information technology service and consulting company leveraged Talview's video interviewing platform and save 67% of the panel time in 6 months with a 2-member team: Learn More
If you want to learn how to conduct video interviews that save time and money, talk to our experts today!