Generation Z – also referred to as the Digital Natives – is the group that comes after Generation Y (or the infamous Millennials). Generation Z individuals are those that were born between 1995 and 2009, making up for about 25.9% of the US population. By 2020, this generation is expected to contribute about $44 billion to the US economy and make up a third of its total population.
If we do the math, Gen Z are those that are currently between the ages 10 and 24. This means that they are slowly inching their way towards employment.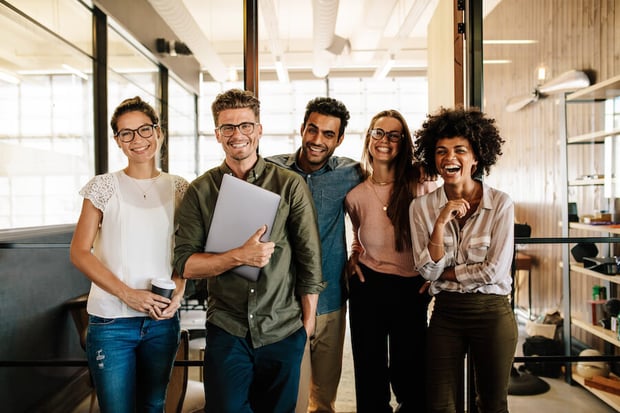 Now couldn't be a more perfect time for you to prepare how to add this new generation of talent in your workforce. And remember, fortune favors the prepared. Below are 5 expert tips you need to follow when recruiting Generation Z employees:
Bring Out Their Inner Entrepreneur
Having grown up connected to their peers, Generation Z are quite an entrepreneurial bunch. This is great news for you as a business owner, since they're the type who are not just competitive but are also driven by their passion to achieve status and recognition.
Unlike the millennials who often require regular feedback and advancement opportunities in the workplace, Gen Z are more about achieving stability in their jobs. As an employer, you'll want to give them constant feedback, immediate recognition, and a clear career path where the rules are fair and well laid-out.
Allow Them to be Independent
It's no coincidence that Gen Z individuals are called Digital Natives. After all, they're the first group to grow up with the power of the Internet! Because of this, they're more inclined to independent thinking - always wanting to feel that they own themselves and the work they do.
With this in mind, you'll want to let Gen Z employees do their own work. It's not just about teaching them how to do the job right. Instead, allow them to decide for themselves and develop their own problem-solving and critical-thinking skills.
The bottom line would be that you're helping them become successful in their own endeavors, while working for your company.
It's a win-win situation, don't you think?
Speak Their (Tech-Savvy) Language
The Generation Z group possesses a lot of unique traits, especially when they're born into a completely digital world. Their though processes are wired to not just absorb large amounts of information, but to also take them in instantaneously.
We're now living in a world that's constantly overflowing with new information. As a business owner, you'll want your workforce to be composed of people who can easily keep up. Gen Z individuals are the perfect match!
IHateWritingEssays.com's David Anderson, an entrepreneur and a representative of the Generation Z himself, finds that by speaking their language, employers can easily connect with and create a positive work environment for this type of employees. One that fosters social connection, creativity, as well as personal growth.
You can do this by showcasing your work and initiating discussions on social media. By doing these, you're showing Gen Z employees that your company is providing them the opportunity to connect, innovate, and grow in a tech-savvy and meaningful manner.
Allow Them to Connect to the Workplace
Digital Natives are at their best when you give them something and someone to relate to at work. They're not always impressed with getting to meet "Joe" from the finance department who's been with the company for over a decade, because many Gen Z individuals can't relate to the idea of sticking with a single company for a long time.
They would much prefer a more forward-thinking workplace that will give them the work-life balance they want. They want to start their own career, but are still not ready to give up their own beliefs or personal life in the process.
As an employer, you'll want some of your Gen Z employees to be part of the interview process so that the Gen Z applicant will have someone they can relate to during the interview. With this, you can help them feel more at ease with the idea of employment in your company.
Additionally, you might want to consider preparing an internship program that will attract Gen Z applicants to your company. With this, you'll give yourself the opportunity to hang on to them once they officially graduate.
Provide Career Growth Opportunities
As mentioned earlier, job stability is important for the Gen Z employee. By constantly offering them career development and training opportunities, you're not just assuring them constant learning in your company, but also career growth. This way, you can get them engaged with your company.
Also, Gen Z, with their constant need to absorb new information, love learning. As such, they want to make sure that investing years in your company can help them gain new knowledge, hone their skills, and propel them forward.
Today's recruiters need to smoothly transition to adapt to the dynamic workforce. With Generation Z setting different expectations, goals and working process in place, it is important that recruiters identify the fastest way to onboard the best talent in the market. With Insta-Hiring, recruiters can now hope to considerably cut down on the time taken to hire. Statistics show that a good candidate is available in the market for just 10 days, hence, faster hiring can significantly scale the quality of hire.
Generation Z employees are hardworking and loyal. Given the right opportunities, they'll remain loyal to your company while having a stable work-life balance. And when you give them free reign, they're not just capable of thinking outside the box, but also reinventing it, making them a huge asset to your business. Make sure you have the right strategies in place and sure enough, you'll make Gen Z love working for you and with you.