As a CEO of a video recruitment platform, I have come across a lot of interesting hiring practices. This article speaks about reasons why a company should have a consistent hiring process and how to achieve it without much effort.
What are some of the decentralized or inconsistent hiring practices?
Inappropriate questions and comments posed on the candidate

Process that involves the hiring managers to devise their own interviews and simple tests for evaluating the job candidates

Indulging in Nepotism during the selection process
These are commonly practiced at most workplaces. The problem with inconsistent hiring process is that the results are equally inconsistent. I believe that hiring for a company must be a process that can be quantifiable. In fact there is no 'non-standard process,' if it is not standard, it is a random collection of criteria at most - nothing else. Determining the effectiveness of new hires is not feasible as there is no underlying feature that is common among candidates.
Employees come and go, but a reference point remains for your future recruiters and hiring managers. A definition of a good candidate, metrics that needs to be considered are a few references that need to be standardized every year along with your goals. Everyone is using the same language when describing candidates. In a research report I read, recruiters claimed they understood what the hiring managers wanted 82% of the time. However, the corresponding hiring managers said the recruiters provided with accurate candidates just 57% of the time. Therefore, it becomes very important that both speak in a mutually comprehensive language!
There are volumes written on the internet about the standardizing hiring processes. In the age of complete digitization and virtualization, it is necessary to standardize hiring process in line with available technology.
Defining Key Terms in Hiring
As I mentioned before, defining key elements can be a good start to standardizing the hiring process.
Combining Candidate Details in One Database
Most of the companies I have come across have candidate details all over the place on 10 different computers. That's where you need to start, collate candidate details - you have yourself a candidate pool.
Turning this candidate pool into a yielding pipeline will help you hire for an ad-hoc open position much faster as compared to traditional technique. Moreover, just building a pipeline will not do, you should implement a plan that allows you to engage with the candidates. The aim is to make them feel they are important; sharing practical notes about the job, a word from the CEO, implementing buddy-up system, and informative videos are a few places you can start from. You can also take help of social media. These are not only to your prospective candidates but also to candidates that are selected and awaiting a joining date from your end. That's when you need to engage them most.
Training the hiring managers on interviewing techniques
As bizarre it may sound, training hiring managers is very necessary to raise the bar on candidate quality and knowledge about recruitment technology is the way to go. Provide them with two simple tools, interview training and competency based interview guides, they will be on their way to hiring top talent. Hiring managers are very skilled at identifying the skills and qualifications needed to perform the job at hand, but some training on tools used by recruiters will help them to look for cultural fit and other softer aspects.
The processes I mentioned above can only be effective until all the data is in one place. Once you have designed all that you need in place, you need a tool to which makes it easy for interviewers to follow the best practices and for you to monitor that they are being followed without fail. How can a tool help? Well, it depends on what tool you use - there's ATS but that has it's own drawbacks and most of them do not help you with interviews much. A recruitment automation tool with video interviewing capabilities can help you standardize a lot of processes; starting with questions asked, evaluation forms used, objective comparison of candidates and unbiased results. Moreover these tools can help you stay on the right path without deviating into unwanted questions that could land you on a legal hassle with candidates. Recruitment automation tools like video interviews have been proven to reduce legal problems. (See actions that could lead you into legal problems during recruitment)
Simplifying Interview Process
Scheduling conflicts, no-show, multiple lengthy rounds of interview are a few flaws in traditional; hiring methods to start with. The assessments that candidates take shouldn't be a bane to them; they are your unpaid, (sometimes unwanted) brand ambassadors. Don't invite paparazzi that botches your brand. We ran a survey among the candidates who took assessments over an asynchronous video interview platform. Here's the overall result.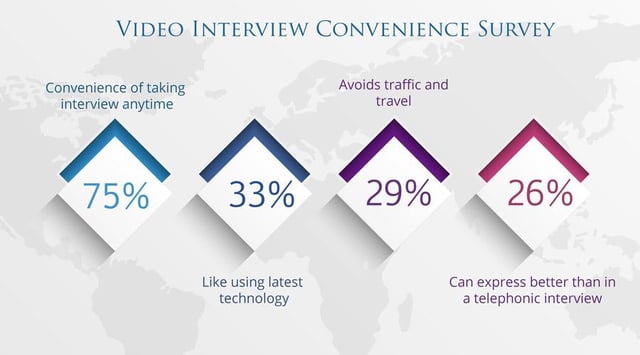 Candidates don't really like travelling for the first few rounds of interview, I agree with them because, there is no guarantee that they will get selected. Provide with a convenient screening process; hook them up with a perceptive recruitment process that allows them to take the interview anytime anywhere. Of course with a cheat proof plan. Then go for a live interview round. Candidates will appreciate it.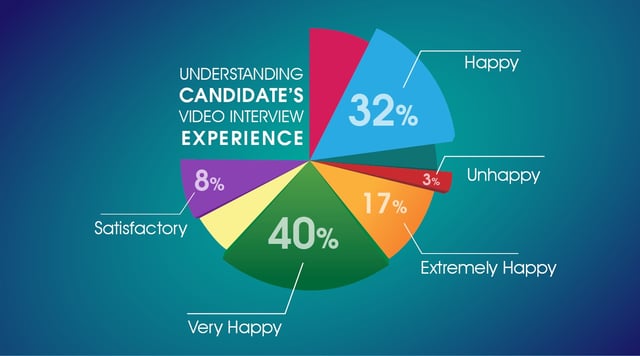 What's good for the hiring team is good for the company. Write to me at sanjoe@talview.com if you need to know anything about standardizing the process, I'll be happy to help. Or click below to talk to our solutions experts.