Enterprises today are rigorously scaling as the demand for more niche roles increases. Recruiters in these enterprises are burdened with bulk-hiring round the clock and know the pain of a manual recruitment process.
According to SHRM, 7 million jobs were open in the US in December 2018, but only 6.3 million unemployed people were looking for work. With the increasing skill gap in the market today, it's becoming difficult to maintain a pipeline of candidates ready to be hired whenever required.
This accompanies problems with finding the best talent in the market. According to the same study by SHRM, 75% of those having recruiting difficulty say there is a shortage of skills in candidates for job openings. With all these obstacles on the way to a perfect hire, it becomes imperative to adopt technology and let automation take the burden of mundane tasks. And if you're thinking that this will render all HR roles useless, you're mistaken. Automation will simply help recruiters complete their tasks quicker.
Recruitment automation has already become an essential part of the hiring process for several businesses. And if you're not one of them, you should rethink your hiring strategy now.
But what is recruitment automation?
Recruitment automation can be defined as the use of automated software to support and enhance modern techniques and workflows of recruiting such as sourcing, screening, assessing, interviewing, and onboarding to help increase recruiter productivity, reduce time to hire, cost per hire, and improve the overall talent profile of their organization.
A major part of Talview's Instahiring Experience Platform stems from the above definition. Instahiring is envisioned as the fastest way to hire for enterprise employers across the globe. It is possible through a combination of three techniques: automation of routine recruiting tasks, enabling anytime-anywhere screening and capturing & reusing data across the hiring process.
It's a popular myth that recruitment automation tools are expensive for every organization to be able to afford and take advantage of. But that's not true. The resources that organizations spend, without realizing, on manual recruitment for every vacant position and the time it takes to fill those positions is much higher than a one-time cost of having a recruiting software. The average cost to hire someone new in the US is about $4,000, as estimated by a study done by Bersin by Deloitte Talent Acquisition Factbook 2015. And the cost of hiring the wrong candidate is even higher.
There are many recruitment automation software and tools in the market today that can be tailor-made for your specific requirement. But first, let's focus on which areas of recruitment can be successfully automated.
Here's a list of recruitment processes that you can automate:
1. Sourcing:
The first step of automation can be taken right at the beginning. You can add a recruitment chatbot on your careers page or social media pages that handles all job-related queries and doubts of your potential candidates. The chatbot can answer all standard questions or doubts that every new potential candidate might have, reducing your burden of answering them personally.
Once you add the chatbot to your careers page, it handles the majority of your routine tasks and frequently asked vacancy-related questions and queries. If there is a vacancy listed for a role that a candidate might be looking for, the chatbot will ask a few preliminary questions to the candidate along with a copy of their resume to qualify or disqualify them accordingly. This way, you won't lose out on talent that directly comes your way.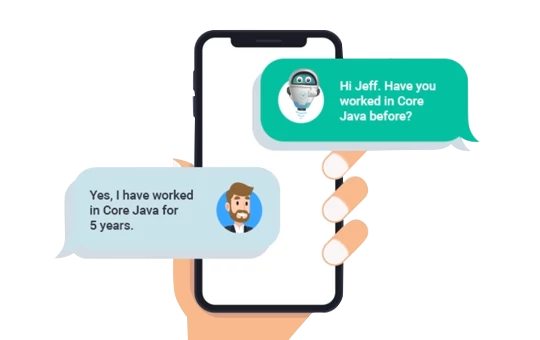 2. Screening:
You can find separate tools in the market that take care of CV screening and parsing as well. The software or tool will record all applications in the system and with the help of the keywords (such as strong communication, extroverted, etc., for a sales role) given by recruiters/hiring managers, the system will qualify or disqualify resumes for the role that the candidate applied for.
Integrated with an ATS, the software learns what the job requirements are and then learns what qualified candidates should look like based on previous hiring decisions. Not just that, some smart tools record candidate profiles for future roles, and/or suggest other roles that their profile would fit better in.
3. Scheduling:
Once screened, tools can help you sync the recruiter's calendar with the candidates to find a date and time that suits both. Once that is done, it locks down both calendars. These automated interview scheduling software helps in clearing the major bottlenecks — coordinating and planning for interviews, sending timely reminders and making sure the other party is available. These software and tools also send automated reminders to both parties so that they both are on time for the interview. This way, even if an interview is canceled or postponed, it will alert the other party, ensuring no unnecessary messaging and emailing to reschedule.
4. Assessments:
Handing out written aptitude tests to every person who comes for a job application is a redundant task waiting to be optimized. With every different role and vacancy, there are different sets of skills, knowledge, experience, and talents that are required to do the job. Accordingly, there are different tests and assessments to assess qualifications for different roles.
Using pen and paper tests is unnecessarily tedious for the recruiter. Checking papers one by one, and storing them for future use in physical files and putting them in some corner to never use them again — why not have automatic cloud storage for all assessments that are easy to sift through whenever the need arises? Again, not only is it time-saving but also less prone to biases.
Having pre-screening online assessments saves you the burden of not having to interview hundreds of unqualified people. You can just send candidates the right type of assessment for their role (technical tests, behavioral tests, personality tests, essay and grammar tests, etc.), and with a fixed timing range for each test, you will automatically receive a list of all the candidates that qualify for the next round once they are done with the assessments.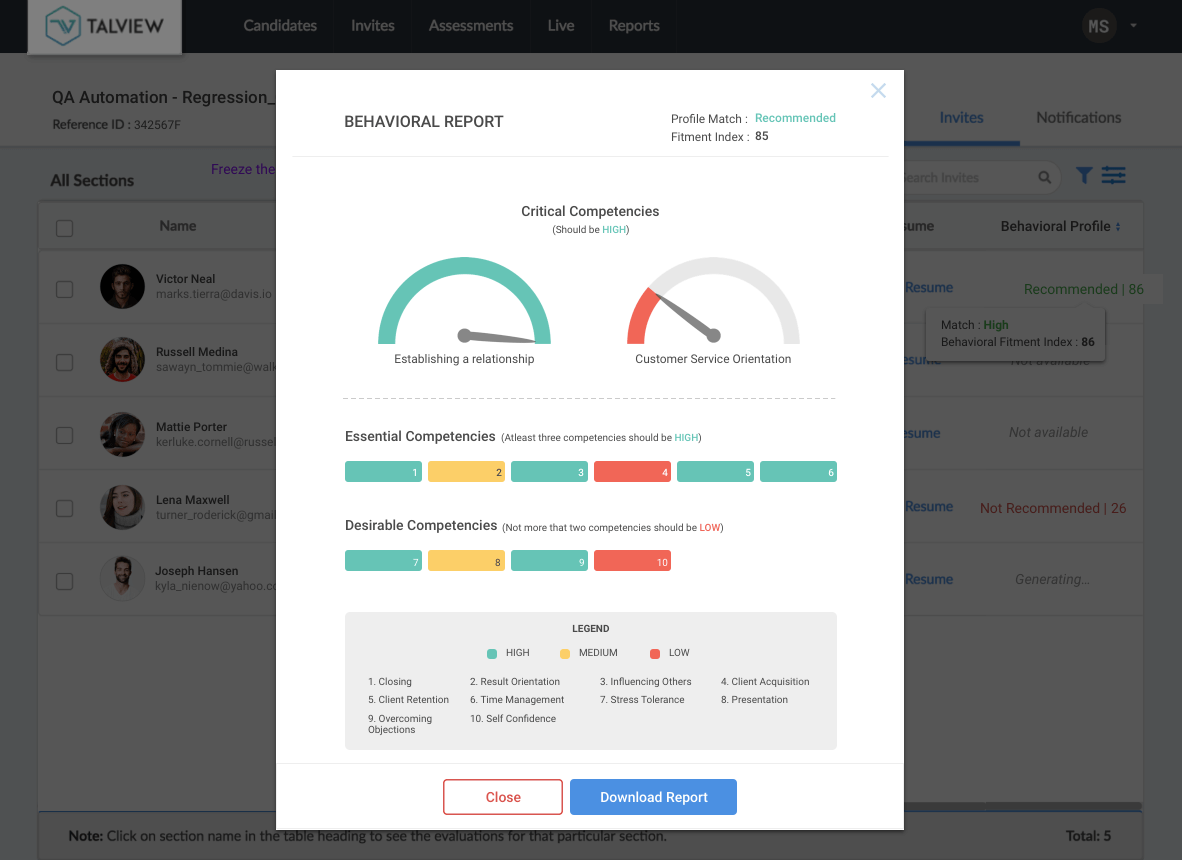 Online assessments are made error-free using various methods such as remote proctoring. It can be in the form of recording the screen of the candidates while they take assessments and disable switching browsers to ensure they don't copy/paste answers from somewhere else.
Having assessments online not just saves time, but it also helps you reduce logistical barriers (such as coordinating with a panel/hiring manager and candidate to set a common date and time when all parties involved are free to take/give assessment) and broadens your scope for getting talent from across cities and maybe even countries, for certain roles.
5. Interviews:
There are various kinds of online interview software today that you can utilize for your hirings like Video Interview software, Live Interviews, and even Asynchronous Video Interviews, in which all you need to do is select the questions you want candidates to answer, distribute them to candidates through a unique web link or app to complete within a specific time range, and block some of your time to review the videos. They will simply record their answers and forward them to you.
This is not only a time-saver but can help you accurately compare candidates. Once you have all the answers from candidates to the same questions, it becomes much easier for you to see who gave the best answer, rewind and replay answers to remember what they said, and have multiple panels take a look and decide who to hire.
For live interviews, both the hiring manager and the candidate have an online interview in real-time through mediums such as Proview. They both sit in front of their screen and the interview goes on like a regular face to face. These can also be recorded by the employee for making accurate hiring decisions.
If you are wondering that these interviews give way to frauds and tricksters to crack interviews, you're wrong. Video interviews can be proctored remotely to avoid cheating and impersonation during interviews. It's like having CCTV in an exam room, only without having someone constantly looking over the tape, because with artificial intelligence, these things can be detected immediately by the system that triggers a red flag to the interviewee. Proctored interviews are the way to go as they enable anytime-anywhere hiring in a fast-paced world.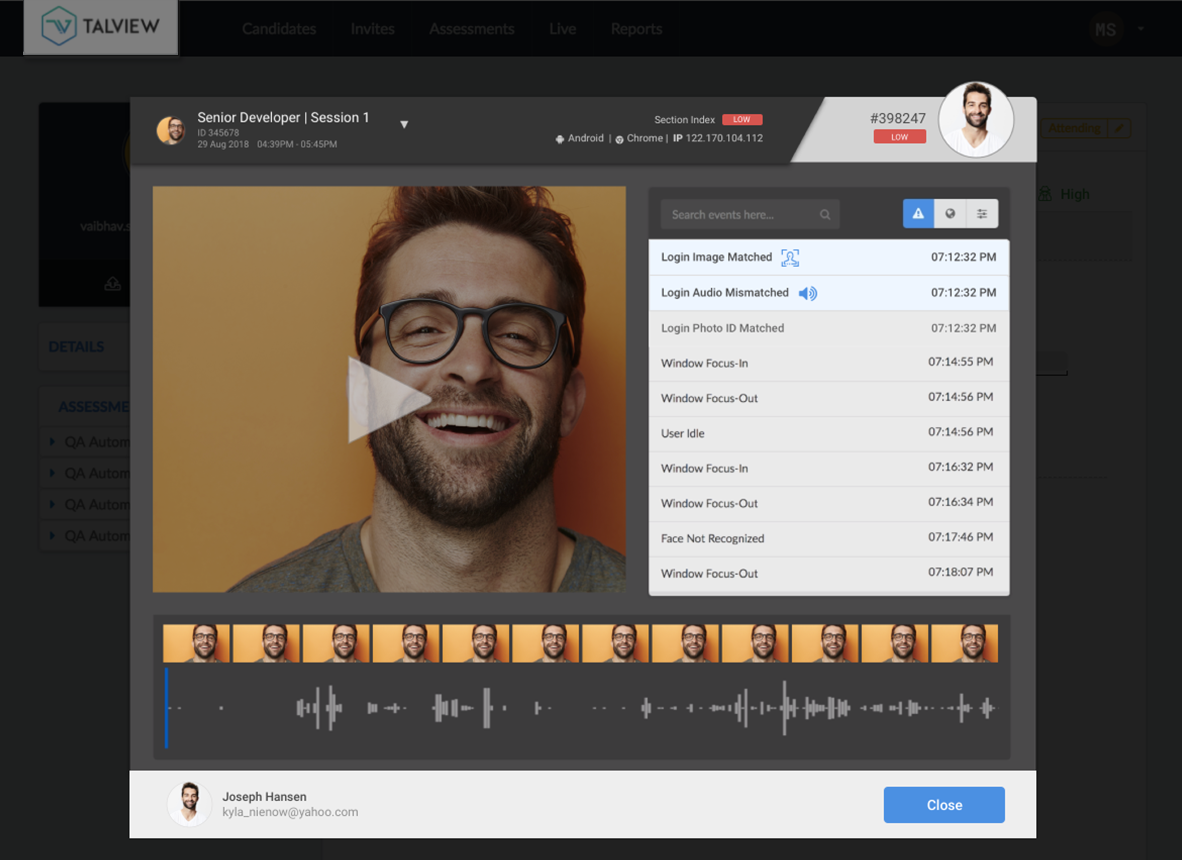 6. Reuse Data:
You can engage good candidates you couldn't hire for a present role for future job opportunities in your organization. Old ATS systems surely take on resumes and records them, but rarely ever suggests old resumes for any new role that might arise. You could be losing precious candidates who themselves showed interest in working with you by not having a record of them and reaching out to them when a requirement comes.
Not only does reusing old data give you a ready warm pool of talent, but it also improves employer branding by letting them know that you remember them. You can pick up right from where you left, have a look at their previous assessment report, and take the conversation from there.
Now that you know the various steps of recruitment that you can automate, let's jump to the various advantages of adopting automation technology in recruitment.
Hiring lag has long been a nightmare for recruiters globally. In a mobile-first world of doing everything with the tap of a finger, it seems like a waste of productive and revenue-generating time when you have to spend hours in attracting, pre-screening, nurturing, assessments, scheduling, back and forth of calls and emails. Automation in recruitment helps in saving that time to hire and enabling recruiters to get more things done in the same amount of time.
A study by McKinsey estimated how automation in recruitment could boost global productivity by 1.4%. Once you automate these aspects of recruitment mentioned above, you automatically free up space to make hiring decisions, write better job descriptions, focus on creating hiring strategies leading to streamlined and more fit hires in the future along with better candidate experience.
Not only that, once you cut down your time to hire, you will also see a drastic improvement in other recruiting metrics like the quality of hire. Once you find the right automation tools for your business, you will instantly see that the quality of candidates being screened and approved to be much better suited for your requirements.
"42% of employers do not actively use any strategies to reduce unconscious bias when recruiting." - Robert Walters
By reducing human intervention in the process, there will be minimal scope for biases, which will lead to a more streamlined influx of candidates and a more organized and structured hiring process. Such digitized and quick processes, in turn, lead to great candidate experiences. Word of mouth spreads and, in no time, you have a great employer brand and a pool of talent to choose from.
In Conclusion
The best way to automate your recruitment process is to find the right tool for your organization that understands your requirements and fits well with your process. That will be an important step to efficient hiring.
With all these benefits, you now know what you can be missing out on. Tools like the Instahiring Experience platform are made with the aim to provide you with such benefits for a hassle-free hiring process. If you wish to learn more about it or request a demo, click here.