Online exams have become a reality for most universities across the globe. The pandemic fast-tracked the adoption of remote learning and examination tools in universities that were used to traditional classroom methods of teaching, learning, and assessing.
These institutions had to quickly shift to online alternatives to avoid cancellation or postponement of regular curriculum exams.
While the shift to online learning and examination was overdue, education institutions were not completely prepared for it. Having an online education infrastructure, training educators to teach online effectively, creating virtual study modules, having an exam software, ensuring exam integrity, etc., are just a few things that the universities needed to take care of.
To move to online exams, many universities had to buy an exam software for the first time that could fit their examination requirements. But not all of them had enough knowledge about choosing the right technology.
In fact, a poll conducted by Educause revealed that 33% of the respondents using proctoring did not know what to look for in a proctoring solution and were not familiar with its best practices.
Similarly, today, you may find a variety of exam and proctoring tools in the market that provide a range of different features and capabilities. But even the best of them might not work for the exam needs of every university.
Hence, education bodies must do a thorough study and background check of any exam solution that they plan to buy before making the decision.
And we understand that it can get tough navigating through the internet looking for a perfect solution with the perfect features and offers.
That's why this blog post is aimed to help you understand the key features of an online examination solution and what to look for while planning to invest in one.
Features of An Online Exam Software
A Versatile Examination Platform
Education institutions hold various kinds of examinations throughout an academic year. They can conduct basic internal evaluation with the help of a simple essay or MCQ test, or advanced year-end evaluation with complex coding tests.
It would be best if they can find an exam software that can help them conduct all these various types of exams on the same platform.
A good online examination software should have the capability to create and conduct multiple formats of examinations, such as a reading and comprehension test for literature or language, technical coding or STEM tests for math and science, multimedia tests with graphics, audio, and images for better visual processing, and more.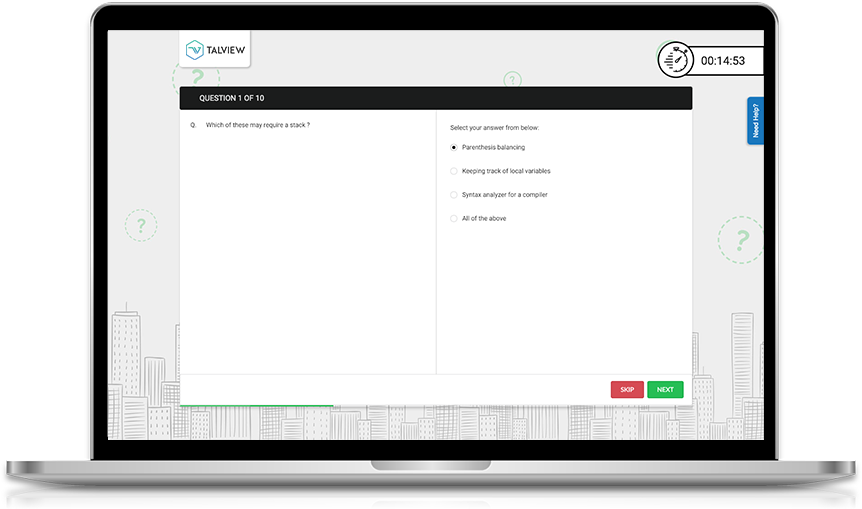 An online MCQ test on the Talview platform
This makes it easy for educators to create, distribute, and assemble all kinds of tests in one place, get the results of the tests, and keep their records too, in one place.
The online exam software should also have the functionality to grade the students' tests and rank them based on their results.
It further makes it convenient for the educators managing multiple classes to grade students at the end of the year. With an online exam software, they don't have to keep a hold of all the test papers and all the grades of each student from each class. They can simply refer to the software.
A Safe and Secure Exam Platform
One of the major concerns with online examinations by universities has been around test integrity. How can one ensure that the students are not involved in cheating or malpractice in an online test?
To start with the basics, the exam platform must offer remote proctoring capabilities to discourage students from cheating.
In a remotely proctored exam, a student's online test screen, video, and/or audio feed is monitored and recorded while the student takes the exam from a remote location. It could be reviewed in real-time or at a later date by a proctor.
An advanced remote proctoring tool monitors such tests through Artificial Intelligence (AI) that is trained to track and flag any malicious behavior by the test taker. A human proctor can later cross-check the flags and certify the validity of the test.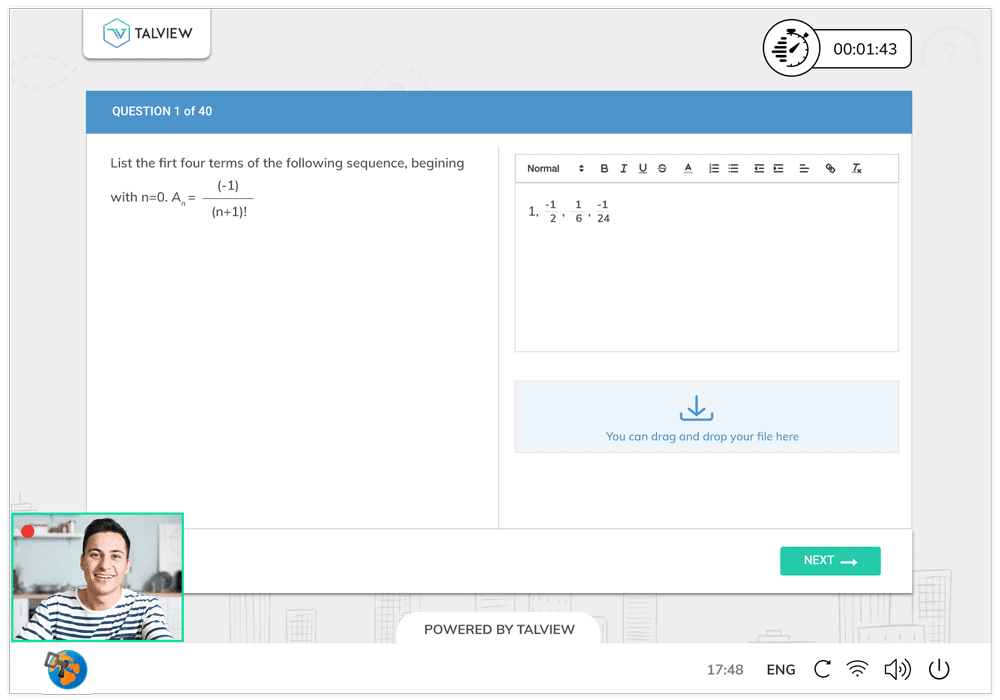 A remote proctored examination on Talview platform with the video feed of the test taker visible
A proctored examination can be conducted in more than one way as suitable to the college or university. Each way has its own benefits.
An exam can be proctored live in real-time for a human + AI-led proctoring experience. Such live proctored exams can effectively deter cheating as they are proctored both by a live proctor and an AI that can detect and flag any fraudulent behavior during the exam.

The proctor monitors the student as they would in a classroom setting, while AI assists the proctor if they miss any suspicious activity.

A live proctored examination also ensures real-time communication between the proctor/educator and the students in case of any questions regarding the exam or suspicious activity during the exam.

Recorded proctored exams are recorded tests that are reviewed by a proctor at a later time. These tests can be administered when there aren't enough invigilators available at a time to invigilate all exams, for instance.

Such exams are reviewed later by a proctor for any malpractice issues during the exam.
Additionally, to take online exam security to the next level, a good online exam platform must have other security checks in place to maintain test integrity throughout the exam. Some examples of that are:
Multiple authentication checks before beginning the exam to avoid impersonation of the test taker.
Dedicated exam browsers that lock down the screens of the test taker to only be able to access files, pages, and documents relevant to the exam.
Environment checks. Question paper watermarking.
Browser patrolling, etc.
Putting these checks in place helps exam bodies to hold online exams securely.
Accessible to All
In a 2020 Educause quick poll, 40% of institutions reported that the online proctoring products they use do not meet their accessibility standards.
Therefore, it is extremely critical that a reliable online exam platform should meet various accessibility criteria to be used easily and effectively by every user.
As such, a software that strives to be truly accessible should meet the global accessibility laws that promise web content to be easy to consume for as many people as possible.
The WCAG or the Web Content Accessibility Guidelines are a set of guidelines/recommendations to make online content and exams more accessible for people with a diverse range of hearing, movement, sight, and cognitive abilities.
Tools such as Talview are WCAG 2.0 compliant that makes it easy for people with accessibility needs to take proctored exams with ease. Certain abilities are accommodated with the help of additional features such as increase/decrease font size, speech to text, etc.
Being compliant with global accessibility laws means that the software provider too promotes an accessible and comfortable exam-taking experience for all.
Here is another example of accessibility. Since the exam platform is expected to be used by students and educators coming from diverse socio-economic backgrounds and geographies, the platform should not have performance issues in low internet bandwidth.
This helps widen the reach of education bodies and ensures that no one is excluded from a remote learning and test-taking experience simply because of internet problems.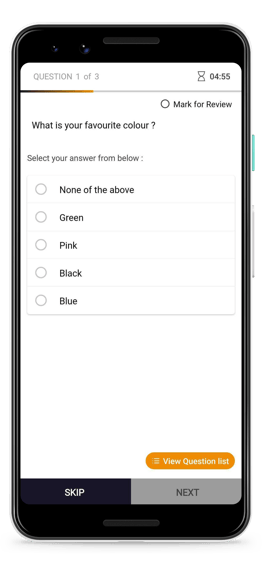 Online exams available on mobile
Another way that such platforms can promise accessibility is by providing a friendly mobile experience. Having an online exam platform accessible via mobile devices helps educators conduct or grade exams from anywhere and at any time. Students don't have to rely on their desktops to take exams.
Scalable for Better Reach
For universities, there may be hundreds or thousands of students taking an exam simultaneously. Basic exam software might not be built to handle such a large scale. The last thing anybody wants is for the software to stop working during an exam.
There are large universities that have multiple campuses across a country or countries. Similarly, even certification bodies hold examinations for their students who are often spread across the globe.
It might not always be easy to coordinate and provide the same exam experience to every student in each campus or region.
Such exam bodies could streamline and centralize their examination process across regions by having a scalable online exam solution.
Easily Integrable
Another important feature of online exam software is how well it integrates with the existing apps or tools used by the university.
Universities and educational institutions often work with basic learning management and examination tools to maintain their curriculum, reduce manual efforts of teaching, track student progress, etc. They might even use one or multiple tools for that purpose.
When evaluating tools, check whether or not they will integrate with existing test engines, LMS, or other management tools. Furthermore, it should seamlessly work with current processes and make examinations easier and simpler to conduct.
For instance, Talview's exam solution is a plug-and-play application that integrates with almost any LMS, app, or test engine, making it easier for university administrators to hold exams.
Compliance and Privacy Protection
Another major concern is the safety and privacy of student data. Any good and reliable exam solution will be completely transparent with why it needs the users' data, where it will use it, what it will do after acquiring it, and how it will discard it.
To ensure that you do not use unsafe exam software, the solution should be non-invasive, detail its privacy protection guidelines, outline its terms of use, and be legally certified to hold proctored exams on its platform.
Hence, a proper and thorough background check on your proctoring software is a must before purchasing. This will give you the comfort of knowing that your software isn't intruding or using your data without your permission.
If hosting online exams internationally, the online exam software should abide by international laws, such as GDPR. Universities must do their research about such laws not only in their native country but for each country from which a student may take an exam.
Ensure that any vendor abides by these legal and privacy protection guidelines before purchasing; otherwise, universities may be at risk for breaching these regulations.
Conclusion
Education institutions were not completely prepared to shift to remote exams when the pandemic hit. Many were new to using exam software to conduct remote, online exams and did not fully understand what they should look for in a solution.
A solution that is versatile, safe, accessible, mobile, and scalable, can help make the online transition of examinations easier for higher education institutions. It makes the process simpler and streamlined while maintaining the integrity of the tests.
And for their students, universities and colleges provide a secure, seamless experience to take exams that is accessible to all learners anywhere, anytime.
In the end, educators and students are seeking the same goal – democratizing learning so everyone can achieve their full potential.