Learning and testing knowledge has been part and parcel of our evolution. Due to the COVID-19 pandemic, online proctored exams have gained trust and popularity among learners and educational institutions exponentially over the last year. Compared to this time last year, more higher education and certification organizations have adapted to the online learning and testing method to maintain learning continuity for their learners.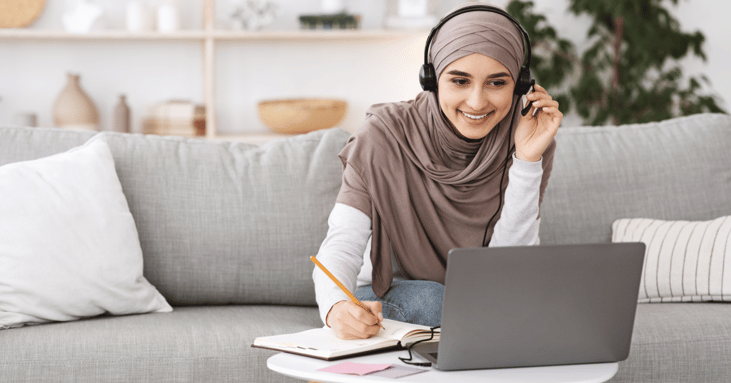 What is Proctoring?
The Cambridge Dictionary defines the verb "to proctor" as "to watch people taking an exam in order to check that they do not cheat." Proctoring is a practice that educational institutions have followed for centuries. Also known as invigilation, it is the act of constantly monitoring candidates, students, and learners and ensuring the test taker doesn't resort to malpractice during the exam. With most organizations needing to move their exams online, remote online proctoring became the go-to (and in many cases, the must-have) solution for the institutions' invigilation concerns.
According to a market research report released by Learning Light, "The size of global remote proctoring or online invigilation market will exceed $10 billion by 2026."
How does

R

emote

O

nline

P

roctoring

W

ork?
Remote proctoring enables students to write an exam in a remote location while maintaining the exam's integrity. It can be broadly classified into recorded proctoring, live proctoring, hybrid proctoring, and automated proctoring.
Recorded proctoring

is when a test-taker is recorded throughout the course of the exam. A proctor later reviews the recorded video for any signs of malpractice.

Live proctoring,

on the other hand, refers to the process where a proctor sits throughout the exam and monitors the test-taker in real-time, and identifies any signs of cheating on the spot.
Hybrid proctoring

is the combination of both live

and recorded proctoring. In this situation, the system automatically uses artificial intelligence (AI) to identify and flag potential test taker malpractice. A human proctor then reviews these "flags" to reconfirm or correct any flags.

Automated proctoring

is when the

system is fully

automated and powered by AI. The proctoring solution

identif

ies

any signs of cheating

automatically and can

terminate the

test immediately

without any live intervention.
See Why Live Proctoring is the Key to Conducting High-Stake Online Exams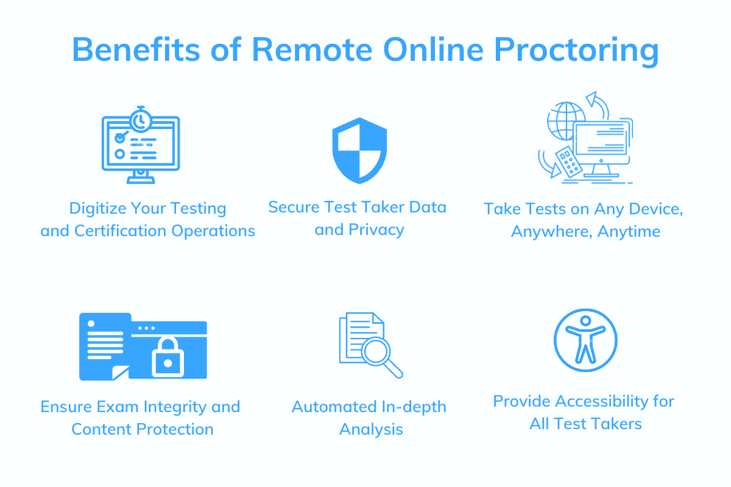 Proctoring and Privacy
While most of the academia was adapting to the "new exam normal," quite a few test-takers were concerned with how the new test-taking mode would affect their lives. One of the major apprehensions around implementing a remote proctoring solution has been the concerns being raised by test-takers around privacy and intrusion. If proctoring is used, then a stranger will see their private space at home and potentially record a stressful experience of the test-taker answering an exam.
By sensitively designing how proctoring is implemented, these privacy concerns can be addressed. The following points must be considered while implementing a proctoring tool:
Be transparent and open in communication

s with test-takers

. Make it clear to them that they are being videoed and what the boundaries are. Share information on how their video data can and will not be used.

Restricting proctor interaction with candidate

s

through a one-way chat is a good practice to remove candidates

'

'

apprehension about seeing the video of a human viewing them from the computer screen. Additionally, the proctors must be trained on how to communicate and interact with test-takers.
Select a proctoring solution without any

software

downloads

and is mobile-ready

. Well-designed and test-taker-sensitive proctoring platforms can provide secure proctoring features without requiring the test-taker

to download possibly intrusive applications. Having a mobile-first approach will add to the experience of the test takers.
Talview Proctoring Solution in Action
This was the case for the Institute for Human Resource Professionals (IHRP), an HR professional body set up to professionalize and strengthen the HR practice in Singapore. They were looking for a robust remote proctoring solution that would help them transition from in-person to an online certification program without compromising the test's integrity and test-taking experience while expanding the program's reach globally.
Learn how Proview by Talview helped the association certify over 800 professionals in 4 months with a scalable, AI remote proctoring solution: Learn More
Additional Resources
If you'd like to know more about our proctoring solution, get in touch with us today!