IT and ITeS enterprises have long faced the stumbling block when it comes to hiring and retaining talent. Be it an increase in niche tech roles, tight time frames to hire in, or a constant upsurge in the demand for highly skilled candidates, the IT sector has almost seen it all.
On top of that, COVID-19 has pushed more companies to rapidly operate in new and remote ways, testing the IT industry as never before. The overall growth of the IT sector was expected to fall by 2% in March 2020, according to Statistica. Although, the real percentage exceeded beyond that.
Businesses are juggling with a range of new priorities and systems for business continuity such as rapid and steady business development, remote working tools and software ensuring steady shift to remote work, quick decision-making from the leaders, ensuring work-life balance and workforce productivity.
Coupling the existing challenges faced by the industry and the effects of COVID-19, IT and ITeS industries will possibly face a setback in their recruitment expectations even beyond 2020.
IT outsourcer Harvey Nash and KPMG surveyed over 3,000 technology leaders for their annual CIO Survey and found that an astonishing 65% said that hiring challenges are hurting the industry.
Let's deep-dive into some of the main challenges of recruiting IT professionals.
Unique Challenges of Recruiting IT Professionals
1. High Volume Hiring
According to the U.S. Bureau of Labor Statistics (BLS), the tech industry's unemployment rate hit 1.9 percent in April, down from 3 percent a year ago.
While this sounds like a good thing for professionals looking for a job, IT recruiters and employers are burdened with filling vacant positions with skilled and experienced talent that is not always available.
This is because in a booming market, professionals feel safer to explore other options and switching jobs more frequently than they did in the past.
Hence, professionals take up a new role, acquire new skills, excel at them, sustain a good salary package, and leave at the face of a better opportunity. With the ever-increasing demand for specialized IT and ITeS roles all year round, it gets equally tough for recruiters to hire and retain the best candidates always.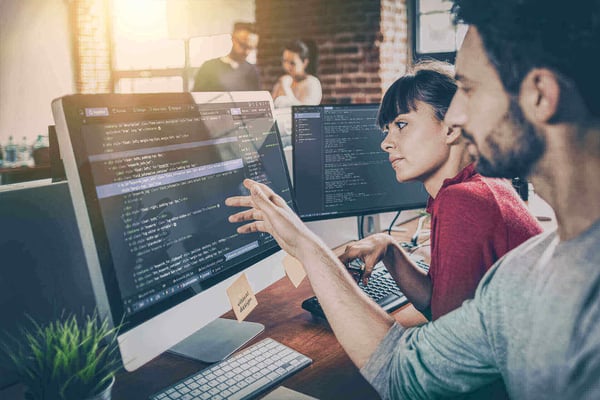 Due to this, recruiters are stuck with positions to fill throughout the year. Plus, roles such as Data Analysts, Software and Web Developers, Security, and more recently, Artificial Intelligence and Machine Learning related roles are always open in bulk positions.
2. Tight Time Frames to Hire
Coding Game surveyed over 20,000 developers and HR professionals this year from all over the world and revealed that "recruiting within tight time frames" is one of the biggest challenges (37% respondents agreed) in IT recruiting.
This means that along with year long requirements to find quality candidates, recruiters are also expected to fill positions within a short span of time.
In a candidate-driven market, IT professionals are known to be passive candidates before they are approached by the recruiters and passive candidates usually take longer to convert than active job seekers.
Along with that, IT positions usually take a longer time to fill, given the manual and complicated application and selection processes. This makes the passive candidates impatient and lose interest, or worse, jump to another employer.
3. Skill Gap in Candidates
The U.S. Bureau of Labor Statistics has projected that by 2020 in the US alone there will be over one million computer science-based jobs without enough qualified college graduates to fill them.
The IT field is developing more rapidly than the number of qualified developers partly due to a lack of the requisite soft skills, experience, and formal education. Also, there aren't enough candidates trained in tech to keep up with the demands of the fluctuating market.
Employers find it hard to increase, replace, and/or retain their IT talent. There are huge skill gaps that exist in tech functions, mostly in areas like big data and analytics, security, and more.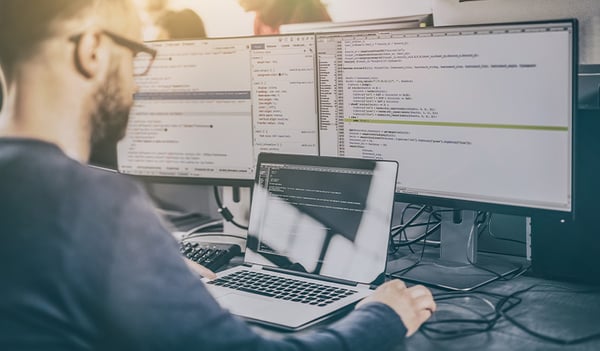 4. Highly Manual Process
As ironic as it might sound, most IT positions are filled through hours of manual screening and selection of candidates who are able to answer some coding questions. Some employers still use a whiteboard or pen-and-paper and ask candidates to write code on the spot.
But this takes manual effort from the recruiter to go through multiple assessments whenever there's a new vacancy which gives room to error.
Manual process for recruitment in IT companies is a huge setback in maintaining timelines to hire faster and better, as discussed before. Passive candidates will lose interest halfway through a manual process simply because it is slow and outdated.
In addition to that, how can we expect recruiters to hire in tight time frames if the number of candidates they can clear in a certain period of time is limited?
5. No Talent Pipeline
It gets tough for IT recruiters to build and maintain a talent pool, given the constant fluctuation or upheaval in the industry. New candidates hit the market on a quarterly basis, even in a tight labor market but seldom with the right skills.
Recruiters can have as many candidates on their speed dial, but their 'hot' or relevant skills usually end up becoming irrelevant in a few years. This puts recruiters in a constant struggle to find relevant talent in a very unstable market within tight time frames.
In addition to that, the tight competition among IT and ITeS employers for talent pulls the majority of the professionals towards companies with good employer branding and recruitment marketing strategy.
This leaves the lesser known companies with barely any choice to hire the talent they are actually looking for. Maintaining a pipeline in such a situation becomes difficult.
Since IT roles usually require hiring in bulk, in a candidate-driven market, recruiters may find it hard to find candidates ready to be hired at the word go.
As we deal with the repercussions of the pandemic and strive to overcome its challenges, it is important to establish long-term recruitment strategies and apply the lessons learned from our experience. This can create a talent roadmap that better prepares your company for future disruptions.
Lets understand the possible solutions to these recruitment challenges in IT and ITeS enterprises.
Remote Recruitment Solutions for the Future of IT and ITeS Enterprises
1. Automate Hiring through Recruitment Automation Tools
Beginning with the last challenge mentioned above, automation of IT recruiting will be a game changer for multiple reasons. Automating candidates screening and interview scheduling can help recruiters throw a bigger net to find talent.
Automating pre-recruitment assessments means the recruiter can focus more on updating job descriptions and creating better assessments with the help of the hiring managers.
And, automating video interviews means that recruiters may only have to feed their questions once in the system and not worry about keeping a track of all candidates simultaneously.
Once a recruiter gets more time, they can also look for more candidates at the same time and hire only the best candidates. In short, recruitment automation can help solve a major chunk of IT recruiting challenges.
There are tools such as Talview that help IT and ITeS organizations with recruitment automation requirements to find the best talent and also improve their hiring process.
You can source passive candidates with the help of a recruitment chatbot that can be added to your social and your website pages that can answer any basic queries on your behalf.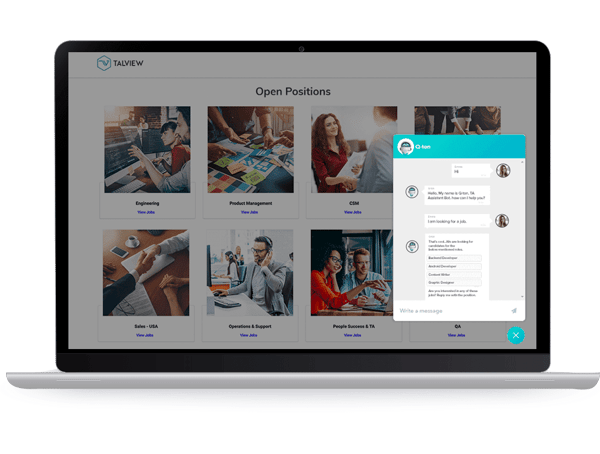 Talview's recruitment chatbot
It can also screen candidates, schedule an assessment or interview with them by syncing up with their calendar, and prepare them for a pre-hire assessment with you if their resume matches the job requirement.
2. Hire Quality Talent in Volume with Skill-Based Tests
Skill-based tests are STEM tests and coding tests that are essential for IT recruitment. Replacing pen and paper tests with online skill tests can really help employers make lesser mistakes and hire talent that actually live up to the standard of the job role.
Through online tests, recruiters can save hours trying to coordinate, schedule and reschedule, and finally correct papers and focus more on improving the quality of talent that gets selected or engage with candidates in the pipeline.
You can find many tools and software that provide you with online assessment platforms and/or questions that can help you hire faster and better. Talview is one such platform that helps you curate customized question papers on the basis of your requirements and helps you select the right candidate.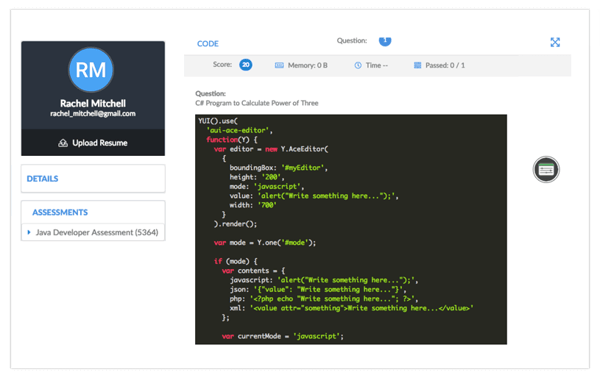 Recruiter's screen while checking the answers of a coding test
It does so by linking up with your LMS and learning the right answers for each question. After submitting the test paper, the software quickly checks the paper and qualifies or disqualifies the candidate. This enables recruiters to hire in high volume without having to compromise on the quality of hire.
Learn how Talview helps IT and ITeS enterprises hire high quality candidates.
3. Save Time with Screening and Final Online Interviews
Since time is of the essence when it comes to IT hiring, we should also talk about online video interviews for screening round or final interview round. Instead of having the candidates come all the way to your office to attend an interview with no surety of getting selected, online video interviews become essential for IT hiring.
Tools like Talview offer holistic asynchronous and live video interview formats for these purposes. With asynchronous video interviews, you can record your questions for a particular role once and share them multiple times with any prospective candidate.
This way you don't have to keep asking the same questions to every candidate that comes your way.
On the other hand, live video interviews are like face-to-face interviews that happen online. Both the candidate and the recruiter sit in front of their laptop or mobile screen in real time for this type of interview.
One good feature though is that both types of interviews can be recorded and stored for future reference or sharing with other panel members for review.
4. Maintain Talent Pipeline through Data Reusing
If there was a way to record all good applications, that for some reason did not qualify for a current position, and use them to create a warm pool of talent readily available, it could really help save a lot of time for the recruiter. Data reusing is a very interesting and useful solution for hiring IT professionals.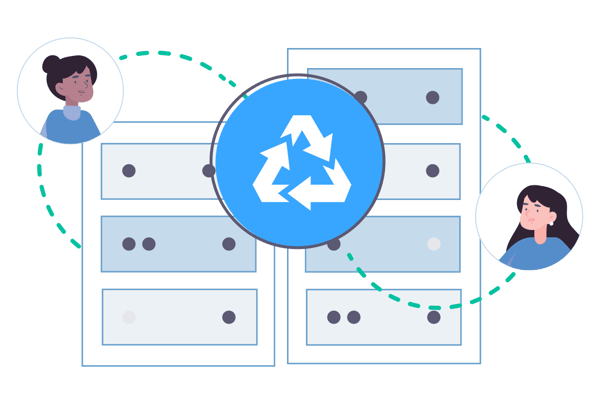 Talview seems to be the leader in candidate data reusing. Essentially, when a candidate gets rejected at any stage in the recruitment process, the platform records their profile and saves it for future reference.
At any point in time, if a role arises in your organization that fits the same candidate, the platform notifies you about the same. That way, you can fill positions almost immediately and also have the security of having a pipeline.
5. Excellent Employer Branding with Customizable Reports
Since there are currently more tech jobs available than job seekers, companies have to constantly compete for top talent. The candidates have an upper hand in choosing the most suitable, comfortable and probably a job with more benefits over a job that requires more work or effort from them.
In this situation, it becomes important for employers to work constantly on their employer brand that would help them attract more talent than their job descriptions. You must position yourself as a company that attracts the IT crowd.
One great step to ensure excellent employer branding is having performance reports of candidates who apply to work with you. Instead of the recruiter keeping a tab of each candidate's performance manually, there are tools that help create automated reports at the end of each round.
Talview is a good example in this aspect. Talview enables the recruiter to automate every step of the hiring process, including automated candidate reports for each candidate applying for a role with you. They apply to work with you and attend your pre-hire assessments or an interview round.
After they submit the assessment, the platform creates a detailed and customizable report of their performance and saves it in the system for the perusal of the recruiter, hiring manager, or panel members.
These reports are handy, accessible, and reliable for the employer to take a decision. They also make the decision-making process much quicker and leaves a great impression on the applicants
Conclusion
The IT and ITeS industries are developing at the fastest rate possible with not enough resources to actually support the work on a grassroot level. There have been many recruitment challenges in the industry that can slow down the progress of the industry, but not for long. Remote recruitment and automation solutions are their best and most effective solution for transformation.
---