Two years ago, online proctoring was seen as a luxury and innovation that few deemed necessary for online exams. Most of the online exams were held at physical centers where a human proctor or invigilator monitored the test-takers. But when the pandemic hit, most of the institutions worldwide shifted to remote exams to ensure learning continuity. Multiple factors contributed to this change including greater access globally, higher scalability, the flexibility of taking the test from anywhere in the world, and so on.
This led to a surge in demand for proctoring tools to ensure test integrity in online exams. According to a 2020 EDUCAUSE COVID-19 QuickPoll, 54% of institutions used online or remote proctoring services, while another 23 percent considered or planned to use them. Today, online exam proctoring is the need of the hour.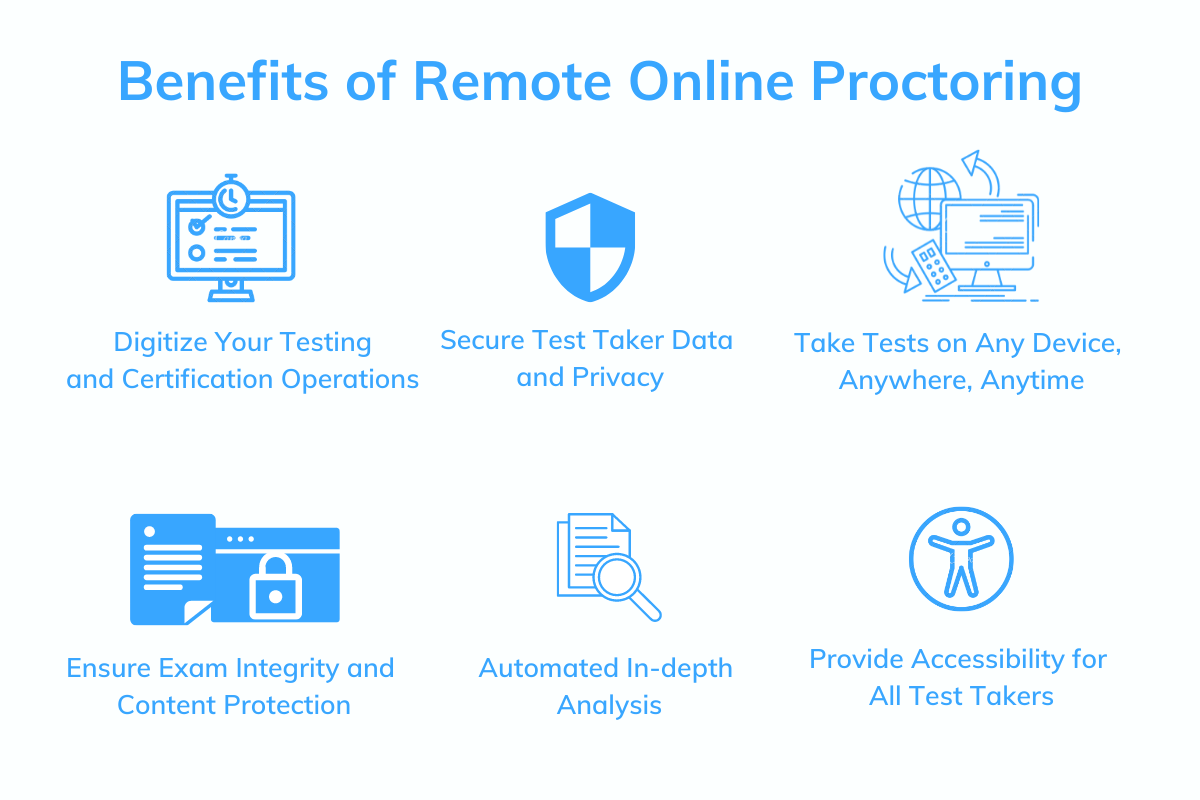 However, proctored online exams are not without issues. Test takers have raised safety concerns related to their identity, data, and privacy. Recently, a prominent Indian university was under the lens for a proctor misconduct incident. Students complained on social media about proctors, who were hired/used by the university, asking students to lower their cameras for a better view or sending inappropriate messages to the students.
Sadly, this was not the only incident reported. There have been multiple incidents that have cropped up since the increased adoption of proctoring services. Here is how institutions can lower the risk of such incidents occurring again and leverage proctoring services to do what they do best— provide a safe and secure online testing environment.
How to ensure candidate safety in online proctoring?
Several steps can be taken to make sure the candidates have a safe test-taking experience. Here are our top 3 recommendations:
Choosing the right person for the job
Employing trained and experienced proctors who are well-versed in online exams and have a grasp of technology is the key to having a seamless online proctored exam. However, if institutions wish to leverage their faculty members, we help train them on various aspects of exam proctoring. It is recommended to avoid choosing co-workers at the same level, employees, friends, peers, and fellow students as proctors to ensure an unbiased test-taking experience.
Training and orienting the proctors rigorously
This is possibly the most critical solution to the problems mentioned above. Proctors should be well trained in communicating with the test takers and aware of the consequences of misbehavior of any kind. At Talview, we ensure our proctors are well-qualified for the role through rigorous training programs and periodic refresher courses. We also have a set of skills and qualifications that we look for in proctors, which include but are not limited to education, language skills, organizational skills, etc. The proctors are also provided with training material with clear instructions on the type of communication to engage in, how to respond to a candidate, what to do in specific situations, etc.
As part of the training, the proctor trainee observes live proctoring sessions by an experienced proctor to understand the process. For multiple sessions, the experienced proctor trains the trainee proctor before the trainee goes into practice sessions to hone their proctoring skills and understand the process.
Monitoring the proctors along with the test takers
The most significant benefit of online proctoring is recording and auditing every move of the proctor and the test taker. This helps reduce misconduct from either the proctor or the test taker, making it a truly safe online testing environment. At Talview, we also ensure there is minimal communication between the two parties to avoid potential privacy breaches or issues. Additionally, setting up clear rules and deterrents to ensure proctors don't display deviant behavior makes way for a hassle-free testing experience.
It is also essential to choose a proctoring solution with advanced features to ensure a seamless and safe testing experience for test-takers. The Talview Proctoring Solution offers many features that help institutions create a safe and secure environment for test-takers. Some of the features are:
360º environment check

Automated identity validation

Real-time communication
Additionally, at Talview, the processing of personal data complies with local and global data privacy and security regulations. The products and services are fully compliant with the current industry standards, regulations, and certifications. Having a robust quality assurance process (surprise checks, dummy candidates, etc.) helps ensure that there are no surprises in an online exam scenario. Visit our trust center to learn more about our data security and privacy practices.
See how Thunder Bay District Health Unit moved to a 100% virtual certification process with Talview.
Conclusion
Today, providing tests with integrity and in a sanitized environment takes precedence for academia or any certifications organization. Concerns raised regarding online proctoring can be handled well by using the right mix of technology and process design. Leveraging proctoring solutions like Talview is the way to go for institutions that wish to provide a safe and secure online testing environment.
Additional Resources:
A Quick Guide to Remote Proctoring
The Ultimate Guide to Safe and Secure Remote Online Exams
How Talview Exam Plus can Transform Your Remote Test-taking Experience
Online Proctoring and Privacy - The Much Needed Conversation