The traditional exam-taking process has come to a halt. While many schools and universities are finding alternative ways to continue teaching, the exam-taking process is a point of concern, with a responsibility to conduct exams safely while maintaining the sanctity of the same. A virtual exam room experience could be the single solution to all the problems. To bring a virtual exam room to you, Talview brings to you Talview Proview Live Proctoring, a comprehensive hybrid platform that combines the power of AI-enabled automated proctoring with active human monitoring and intervention. This all-inclusive solution enables educational institutions, certification bodies, and organizations worldwide to deter cheating and administer secure end-to-end exams anytime, anywhere.
Join us in revolutionizing the remote exam-taking experience. Upgrade to the best remote proctoring solution, which is backed by technology, while retaining human touch, making it better than in-person invigilation.
What is Remote Live Proctoring?
Remote live proctoring is a monitoring method where a qualified human proctor supervises an online exam in real-time via the candidates' webcam and computer screen feed. The platform allows a human proctor to monitor, log any exam-rule violations, provide warnings, and make sure the candidate is attending the exam as per the rules defined by the exam authority or the organization conducting the exam. A human proctor assisted by an automated proctoring solution provides a double-check to maintain the exam's integrity while taking care of the candidate experience.
Hiring, education, certification, learning, and every other module is going remote. With major companies offering work from home for a lifetime and universities switching to online courses, creating a virtual exam environment is crucial.
Features of Talview Proview Live Proctoring
A well-organized exam platform provides a wholesome experience to candidates while giving a sigh of relief to the organization/university conducting the exam. A smooth transition between all the steps involved, from the beginning to the end of the exam builds a sense of confidence. Have a look at how the features of Talview Proview Live Proctoring make it a wholesome virtual exam experience.
Pre-check-in activities just like an exam room
A large number of organizations raise a question about verifying candidates' authenticity in remote assessments. Talview's robust proctoring solutions provide an easier way to authenticate the candidates by capturing their photo, ID card, and a 360-degree video of the place from where they are attending the exams.
In live proctoring, the proctor will have to approve the documents submitted by candidates before allowing them to the virtual exam room. This avoids any possible impersonation and ensures the candidates abide by all the rules.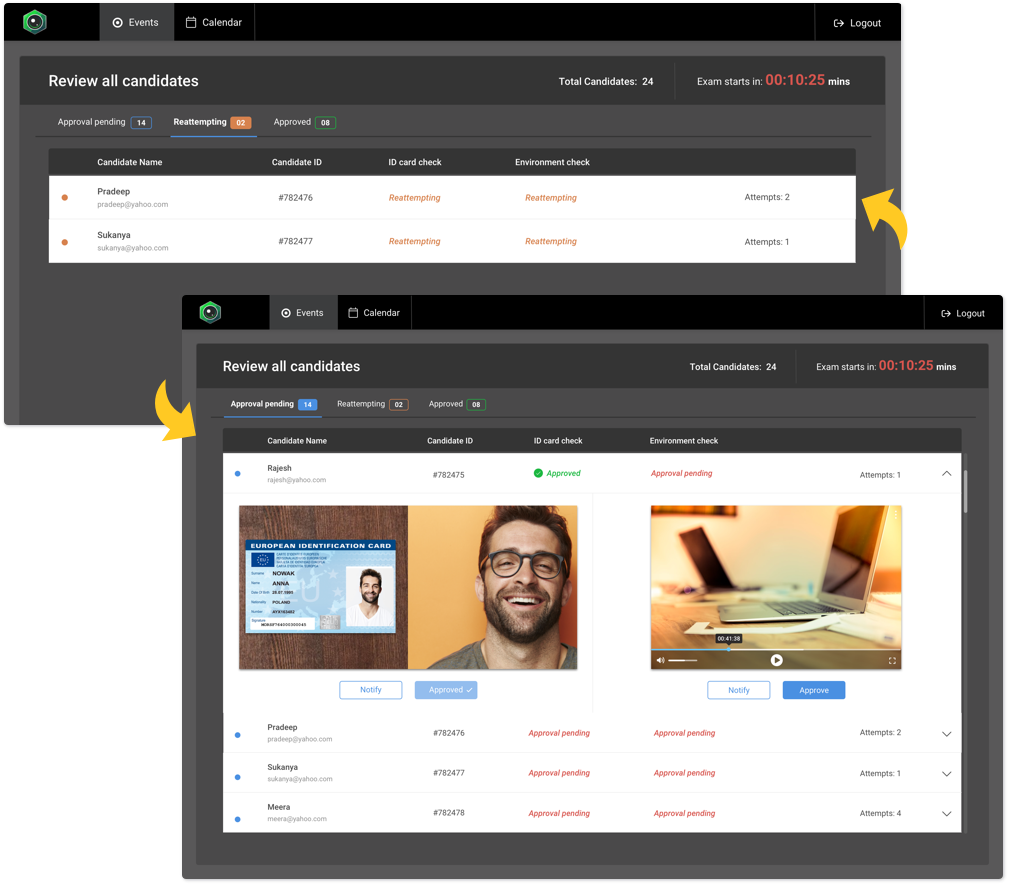 Human proctor accompanied by a robust auto-proctoring tool
While automated proctoring is known to the world for some time now, in-person exams are still dominating the assessment and exam world. A missing human element in auto-proctoring made many companies and universities keep high stake exams offline. Talview's new live proctoring feature considers all these aspects and provides a robust proctoring platform, that uses both auto proctoring solution and a human proctor, who monitors the candidate's exam in the same way as offline exams, making remote exam experience safe, reliable, and trustworthy.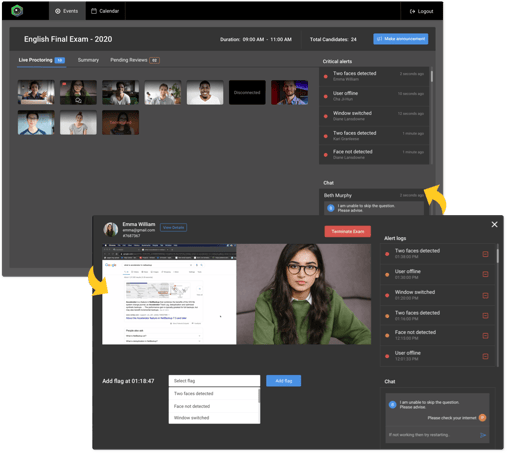 Easy and effective communication
Solving the candidate's technical queries and doubts during the exam is essential to attend the exam smoothly. One-on-one chat between the candidate and proctor and an announcement option to send a message to everyone attending the exam provides a convenient way to interact with the candidate easily.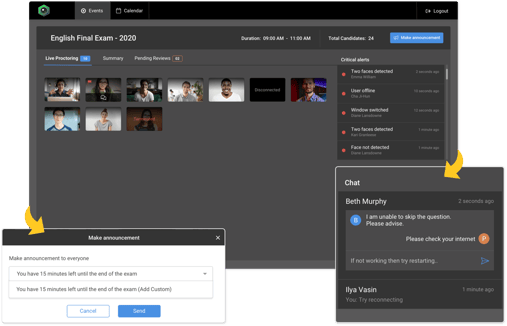 Detailed report and a Proview Index
Similar to the exam report card which talks about the candidate's performance in the exam, Talview provides a report of the candidate's exam integrity. This integrity score, called Proview Index, along with a detailed report about flags raised/marked by the proctor, gives a deeper insight into the exam to the exam conducting authority.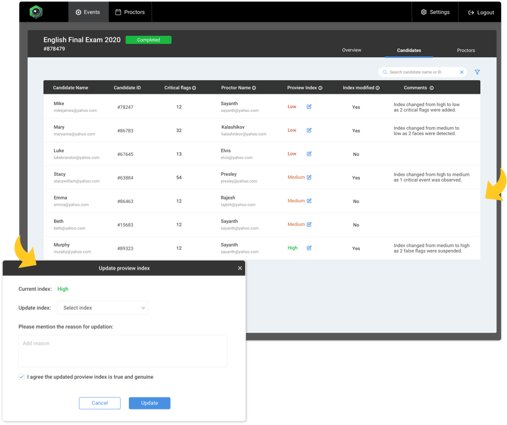 All the features boost the security of exams with Talview's advanced proctoring solution. Universities can connect Proview to any test engine to proctor the candidates. While a robust report is generated at the end of live proctored sessions, these sessions can also be viewed by multiple stakeholders to review and evaluate later. This makes the auditing process super easy and convenient.
Talview Proview Live Proctoring uses a robust technology that suits different formats of exams. Since one proctor can invigilate multiple candidates at a time, the proctor to candidate ratio can differ from one-to-one or one-to-many. The platform is easy to use for both proctors and candidates, which can be easily adapted by anyone.
How to Use the Platform
If you are wondering how to use Talview Proview Live Proctoring, a simple integration is all it takes. Schedule an exam, assign proctors, invite candidates, and you are good to go.
While we all hope the pandemic will soon come to an end, it is evident that remote working and education will be the new normal in the coming future. Getting prepared for this change early on is beneficial in the long run.
With the solutions Talview provides, your hiring process and assessment process can be made entirely remote without compromising quality. What's more? With our robust proctor training, empanelment and monitoring process, you will never have to worry about the effectiveness of the human proctor! Our top trainers will ensure your proctors are trained efficiently to detect any kind of malpractices.
To know more, Request A Demo or get in touch with us at info@talview.com