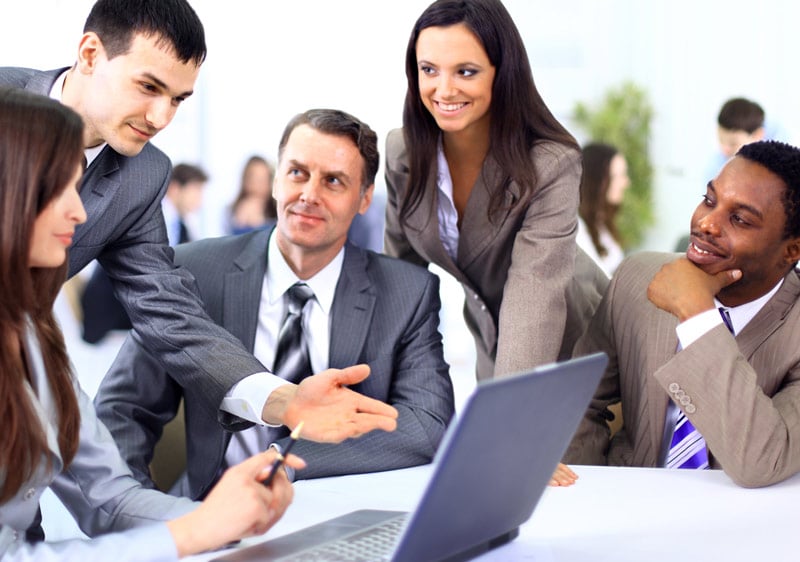 In order to build a high-performance salesforce, it's necessary to have a systematic recruiting process in place that will allow you to quickly gather the right insight about potential sales candidates and make smart decisions for company's development. Businesses hire sales people based mostly on hearsay.
Every sales candidate will claim that she/he was the top performer at their last company. However, this approach is not scalable and hence not right for the company's growth. Here's a list of strategies to help build and replicate a winning team.
Build the perfect candidate profile
When hiring sales candidates, sales leaders often prefer candidates with one or two year experience. Look for candidates with latent sales traits like ability to sell anything, focused, someone with a composed temperament and more importantly passion - an urge in the body language to attain something. You can then coach these candidates on their specific job functions; these 'naturals' often meet more quota than those already in the field. Keep an eye on their performance for a few months; you'll definitely see a winner among them.
Make A Palatable Mix
For a perfect sales team, start building a team with diverse thinkers. Your team cannot comprise only MBAs. Make a good mix of the following:
Someone from a customer group (a banker/healthcare businesses, different companies sell very different products, but many sell to hospitals)

Someone from a different geography or culture (you might be surprised to learn how crucial this can be)

Someone from retail sector or an insurance agent (they have gone over the sales charade repeatedly on a very basic level, all you to do is polish their skills)
It is not necessary to have them all, but it's good if you have most of these personas in your team.
More Women
Surprised? It is found that teams with more women outperformed teams with more men. This was partly explained by the factor that women are better at mindreading than men are. So, keep aside your prejudice of hiring sales 'guys' hire a few dynamic women in the team. They will help you increase the team's intelligence by throwing in a feminine perspective which increases the diversity of the group.
Mapping Skills of a Sales Winner
See how they work, what are the winning skills they possess that are different from others. Break it down to simpler replicable ideas that you can share with the team. And keep in mind when you hire the next set of sales candidates.
Replicating the Best
Prepare questions based on the mapped skills - mostly behavioral. Map the competencies of your new hires with these questions and you can narrow down the candidate list of candidates to ones whose skills are closest to your winner.
And there, you have the strategy to build a robust sales team that delivers high performance and meets your sales quota. You can replicate this process every time you hire for a world-class sales team.
Watch our CMO, Tom Jose speak in a webinar on 'Building a High-Performance Sales Force'
Leveraging Video Interviews to Hire Sales Associates in Different Geography
Most organizations have a very widespread network of salesforce. With an ever- expanding consumer needs, organizations are also in a continuous expansion mode in terms of salesforce. This leads to a situation where organizations put the onus of recruitment on the various sales managers scattered across the country.
Though this enables them to have a larger sourcing base, it also has a telling impact on quality. This approach also leads to significant increase in Time-To-Hire as several rounds of interview need to be conducted to put in place some control.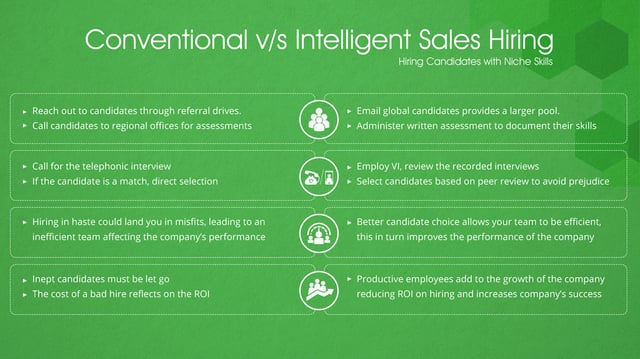 Biases also creep in the hiring process as majority of the hiring happens through referrals which will have a direct impact on the business as a below-par field force leads to non-achievement of quotas and a smaller internal pool for succession planning for First Level Managers.
In a decentralized hiring strategy, video interviews are very helpful. Not only it can lead to a significant improvement in quality of new hire, it can also reduce the time to hire drastically.
See also: HR KPIS: What Hiring Metrics Do You Need to Track?