In the digital age, providing effective customer training is crucial for businesses to drive product adoption, enhance customer satisfaction, and foster long-term success. A Learning Management System (LMS) serves as a powerful tool to deliver comprehensive and engaging training programs to customers. In this article, we will explore the top 10 LMS platforms for customer education, their unique features, and the importance of integrating online proctoring software for secure assessments.
What is a Learning Management System?
A Learning Management System (LMS) is a software application that facilitates the creation, delivery, and management of educational content, courses, and assessments. It provides businesses with a centralized platform to deliver engaging training materials to their customers.
Importance of LMS Solution for Customer Training
LMS solutions play a vital role in empowering businesses to educate and empower their customers. It allows them to provide self-paced training, on-demand resources, and personalized learning experiences, leading to improved product understanding and customer satisfaction.
LMS Solution Integration with Online Proctoring Software
Integrating online proctoring software with an LMS ensures the security and integrity of online assessments and certifications. This combination allows businesses to conduct secure exams and assessments, preventing cheating or unauthorized activities.
Top 10 LMS Solution for Customer Training
1) Canvas LMS
Canvas LMS is a robust and user-friendly learning management system used by educational institutions worldwide. With its intuitive interface and powerful features, Canvas simplifies course management, content creation, and student engagement. It offers tools for online discussions, assignments, quizzes, and grading, ensuring a seamless learning experience. Canvas also integrates well with other tools and platforms.
2) Skilljar
Skilljar offers a user-friendly interface and customizable learning experiences. Its LMS solution allows businesses to create and manage training content, deliver personalized learning paths, and gain insights through analytics and reporting. Skilljar empowers businesses to deliver engaging and impactful customer education programs.
3) Openedx
Openedx is an open-source LMS that provides a flexible and scalable platform for customer training. It offers features such as course authoring, discussion forums, and collaborative learning environments. Openedx allows businesses to customize their customer education experience to meet specific needs.
4) Thought Industries
Thought Industries is an all-purpose learning platform built for customer training as well as partner & professional training. Their LMS platform enables the businesses to educate and train customers effectively through features like customizable courses, seamless integration and multi-platform support. It is an ideal solution for onboarding, product training, and ongoing education.
5) Talent LMS
Talent LMS offers a cloud-based platform that enables businesses to deliver customer training anytime, anywhere. It provides features like multimedia support, progress tracking, and automated certification management. Talent LMS provides a user-friendly and accessible learning experience for customers.
6) Learnupon
Learnupon is an intuitive LMS solution designed for customer training and education. It offers easy course creation, content sharing, collaboration tools, and integrations with popular third-party applications. Learnupon simplifies the process of delivering impactful customer education programs.
7) Docebo
Docebo offers a comprehensive LMS with robust features for customer training. It includes a user-friendly interface, social learning capabilities, gamification, and AI-powered recommendations. Docebo empowers businesses to deliver personalized and engaging learning experiences to their customers.
8) Skyprep
Skyprep simplifies customer training with its intuitive interface and extensive content management features. It offers custom branding, assessments, and automation tools for seamless course delivery. Skyprep enables businesses to create and deliver interactive customer education programs.
9) Raven360
Raven360 provides an all-in-one LMS solution for customer training. It offers features like course authoring, quizzes, assessments, and certification tracking, along with integration options for CRM and marketing automation tools. Raven360 ensures that businesses can efficiently manage their customer training initiatives from start to finish.
10) Northpass
Northpass is an LMS solution designed to deliver customer training at scale. It offers a centralized hub for content creation, delivery, and analytics. With features like personalized learning paths, mobile compatibility, and customizable branding, Northpass enables businesses to create a tailored and engaging customer education experience.
Common Features Among the Top 10 LMS Solutions
While each LMS system has its own unique features, there are some common functionalities that make them suitable for customer education.
Course Creation and Management
All the top LMS solutions offer intuitive course creation tools, allowing businesses to develop engaging training content for their customers. These LMS platforms provide easy-to-use interfaces, multimedia support, and content organization features.
Reporting and Analytics
Comprehensive reporting and analytics capabilities are crucial for assessing the effectiveness of customer training programs. The top LMS solutions offer detailed insights into learner progress, completion rates, and engagement metrics, empowering businesses to make data-driven decisions and continuously improve their training efforts.
Customization Options
Custom branding and theming options are essential for creating a consistent and branded learning experience. The top LMS systems provide customization features that enable businesses to align the platform's look and feel with their brand identity.
Integrations
Integration capabilities with other software tools, such as CRM systems, proctoring software, marketing automation platforms, or content authoring tools, enhance the functionality and efficiency of customer education programs. The top LMS systems offer integration options to streamline workflows and enhance the learning experience.
User-Friendly Interfaces
Ease of use is a critical factor in delivering a positive learning experience for customers. The top LMS solutions prioritize user-friendly interfaces that make navigation and course consumption intuitive for learners.
Talview Proctoring Services: Enhancing Security and Integration with LMS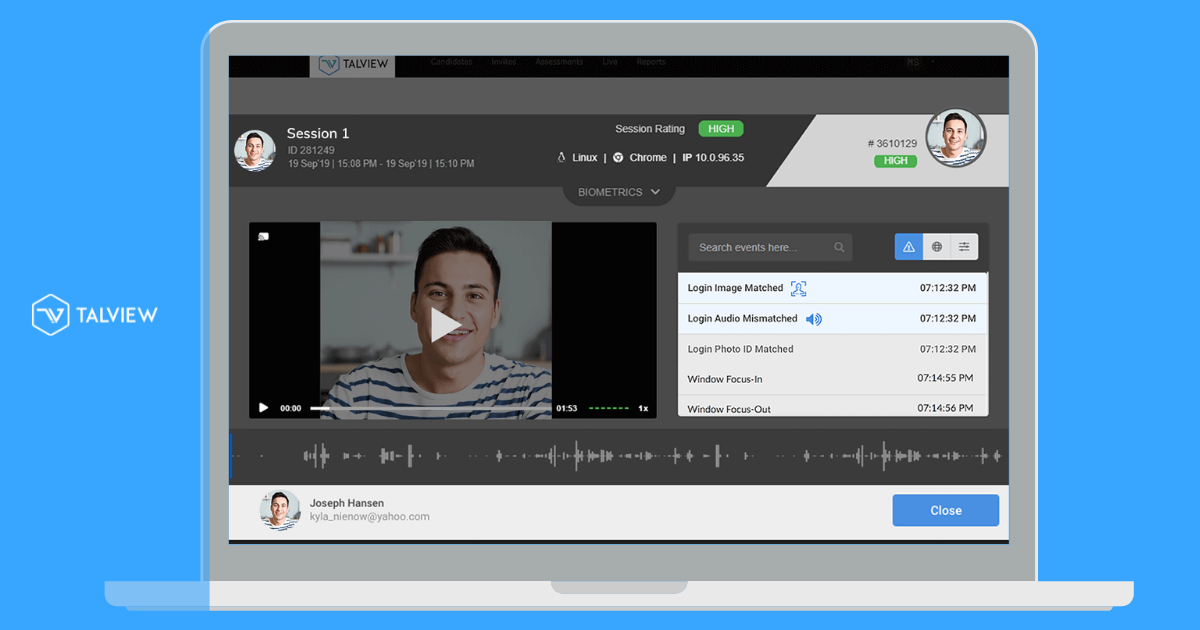 When it comes to ensuring the integrity and security of online assessments, Talview Proctoring Software stands out as a reliable solution. With its advanced remote proctoring technology, Talview provides a comprehensive set of features to prevent cheating and maintain the credibility of assessments. The AI-powered proctoring algorithms accurately detect suspicious activities, such as unauthorized access, multiple faces, or unusual eye movements, ensuring a fair testing environment.
One of the key advantages of Talview Proctoring Services is its seamless integration with Learning Management Systems (LMS). Talview's robust API integration capabilities allow for easy and efficient integration with popular LMS platforms. By integrating Talview Proctoring Services with an LMS, businesses can leverage the power of both solutions to deliver secure assessments within their existing training environment. This integration ensures a smooth and streamlined experience for both administrators and learners, as they can access and manage assessments directly from the LMS interface.
Furthermore, Talview has recently launched its "Tech Certification Playbook. The Talview Tech Certification Playbook offers valuable insights for creating and managing successful certification programs to develop a skilled community of practitioners. This comprehensive guide equips readers with the necessary tools and knowledge to establish and administer effective tech certification programs. Key topics covered include program design, exam creation, candidate experience, marketing, delivery, operations, pricing, and more, enabling readers to design superior certification programs and maximize their advantages.
Incorporating Talview Proctoring Solution into an LMS not only enhances the security of online assessments but also streamlines the entire certification process. With the integration of Talview Proctoring Services and the guidance of the Talview Tech Certification Playbook, organizations can establish a robust and trustworthy certification program within their existing LMS infrastructure.
Conclusion
Investing in a robust Learning Management System (LMS) is essential for businesses looking to provide effective customer training. The top 10 LMS solutions discussed in this article, including Canvas, Skilljar, Openedx, Absorb, Talent, Learnupon, Docebo, Skyprep, Raven360, and Northpass, offer unique features and functionalities to meet the diverse needs of customer education programs.
By leveraging the power of these LMS systems, businesses can deliver engaging and impactful training content, track learner progress, and ensure certification completion. Additionally, integrating online proctoring software with the LMS adds an extra layer of security to assessments and certifications.
Choose an LMS that aligns with your organization's goals, content requirements, and user experience preferences. Whether you're delivering on-demand training, onboarding new customers, or providing ongoing support, a well-implemented LMS can enhance customer satisfaction, drive product adoption, and contribute to the long-term success of your business.