What is Seasonal Hiring?
Seasonal hiring, as the name suggests, is a temporary employment situation where certain job roles in certain fields are open only for a few months in the whole year. This happens either due to the nature of the job, where some months of the year demand more work than others or due to seasonal factors, such as changing weather or the holiday season.
Some industries that demand seasonal workers are retail, tourism, agriculture, construction, and shipping.
Seasonal Hiring in Retail
When looking at seasonal hiring in retail, the COVID-19 pandemic in 2020 disrupted its most profitable season – the holiday season. The holiday season typically begins from mid-October and continues till New Years', with preparations beginning in June-July.
This includes procuring enough products to scaling up staff hiring to meet the seasonal demand. For companies in the retail space, most of their revenue is generated during the holiday season, which sustains business for the remainder of the year.
Retail Holiday Hiring in 2020
With the increasing popularity of and reliance on e-commerce due to the pandemic, the retail ecosystem changed. Instead of hiring in-store managers and salespersons for the peak holiday season, retailers needed more transporters, warehouse workers, and customer service representatives to support the increased demand in online shopping and delivery.
But it was a challenge sourcing employees for jobs that required physical work. Furthermore, almost half of the 50 major retailers had trouble hiring seasonal workers due to safety concerns related to COVID-19, reported Business Insider.
Given the progress of vaccinations worldwide, the global economy has started picking up with an uptick in retail hiring to prepare for the 2021 holiday season.
What did the retailers do to deal with their holiday demand?
In 2020, Walmart intended to hire more than 20,000 seasonal employees for its e-commerce fulfillment centers to prepare for an expected increase in online shopping. In the end, they hired 235,000 new workers to keep up with high demand at stores and warehouses.
In the case of Amazon, they doubled the number of workers during the holiday season and hired 427,300 employees in 10 months.
Whether or not this is a temporary trend because of the pandemic, there still remains some unique set of challenges that retailers face with seasonal hiring:
Hire at volume during peak season -

Not only do retailers have to find the right people at the right time before the holiday season hits, but they also have to make sure they hire enough employees to meet increased demand.

Compete in the aggressive retail job market -

Competition for talent is high. Retailers must quickly identify, hire, and retain employees who can handle and thrive in a dynamic work environment.

Incur cost of a hiring lag -

Due to the previous point, recruiters are spending more time to find, hire, and train best-fit candidates. But the longer it takes, the higher it costs to hire and potentially lost revenue.

Engage qualified talent -

From the moment a candidate applies, retailers must engage and provide a real sense of the job or risk losing applicants before the season.

Retain qualified talent

– Even if retailers can find seasonal hires, the challenge is retaining them for the following season. This may be due to poor onboarding or better offers from competitors.
3 Ways Recruitment Automation Software Supports Better Holiday Hiring for Retail
Before the pandemic, 52% of retailers had invested in talent acquisition and 50% on onboarding technology in stores ahead of the 2020 holiday shopping season. This is in comparison to 23% and 21% of retailers in 2019, respectively.

Source: Kronos
In Deloitte's 2021 Retail Industry Outlook report, which interviewed 50 retail executives and 15 of its own retail subject-matter experts, the report found that 88% of retail executives planned to prioritize investment in digital acceleration for 2021 and beyond.
Part of this digital acceleration was the need to "attract digitally savvy, versatile talent, especially as competition for digital skills is already intense."
This is where recruitment automation technology powered with Artificial Intelligence (AI) helps retailers reduce time to hire, lower costs through automating manual processes, and optimize the overall experience with consumer-like experience for candidates.
1. Identify Best-Fit Candidates Faster with Automated Screening
Retailers receive applications from hundreds or even thousands of applicants. Yet manually reviewing all these applications simultaneously is unfeasible. How can recruiters more quickly identify quality talent?

Talview's recruitment chatbot
One way is to conduct an initial round of screening with a smart chatbot and resume parsing. As potential applicants visit retail career pages or social media, a recruitment chatbot is available as the first point of contact with candidates.
Candidates can inquire about open positions or apply for positions via the chatbot. No time is lost waiting for an actual person to respond to their questions.
Some advanced recruitment chatbots, such as Talview's chatbot, go one step further and ask for the candidate's qualifications, skills, and resume. Chatbot and resume screening powered by AI can accept job applications, stack rank candidates, or suggest another role to applicants.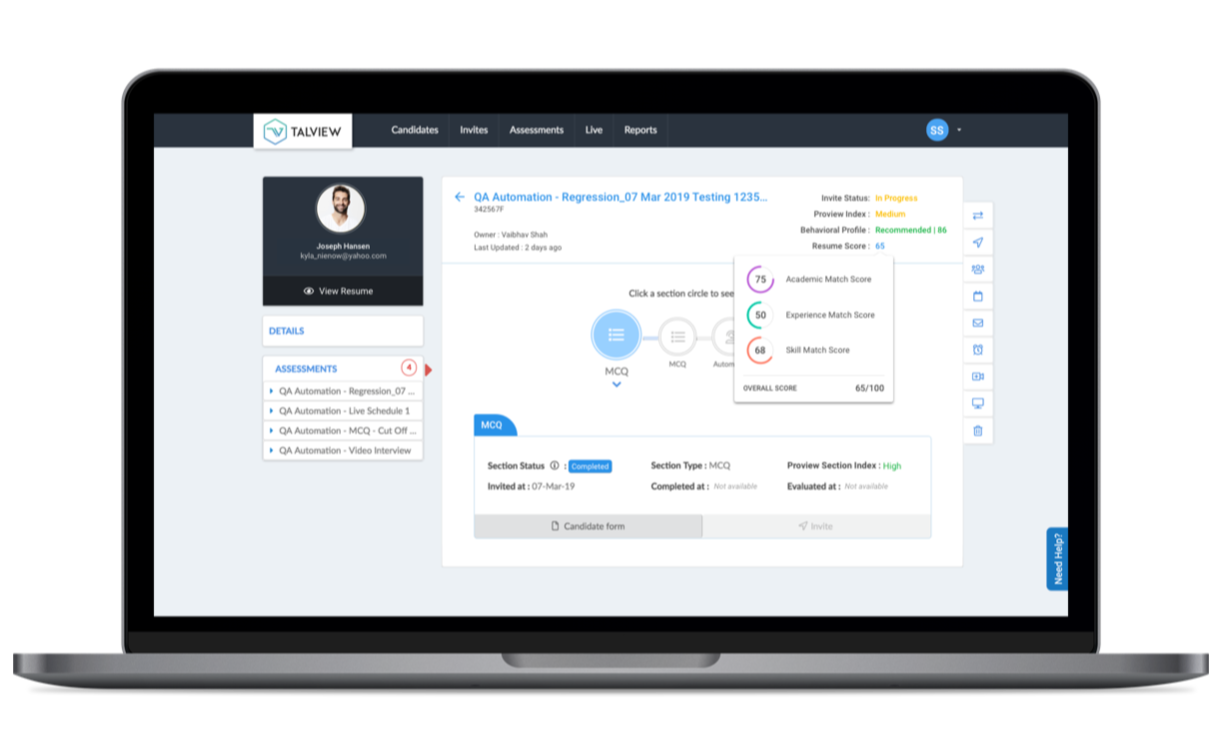 AI-enabled resume parsing on Talview hiring platform
2.
Reduce Hiring Time with Automated Scheduling
Scheduling candidates for the next round in the hiring process can be confusing, complex, and time-consuming.
Multiple emails to and from candidates, hours of coordinating with candidates and hiring managers, canceling or rescheduling invites, sending meeting confirmations and reminders, and confirming that everyone attends the interview on time are just a few small tasks that can occupy a large amount of the recruiter's time.
Plus, this back and forth negatively impacts the hiring experience for candidates.
With sophisticated hiring software, like Talview Hiring Solution, retailers can automate the scheduling process for interviews or assessments. This is done with configurable workflows that automate minor, yet repetitive tasks of the recruiter.
This not only saves time for the recruiter, candidate, and hiring manager but also improves the overall hiring experience.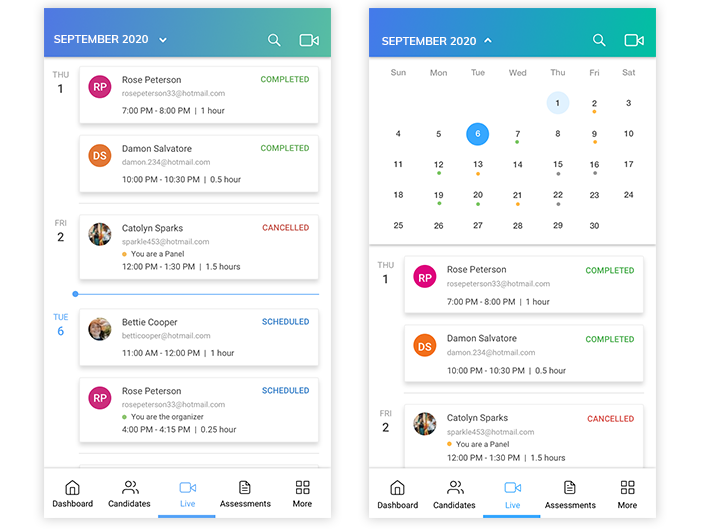 Auto-scheduling feature on Talview's mobile Recruit app
3.

Engage Candidates with a Branded Experience and Mobile App
Seasonal hiring is done within a short window. Recruiters must hire multiple people for multiple roles and keep candidates engaged until they are hired. Hiring managers conduct in-person interviews with dozens of candidates, taking them away from critical business and revenue activities.
Moreover, according to PwC, 49% of candidates turn down jobs due to a poor recruiting experience. That's why every step of the hiring process must be simple, branded, and engaging to the candidate.
For today's mobile-first generation, a candidate-facing mobile app is a must. Candidates can engage with a retailer's brand, messaging, videos of current employees or the store, job preview videos, and more.
With the ability to conduct live video interviews via the mobile app as well, candidates can interview wherever, whenever.
For hiring managers, this is the closest to a face-to-face interview, enabling them to evaluate candidates' communication skills, presentation, and body language.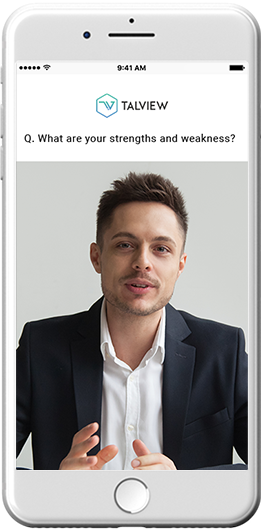 Live video interview on Talview Candidate Mobile App
Conclusion
Retail positions are dynamic. They require hiring equally dynamic people in volume to meet the seasonal hiring demand, which can be quite daunting. The increased popularity of e-commerce has only increased the many challenges that retailers face.
Recruitment automation, especially AI, is an opportunity for retailers to optimize the hiring process.
In addition to automating redundant, manual tasks, AI helps standardize and centralize the entire hiring process. For retailers with multiple stores nationally or globally, this ensures a consistent, repeatable process for hiring best-fit talent – whether for the peak holiday season or beyond.
---