Online proctored exams are gaining much trust and popularity among educational institutions and certification providers all over the world — and for good reason. As the global pandemic has forced schools and universities to shut their campuses and move their learning and exam processes online, remote proctoring has been a sought after solution to conduct the exams in a secure manner.
However, a lot of schools or universities are implementing an online examination and remote proctoring solution for the very first time. A poll conducted by Educause revealed that 33% of the respondents using proctoring did not know what to look for in a proctoring solution and were not familiar with its best practices.
Buying an online proctoring software that integrates perfectly with your LMS and fits well with your many specifications requires a good amount of knowledge about the most critical proctoring features along with an understanding of your own requirement.
In this blog post, we've highlighted the top eight features you should consider while choosing a remote proctoring software. The post aims to help you successfully navigate through a sea of proctoring software in the market.
How to Choose the Right Online Proctoring Tool:
1. Comprehensive
You don't have to invest in multiple tools if a single software can do the complete job. It should be easy to host exams online, without having to juggle with multiple software. A smart proctoring software should be able to provide its users with everything that they seek when it comes to online examinations.
Universities or schools should be able to hold online exams across geographies, automate exam scheduling, hold varied types of tests (MCQ, Essay, viva, etc.), be able to easily score assessments, and be guaranteed with authentic exam results, all with the help of one software platform.
Talview's exam proctoring software, for instance, is coupled with online examinations and video interviewing capabilities. It not only lets you hold online assessments or oral exams over live video but also helps you ensure that your students don't cheat on exams by giving you an option to monitor your students' activities while they are taking the test — all from a single platform.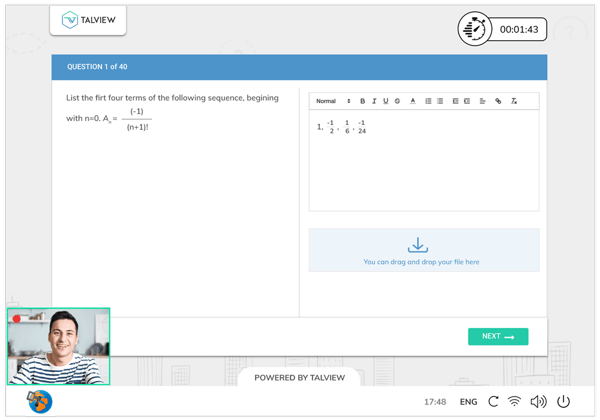 Talview's online exam with remote proctoring
2. Scalable
Any good online proctoring service will make sure that it can facilitate assessments on a large scale. School or university exams can be conducted for anywhere between tens to thousands of students at a time. You will need to make sure that your proctoring software is robust enough to handle the scale.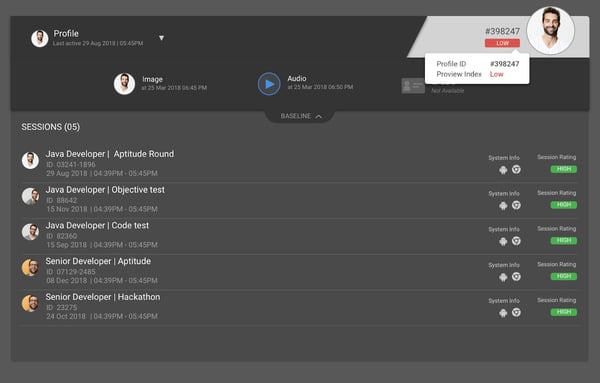 Talview's Proctoring platform enables its users to hold multiple exams at the same time.
Certification providers or MOOCs conduct online courses for candidates across the world. The scale at which the classes and exams have to be conducted is high, because of candidates applying from around the globe.
Hence, the software should be able to hold exams on a big scale seamlessly and also have a solid scheduling system that is able to take account of time differences and hold exams when it is feasible for the candidate.
3. Easy Integration
When it comes to buying a proctoring software, one should keep in mind that its quality and ability in isolation is not the only thing that makes the software great — but also the ability to connect with your existing technology stack.
For example, most education institutions have Learning Management Systems for the administration, documentation, and tracking of educational courses and programs that they offer. While making the decision to purchase, you need to confirm whether the software isintegrable with your LMS solution. This becomes a crucial question because most solutions in the market today integrate with only a handful of LMSs.
Talview is a leading example that allows you to integrate your proctoring software with any existing assessment engine seamlessly providing administrators and test-takers with a smooth experience. Offering a plug and play integration with leading LMSs like Moodle, Blackboard, Canvas, LTI, etc., Talview's proctoring service makes for an end-to-end platform for all your educational requirements.
4. User Experience
The user experience is another critical feature. The transition from offline to online proctoring must ensure good user experience for you as well as for the students attempting the examinations.
As the entire process is automated, an intuitive proctoring software should ensure that every exam process will not only be done with ease and efficiency but also will be as smooth as possible.
While the software in itself should be able to fulfill all your examination requirements and save your time, it should also deliver this with a non-intrusive interface both for you and for your students.
The robustness of the platform becomes critical. Online proctoring involves video streaming, desktop sharing, secure browser use, blocking certain actions or websites, and more. Glitches in the product can greatly impact candidate performance.
Similarly, if you are planning to hold online examinations on a big scale, you need to ensure that your online proctoring software is compatible with multiple devices like mobiles, laptops, desktops, iPads, Chromebooks as well as with different operating systems.
Many proctoring software providers today stick with android solutions and fail to deliver in iOS. Read here how Talview's online proctoring platform, Proview, lets you hold remote exams on iOS devices.
5. Customizability
In order to make the online assessments as real and as similar to your offline exams, you will need a proctoring service that can be customized as much as you want without hampering its performance. With many variations of the same software available, it might get difficult to find the one that can customize its features in a way that suits your system well.
Most smart softwares provide you with options to customize almost every aspect of the platform like blocking actions such as copy/pasting or accessing computer files, browser policing, blocking certain website access for students during the exam, and more.
Talview's AI-led proctoring platform, for instance, lets you customize features ranging from choosing the exact method of candidate authentication that you are most comfortable with to having a 360-degree environment check of the test taker before the test to ensure authentic test results.
6. Reporting System
Since the pen and paper exam model is shifting to online assessments, it becomes imperative to have a proctoring software that helps you create exam reports with proper metrics (like understanding different variations of a right answer in exams that are subjective in nature and how many marks to be allotted to them) in place.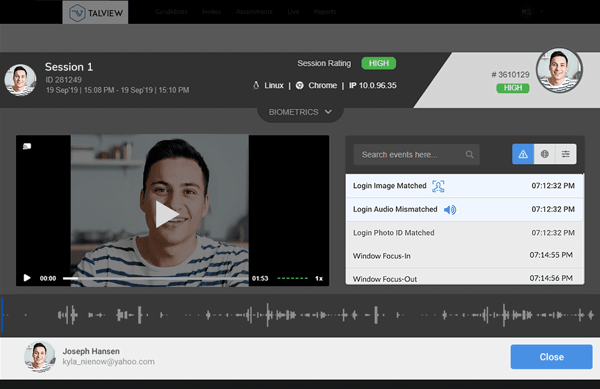 Proview score visible to the examiner on the top right side of the screen
A great example of an AI-led proctoring platform is Proview. Proview monitors the exams for you during an automated or a live proctored exam session and raises flags every time the candidate engages in suspicious behavior during the exam. It creates a candidate log where all the flags are recorded and gives a Proview Index rating for each candidate.
Proview index serves as an indicator of a possible compromise in an exam. It categorizes each assessment as High, Medium, and Low (low index meaning highly compromised exam) based on the severity and the number of times the flag is invoked during an exam.
This helps you save the time needed to review proctored videos for remotely conducted assessments. This also helps create an index of authenticity for each exam and helps know which candidates indulged in malpractices during the exam.
7. Cost
While thinking of the cost of and effective proctoring software, you should keep in mind the services along with it that you are paying for. It is better to invest in a comprehensive end-to-end software that makes your job and test-taking easy rather than going for cheaper and less efficient software that can make the task even more cumbersome.
Proctoring software can be a one-time investment that can help you save much productive time. Going for multiple softwares for different purposes can get time-consuming, confusing, and can even act as barriers to providing a delightful experience to your exam managers and test-takers.
8. Technical support
In the rut of looking for the best proctoring solution, finding a service with a good technical support team is something that we forget about. Having a 24*7 technical support number with a readily available team of professionals that respond immediately upon raising a ticket becomes very important while hosting time-sensitive exams.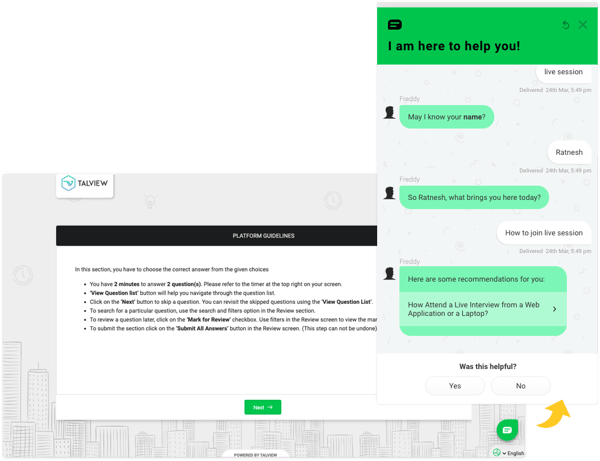 Talview's support chatbot
Conclusion
Remotely proctored exams are the way forward in education. With many players in the market right now, the online proctoring service that should stand out for you is the one that is able to fulfill all your exam needs.
---