Introduction
According to the US Bureau of Labor Statistics, in the US, there were just under 4.7 million people working in the IT and software industry in May 2017. Three years later in 2020, there were nearly 6 million. That is 100,000 jobs more than what was projected 10 years earlier.
The pandemic was harsh on many industries, such as aviation, travel, and transportation. But IT seemed to have narrowly escaped the brunt of it. Since the beginning of COVID-19, the unemployment rate for IT and software employees had its yearly high at 4.3%. But in November same year, the numbers fell to 2.4%.
In fact, Glassdoor recently released a list of the 50 Best Jobs in America for 2020. The position of a Java Developer is at the top of the list. And 7 out of the top 10 jobs were technical roles.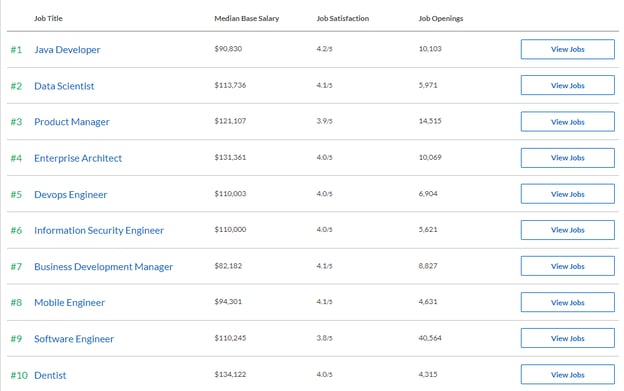 Source: Glassdoor, 2020
The sudden surge in digital transformation across organizations globally could be the reason behind this. Employers have been forced to adopt remote work and bring in technology in several aspects of their work to ensure business continuity. Meaning virtual events, fully-remote recruiting, more personalized career paths, and greater insights into candidate experiences are rapidly becoming the new normal.
While lowered unemployment rates sounds like a good thing for professionals looking for a job, IT recruiters and employers are burdened with filling vacant positions with skilled and experienced talent that is not always available in the industry.
This happens because in a booming market, professionals have an upper-hand over the recruitment negotiation. They prefer to switch jobs more frequently, knowing that there are few professionals, possibly fewer quality professionals in the same niche as them.
Hence, recruitment for IT professionals becomes a major task for recruiters. Here is where campus recruitment comes in the picture — which can be conducted virtually.
If you're not familiar, virtual campus recruitment is a virtual event where global organizations assess, interview, and hire students from a university campus for specific roles. This happens on online platforms with collaboration tools such that the recruiter does not have to visit campus at all.
Campus recruitment has been the saving grace for the IT industry that annually hires fresh talent off the market through these recruitment drives. With a planned and strategic approach, virtual campus recruitment can help them meet with the rising demand for tech talent in 2021.
In this blog post, we have listed ways in which virtual campus recruitment helps IT talent acquisition in 2021. Let us explore ways how your organization can leverage technology for IT campus recruitment.
5 Ways You Can Leverage Technology to Hire Tech Talent with Campus Recruitment:
1. Pre-Screening Video Interviews to Help You Save Time on Campus
The average time to hire in IT both globally and in North America is 30 days.
Since time is of the essence when it comes to IT talent acquisition, online video interviews serve as a possible solution for screening round or final interview round.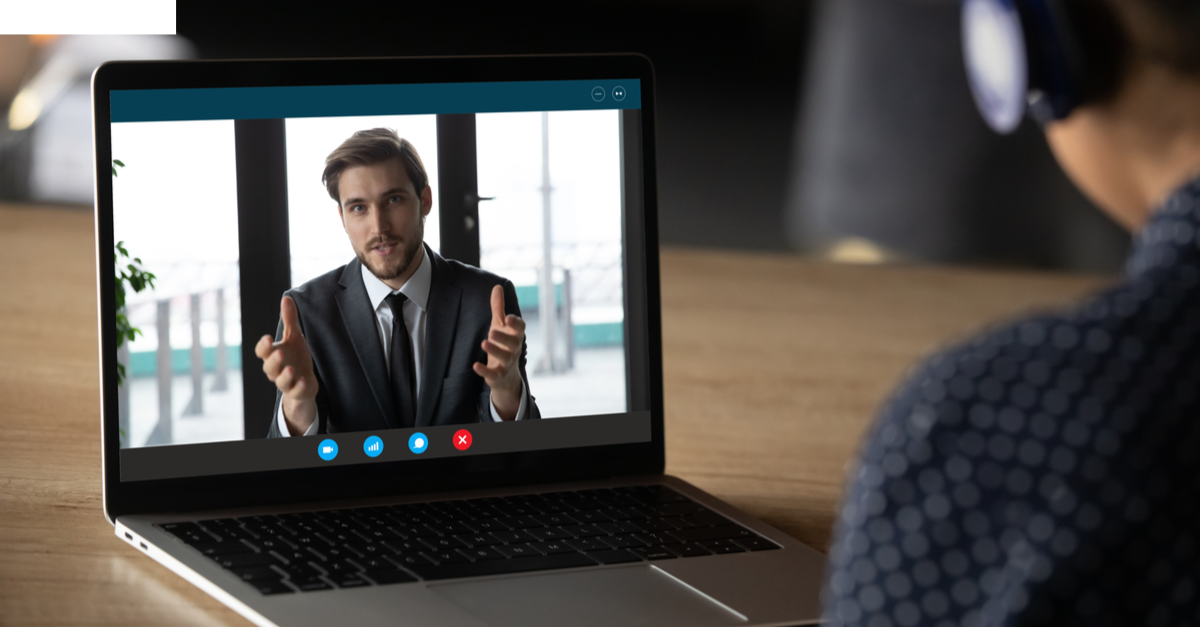 Instead of having the candidates come all the way to your office to physically attend an interview with no surety of getting selected, online video interviews help you meet only those candidates who qualify for the final round.
For instance, Talview offers holistic asynchronous and live video interview formats for this purpose. With asynchronous video interviews, you can record your questions for a particular tech role once and share them multiple times with any prospective candidate.
On the other hand, live video interviews are like face-to-face interviews that happen digitally. Both the candidate and the recruiter sit in front of their laptop or mobile screens in real time for the interview.
This saves the panel's and recruiters' time spent in arranging, scheduling, and coordinating candidate interviews for tech talent recruitment that might not get selected later.
2. Scheduling Student Interviews and Assessments in Bulk with Automated Scheduling
Recruiters know what a pain it is to schedule candidate interviews, especially when it comes to hiring tech talent in high volume from university campuses.
The constant back and forth to arrive at a common time and day for the interview, fear of last moment cancellations, etc. ends up taking more time than we realize.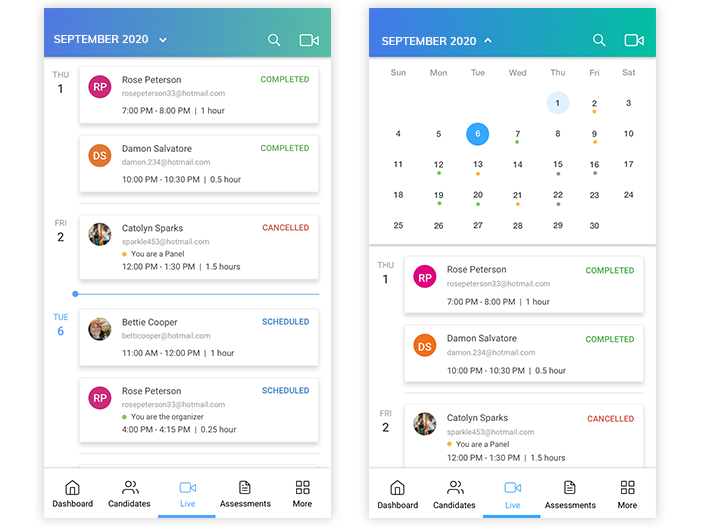 A recruiter's dashboard on Talview's mobile platform
But now, you can automate candidate scheduling with the help of recruitment automation tools, such as Talview. Talview's recruitment platform syncs your calendar with the students' who get shortlisted to find a suitable date and time for both.
These automated interview scheduling software helps in clearing the major bottlenecks: coordinating and planning for interviews, sending timely reminders, and making sure the other party is available.
The tool also sends automated reminders to both parties so that you both are on time for the interview. This way, even if an interview is canceled or postponed, it will alert the other party, ensuring no unnecessary communication to reschedule.
3. Hiring the Best Tech Talent with the Help of Pre-Hire Assessments
Although pre-hire assessments have been in the picture for a while, online coding or STEM tests and cognitive assessments for IT campus recruitment can really help IT recruiters make informed hiring decisions and find the right talent for the right role.
Automating these assessments streamlines the assessment process and the kind of talent that get through it. This enables the employer to make fewer mistakes while qualifying candidates.
Through online tests, recruiters can also save hours trying to coordinate, schedule and reschedule, and finally correct papers and focus more on engaging with the students and improving the quality of tech talent that gets hired.
Talview is one of the online pre-hire assessment providers that help you curate customized question papers on the basis of your requirements. It can be linked with your LMS and can learn the right answers for each question.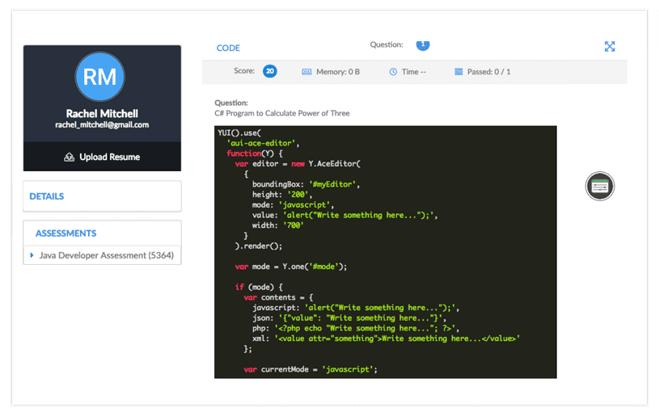 A candidate's screen while giving a coding test on Talview's platform.
After submitting the test paper, the software auto-checks the paper and qualifies or disqualifies the candidate. This allows recruiters to hire in high volume without having to compromise on the quality.
These tests can also be proctored to deter candidates from cheating in an exam. Talview offers remote proctoring for live or video assessments. In live assessments, the proctor invigilates the video, audio and test screen of the student in real time while the student takes the test. This helps you make sure that your candidates do not cheat on remotely proctored assessments.
To know more about proctored assessments, read our complete guide to online remote proctoring.
4. Attracting High Potential Talent with Predictive Learnability
Once students have applied to work with you and have qualified the assessment round, it is yet to be determined whether a candidate will fit in your organization's culture, whether they can work well in teams, if they will work with you for a long-term, if they have the potential to become future leaders in your organization, etc.
In short, you may not still be able to learn your candidate's learnability quotient. The learnability quotient of a person is the measure of their potential, their willingness to work, and their ability to learn, unlearn, and relearn.
Such information can be very useful to know right in the recruitment stage. If the candidate turns out to be a bad hire, they may cost you a lot of money.
Knowing your candidate's learnability helps identify top performing candidates who are right for the job and also give you insights on the person's hidden capabilities. You can even identify candidates who may fit another role that they may not have even applied for.
Such mechanisms play a huge role in cutting down the risk of a bad hire and increasing the chances of your organization, as a whole, to out-performing its competitors in the long run.
5. Collaborating with Hiring Managers Through Online Collaboration Tools
Over 60% of candidates drop out of the hiring process due to dissatisfaction with how long the hiring process takes.
Unfortunately, one of the biggest reasons for that is poor collaboration among recruiters and panel members during the hiring process. From finding open time on the panel members calendars, to waiting for a hiring manager to respond to repeated emails and voicemails to get a hiring decision on a candidate — poor collaboration can prove to be your worst enemy for hiring millennials and Gen Z's who live a fast-paced life of Amazon Prime and OTT channels.
Meanwhile the candidate experience suffers as candidates wait, or worse, accept an offer elsewhere.
For this reason, this year, Talview partnered with Microsoft Teams to add powerful real-time collaboration capabilities to its platform to enable every member of the hiring team to streamline their communication and speed the time to hire.
It enables recruiters, hiring managers, and interview panel members to schedule and reschedule interviews using a "bot" interface that is simple and intuitive requiring no training to use.
Imagine a hiring manager scheduling a meeting directly with the candidate after meeting them. They don't have to coordinate with the recruiter, find a suitable time, or even make the recruiter a "middleman" to convey messages. The hiring process moves quicker this way.
Hiring teams have one place to go for scheduling, updating, and communicating about hiring decisions, eliminating collaboration bottlenecks that create hiring lag. Talview is the only hiring platform to harness the power of Teams.
Conclusion
IT campus recruitment is a hectic process. But with the right technology and resources, it can be both efficient and effective. For the coming few years, leaders must develop a structured and digital way to approach tech hiring for the long term in order to stay relevant in changing times.
---