COVID-19 has brought the world to a stand-still. It has had a crippling effect on the economy, resulting in a loss of revenue and employee layoffs for several businesses. Enterprises, globally, are now adapting to the new "normal" and are preparing a new roadmap for the recovery.
The Small Business Administration in the US is giving up to $2 million in low-interest as disaster recovery loans to businesses and private NGOs. Similarly, New York City is offering interest-free loans of up to $75,000 to small firms that see a 25% decline in sales.
The recovery plan of businesses will also include the resumption of hiring of candidates across functions. But having suffered financial losses, how will companies bounce back to hiring top talent again?
The answer: Online Campus Recruitment.
Campus recruitment season is just around the corner and now is the perfect time to prepare for it. University graduates participating in on-campus placements this year will not start working until next year. With a jump-start of one whole year, you can plan ahead and start strategizing on a roadmap to recovery through campus hiring, with a promised ROI to regain momentum.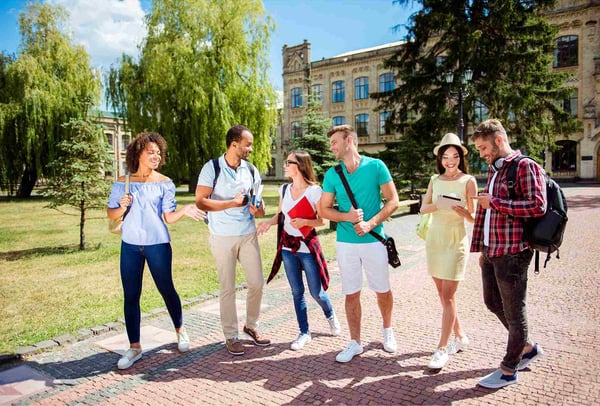 Moreover, in the current times of social distancing, a campus recruitment drive can be conducted completely online. The end-to-end campus hiring process can be conducted using advanced campus hiring solutions — with even greater efficiency and lower costs.
With online campus recruitment, you can ensure that you hire the best talent on the campus way before anyone else and have a young and strong talent pipeline.
Here is what Adam Blumberg, vice president for key accounts at Futurestep had to say:
Solid recruiting programs start early and focus on securing the most qualified talent months before they actually graduate.
What is Online Campus Recruitment?
Wikipedia describes campus placement or campus recruiting as "a program conducted within universities or educational institutions to provide jobs to students nearing completion of their studies. The educational institutions partner with corporations who wish to recruit from the student population." When all of this is done online, it is called online campus recruitment.
Online campus recruitment is a campus drive that is held completely virtually, where organizations can meet, assess, and interview students who will later be hired by them as interns or entry-level associates.
Just like offline campus recruitment, you will need a strategy to approach universities and get the best of the lot to notice your company and apply to work with you.
Here are 5 crucial facets of an effective online campus recruitment plan that will ensure your organization is the front-runner in campus hiring across top universities.
5 Key Pillars of a Successful Online Campus Recruitment Strategy
1. Employer Branding
In order to get more applications from students, you will first have to let the students of your target university know about your brand. This step comes before the actual day of the drive. As campus drives only last for 1-3 days typically, ensure that you are making use of technology to maximize your reach.
Use technology to your advantage and start working on building an online reputation. After all, you are fighting for the attention of a tech-savvy generation.
Create interesting content online to engage the younger audience and build relationships with them on channels where they spend most of their time. Make sure you have relevant content to engage them when they search about you on the internet.
Post on your social media channels about your company's work culture, have your employees post about you, share informative yet interactive video content to let applicants know that you are a young and innovative organization where they can fit in.
LinkedIn conducted a survey that revealed millennials consider 'innovative and inspiring work environments' to be one of their top factors when job hunting.
More importantly, you can have campus ambassadors that would do all the groundwork for you. From spreading word of mouth about your organization and being the spokesperson of your company culture and offerings to new employees to making you aware of the expectations of students applying for jobs that year.
This will create a win-win situation for both you and the students and also help in building long-term relationships between you and the campus.
2. Candidate Registration
Registration is a crucial step. You not only have to capture all applications coming in but also might have to set basic qualifying parameters for each role. This determines the basic standard of your potential employees.
It would be cumbersome to go through each resume manually that is sent across to you for initial screening during the online recruitment drive. Instead, you can invest in the right screening technology to store all applications in one place, effectively screen all candidates as they apply, and pick out the ones that would fit the role based on a few basic qualifications.
Having a screening tool will help you streamline your screening process and make it more efficient — all the students have to do is send their resumes to you and you can run them through the screening software.
You can feed in your requirements in the software like the required GPA, specialization, work experience, etc. Once you start capturing all applications in a screening tool, it will automatically sort them out in qualified and unqualified segments to make the whole process much easier and quicker.
Here's why you should have an automated screening tool for your organization.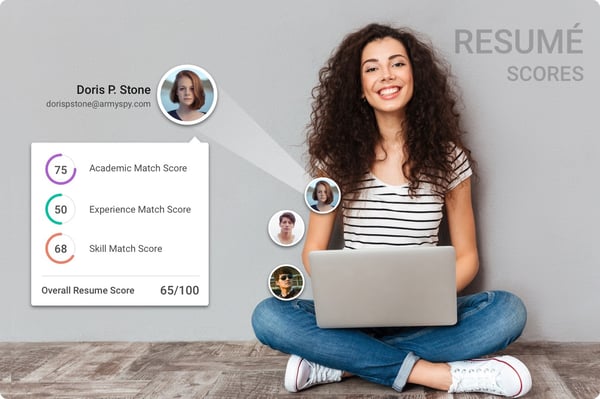 Resume Scores for initial screening with Talview and Skillate
Talview is one such platform that offers effective resume screening. Its integration with Skillate — a smart recruitment product having an AI algorithm trained with over 20 million diverse profiles — brings to you an in-house feature to parse and get resume scores in one place. It sifts through all applications and scores resumes on the basis of least to most qualified. With resume scores, screening from a pool of applications becomes a breeze.
3. Automated Scheduling
Scheduling online exams or interviews manually can be an arduous activity for your hiring team or the panel. Thousands of students can appear during your online campus drive for multiple positions at once.
And in the hustle of getting the most suitable job and the pressure of the students' future being dependent on these 2-3 days, it might be better if you let technology take care of the messy parts for you.
A smart recruitment tool can sync the students' calendars with the interviewee or panel members' calendars. The interviewee can simply select a time slot that is suitable for both of them and schedule an interview by blocking their calendars. Both the candidates and the interviewee get notified and the meeting is immediately reflected on their calendars.
Since the candidates are notified about the time slot being booked for an interview, having a scheduling software ensures that there is no confusion about the date and time of the interview or exam. Certain scheduling software even sends timely reminders about the event to both parties so that nobody forgets about the fixed interview.
4. Online Exams for Skill Assessment
Online exams help you identify students with the required skills during your virtual university drive. Making use of online exams for pre-recruitment assessment will ensure you save a load of your time by not having to monitor candidates taking the test, making sure they submit on time, but also helps you rightly assess and qualify quality candidates.
A standard pre-recruitment online assessment tool can help you conduct various kinds of assessments such as skill tests (like typing and language tests, and coding tests for technical roles) that assess numerical, logical, verbal, data interpretation, comprehension, coding, and communication skills.
Apart from that, you can also make use of aptitude tests, cognitive tests, and culture fit tests to help you holistically assess whether the candidates have the appropriate behavioral attributes required for specific roles.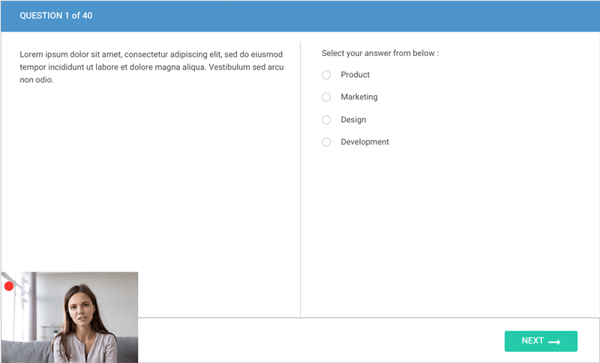 Screen showing a proctored MCQ assessment
These tests help you assess the right candidates for the right position. Many smart assessment platforms even help you to create such assessments that are personalized to the requirements of your organization. You don't need to be a coding master or a high-level professional to create assessments anymore. Such intuitive and easy assessment tools can do it for you.
Online exams can be made error-free using online exam proctoring platforms. These platforms enable you to conduct online exams without having invigilators physically present to check on each candidate for cheating. It records the screen or the video of the candidate while taking the test to securely ensure that online exams are being conducted ethically and the results are authentic.
Read our blog on online exam proctoring for universities to learn more about online proctoring.
5. Video Interviews for Face-to-Face Rounds
Video interviews truly allow you to conduct face-to-face rounds remotely and make your end-to-end recruitment process online. It serves as a tool for the recruiter to make the final decision about hiring a shortlisted candidate. Be it a one-on-one personal interview or even a group discussion round, today's video interviewing tools can support almost all kinds of personalized requirements.
You can choose to hold a video interview or an online live interview for this round. Having online interviews will save you at least 66% of your time from regular interviews. These interviewing tools ensure authentic and cheat-proof interviews.
You can also record video interviews to ask for the opinion of other decision-makers or to streamline your interviews.
With such tools, you can have all your panel members take interviews on the same platform and make better and faster hiring decisions, without having to physically go for interviews.
Furthermore, video interviews platform are becoming a popular tool also for regular hiring across enterprises.
Jobvite conducted a survey earlier this year where 61% of the recruiters surveyed indicated that they are using video as part of the screening process, and 80% are using it in the interview process.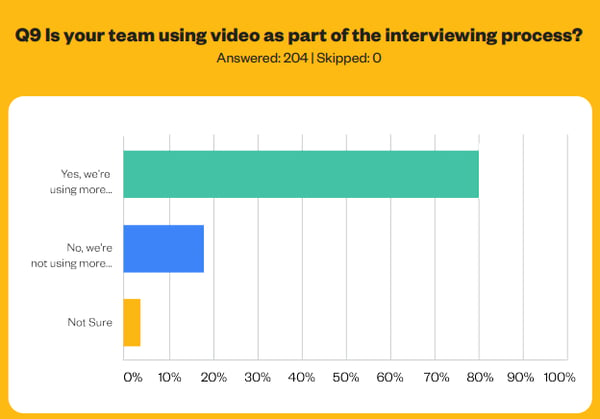 Source: Jobvite
Assess Soft Skills with AI-led Tools
As predicted by the World Economic Forum, the importance of soft skills in the workplace has shot up considerably over the past few years.
With Artificial Intelligence having taken over almost all aspects of the business world, it's only natural to have AI-driven tools that help in the recruitment process by checking something as subjective as creativity and critical thinking skills in candidates.
All you have to do is feed in the tool the job competencies that your vacant position requires the candidates to have. These tools are so intuitive and easy to calibrate that once they understand your requirement, they simply assess the candidates through their body language, along with other determinants, while you conduct the video interview.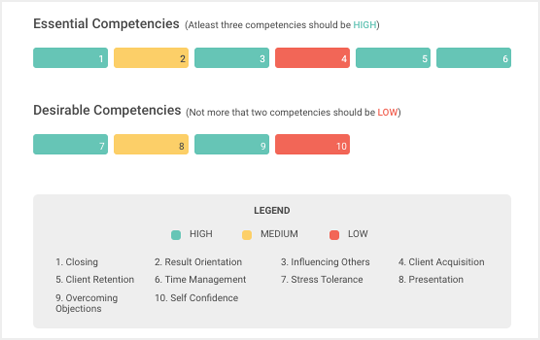 Talview's TBI report showing a range of competencies required for a role.
AI-driven tools like Talview Behavioral Insights stack ranks all candidate interviews on the basis of most to least compatible for the role. It also recommends candidates that would fit other roles better than the ones they initially apply for.
Conclusion
Right now seems like the best opportunity for organizations to jump back in the game and plan for recovery. One way to do so is by securing top talent that will help you recover losses. And what better option to choose than conducting online campus recruitment drives. A good campus recruitment strategy once put in place can reap your organization many benefits and a great talent pipeline for years.
---
Want to know how Talview helps its customers reduce time to offer by 50% and improve quality of hire by 45%? Get in touch with our experts.