The COVID-19 pandemic has turned the healthcare and pharmaceutical industry into an epicenter of change. On the one hand, Healthcare workers are at the forefront of our battle with the virus. That has led to many Healthcare professionals themselves falling sick and having to quarantine themselves. Hospitals have to initiate the requirement for additional help and backup staff soon.
On the other hand, the Healthcare system has seemingly reached its maximum capacity and highlighted a bigger problem: the shortage of Healthcare workers and limited resources to shoot up hiring and in significant volume.
This blog post covers the following:
Nurses, residential care workers, technicians, doctors, and many other specialist roles saw an immediate increased demand since March while the demand for dental offices, physicians and surgeons dipped.
But keeping aside the demand generated due to the coronavirus pandemic, there still is an evident need for better Healthcare hiring goals. Why? Because the demand and supply in healthcare recruitment have been inconsistent for a while.
Healthcare employment has reduced by 9.5% from February through April 2020, as more than 1.5 million Healthcare workers lost their jobs. While the healthcare sector added over 300,000 jobs in May 2020, overall employment remained 6% lower than the same point in 2019.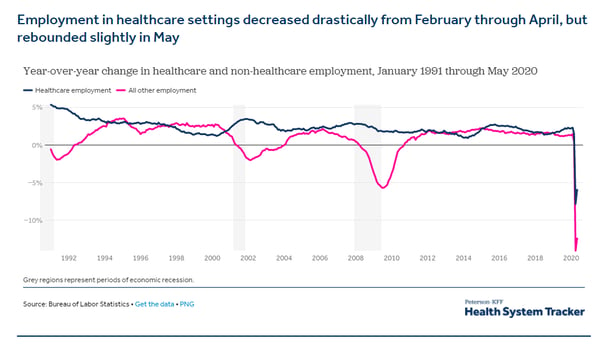 Source: Peterson-KFF
Clearly, the numbers state an apparent discrepancy between the expectations and the outcome in Healthcare recruitment today. Even if the demand has spiked, it is not met through the supply.
A survey conducted by Health eCareers found that 37% of recruiters who took part in the survey said it takes more time to secure appropriate Healthcare and Pharmaceutical employees. Out of them, 50% stated the reason for that as an inability to find a qualified professional.
Given the dynamics of the Healthcare and Pharmaceutical job markets, the workforce is in general veering. There are a number of unique challenges that recruiters go through during Healthcare and Pharmaceutical recruitment.
Here Are Some Challenges Faced by Recruiters in Healthcare Recruitment:
Manual Hiring Process and Longer Time to Hire

: Medical staff recruitment is still a vastly manual process. As Healthcare professional roles are very skill-specific and the stakes of a wrong hire are extremely high, their hiring requires special kinds of skill tests, great attention to detail while hiring, and long, rigorous rounds of testing.


Right from sourcing to screening and assessments to final interviews — Healthcare recruitment generally tends to rely on traditional methods of hiring.

This forces recruiters to spend an endless amount of time on assessing candidates but selecting only a few. Even if they do end up finding good talent, it takes months of training before the candidate can be put in the line of action.

Talent Shortage

: According to a study by SHRM that was conducted before COVID-19 took the world by storm, 46% of HR professionals reported it was "very difficult" to fill full-time roles for high-skilled medical positions such as nurses, doctors, and specialists. An additional 35% reported that hiring for those roles was "somewhat difficult." This is majorly due to the rapidly growing pace of the occupation and a seeming lack of talent in the market.


Removing the additional demand generated by the coronavirus pandemic aside for now, experts suggest that this talent shortage is a result of the retiring baby-boomers who were in such fields. Not just that, the coming generation of medical practitioners is still very young to reach higher positions.

Another reason for this shortage is the increase in demand for Healthcare specialists: Becker's Hospital Review reports that every day 10,000 Americans turn 65-years-old. At 65, many end up having some kind of chronic illness that forces them to visit the hospitals/physicians frequently.

High Turnover

: A 2017 study by SMD examining data from more than 200 hospitals, 1,000 care centers, and 100 long-term care facilities found that the three key drivers of turnover in healthcare organizations are management, senior leadership, and job fit.


Meaning that poor work environment, low employee value, and sometimes even substandard management and senior leadership teams are driving medical employees to quit their organizations sooner.

This information becomes critical as the performance of Healthcare organizations is directly affected by factors such as quality of hire, employee satisfaction, and retention rate, resulting from high turnover.

And poor quality of hire and retention rate, in turn, lead to increased patient-care ratios, increased workload for remaining clinical staff, as well as a negative impact on patient-care outcomes.

Below Par Work Culture -

A study by Hinge Research Institute found that 63% of healthcare professionals visit an organization's website when searching for job opportunities and 84% consider the brand and culture they find there.

An organization where the employee feels undervalued, be it in any industry today, will never be able to retain talent for long. Higher compensation and benefits cannot solve the problem of an unpleasant work culture.

An employee would love to be in a role that they enjoy and an organization where their skills and abilities are being utilized effectively. Poor management, increased workload, low engagement can demotivate employees and push them to leave an organization.
How Remote Hiring Can Help Improve Healthcare Recruiting
All Healthcare recruiters and HR managers might agree that the adoption of recruitment automation in Healthcare recruitment was a long overdue step in the industry. Using technology to fast-track hiring has been proven to help refine the quality of talent coming in and upgrade the style of assessing.
Also, given the current state of affairs, remote hiring is the best shot to recover any losses and gain momentum.
Healthcare and Pharmaceutical companies and their recruiters need to start using online channels or dedicated recruitment automation software to source, screen, assess, and interview candidates. Let's see how they can improve their hiring strategy by going digital and remote.
Chatbot for Quick Sourcing
Start from the beginning and have a recruitment chatbot on the Careers page of your website or your social pages. The chatbot can be used to invite and engage on your behalf with anybody lurking on your website and answers repetitive and basic FAQ's 24*7 such that you don't have to spend your valuable time doing that.
If a potential candidate lands on your website, the chatbot will ask them basic preliminary questions, such as, their qualification, years of experience, etc., along with a copy of their resume and it will suggest the most suitable role that the candidate can apply for.
Not only will you save a significant chunk of time and energy while inviting candidate applications, but also improve your brand by providing an effortless digital experience to incoming candidates.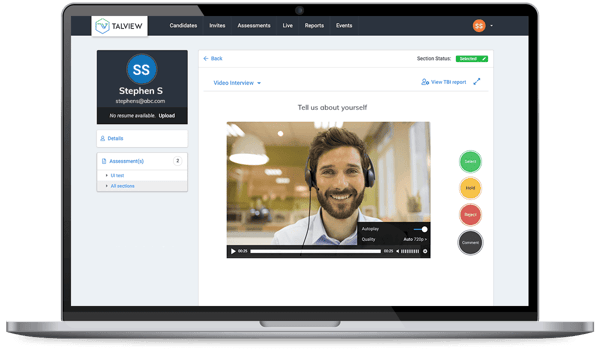 A candidate's profile on Talview's platform
Use Artificial Intelligence for Faster Screening and Scheduling
AI-enabled remote hiring platforms let you hire qualified candidates on the basis of your previous hiring decisions. They do so by learning your behavior and requirements over time. Not just that, they can also record candidate profiles for future roles, and/or suggest other roles that their profile would fit better in.
AI-based tools today allow you to even schedule assessments or interviews automatically. It compares the calendars of the candidate and the recruiter/panel members to find a suitable time and automatically schedules an interview, saving you time from the constant back and forth of emails to find the perfect time.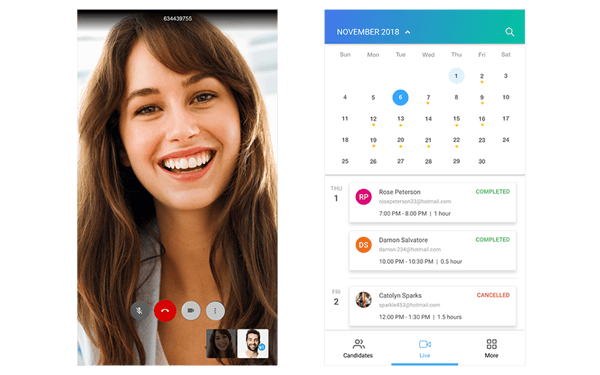 Automated scheduling
To know more about AI-led scheduling tools and its importance in modern recruiting, click here.
Reduce Turnover Through Online Skill & Behavioral Assessments and Predictive Learnability
The Healthcare industry comprises varied roles that require different yet highly qualified and skilled professionals. Where one might need psychometric tests to assess nurses, doctors and physicians require behavioral tests. Hence, to find the right talent, it takes highly accurate skill tests to qualify such candidates.
Having pre-screening online assessments saves you the burden of not having to assess hundreds of unqualified people manually. You can just send candidates the right type of assessment for their role (technical tests, behavioral tests, personality tests, essay and grammar tests, etc.), and with a fixed time range, you will automatically receive a list of all the candidates that qualify once they are done with the assessments.
Such assessments can help you identify candidates that are right for the job and also give you insights on the person's hidden capabilities. Talview, an AI-powered pre-recruitment assessment tool, offers a Learnability Index (LI) along with its assessments. The LI is a highly predictive measure of the person's ability to learn and grow, and an insight report on the person's performance and potential talent.
Such mechanisms play a huge role in cutting down the risk of a bad hire and increasing the chances of your organization, as a whole, to out-performing its competitors in the long run.
Talview worked with Wockhardt, a global pharmaceutical company, to help them hire sales executives. After using Talview's video and recorded interviewing features, this is what Sweta Jain, their HR Head, had to say about the quality of hires:
"Not only have we seen a significant improvement in quality of new hire, we restructured some of our recruitment strategy based on the inception of Talview. Recruitment has now become more scientific and aligned, if I may have to say,"
Wockhardt retrained their evaluators & hiring managers to maintain consistency in the hiring process. The entire hiring cycle was driven by competency-metrics set at a central level. Read this blog post till the end to get a copy of their case study.
Reduce Time to Hire with Remote Interviews
Online interviews can potentially bring down medical hiring time down from months to hours. There are various kinds of online interviewing software today for this purpose that let you hold asynchronous video Interviews or live Interviews.
You can have multiple panel members go through the recording of the interview from anywhere and arrive at a decision remotely.
Along with that, Talview's Behavioral Insights is another useful job competency mapping tool that assesses the behavioral traits of candidates through video interviews. It matches the competencies required for the role and that of the test-taker through speech recognition and machine learning to see if the candidate is qualified for the role they applied for.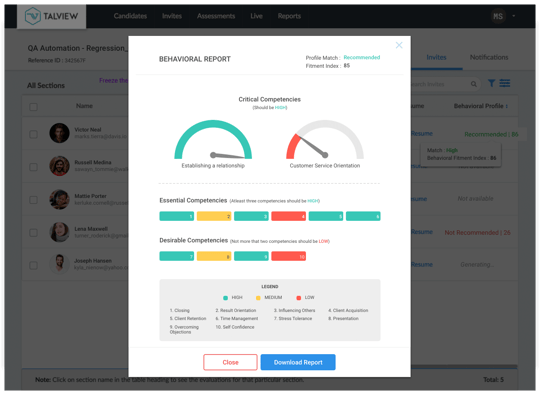 TBI is a great tool especially for Healthcare recruitment where almost all the roles require in-depth learning of concepts and behaviors. To learn more about TBI, click here.
Benefits of Remote Hiring in Healthcare Recruitment:
Here are some of the benefits of remote hiring specific to the Healthcare industry:
1. Achieve Scale Through Automation:
According to the U.S. Labor Department's projections, the Healthcare industry is expected to add 3.8 million new jobs by 2024 and is predicted to be the most significant driver of growth in the U.S. economy through most of the next decade.
The requirement for nurses, front-line workers, and doctors is already high with COVID-19. Coupling that with the ever-growing need for better healthcare facilities through the years, this surge in requirement will only multiply.
With the help of technology, you can now automate almost all of your hiring processes. Even if half the burden of hiring is shared with advanced recruitment software, you can easily double your reach and talent pool while reducing your workload and time.
Not just that, through recruitment automation, you are assured to get quality candidates even while hiring in bulk, thanks to online standardized testing. The software does not qualify any candidate that does not match all your criteria, promising you a standardized set of candidates to match the role.
About the increase in the number of hires along with the reduced panel time during the hiring process, this is what Sweta Jain from Wockhardt had to say:
"Talview helped us reach 400 hiring managers in one go. This is critical in decentralized hiring. Candidate video responses could be shared selectively with multi-level panels without any logistical or scheduling constraints."
2. Reduce Time to Hire:
Through the automation of mundane and repetitive tasks like screening and scheduling, many manual processes that require hours can be done in seconds. For example, the chatbot can help any incoming talent to apply for your vacancies within minutes, scheduling software can save you days of coordination and emailing, an online assessment software can save you the time and energy of going through multiple assessments by giving you a consolidated report of each candidate's performance and behavioral analysis.
Advanced recruitment tools, such as Talview, can provide an end-to-end solution for cutting down your time to hire from months to days while also saving logistical costs. It can also help you accurately compare candidates as all the assessments become standardized.
3. Improve Your Employer Branding:
These days, we can get a cab or a plate of freshly cooked meal at the tap of a button. We've been conditioned to get all the best things in an instant. For the same reasons, candidates wouldn't want to spend weeks pursuing just one job application. You would want to stand out in the crowd and provide the best candidate experience in order to attract the best candidates in the market.
Having a remote and fully digital hiring process can help you achieve just that. Once you start recruiting remotely, the process becomes relatively easier for both you and the candidate.
As most of the candidates in the market today are Gen Z, in order to attract and retain them, you need to be like them. A fully digital hiring process can make you stand out among your competitors as an innovative organization, thus, impacting your brand name as well as the kind of talent that applies to work with you.
4. Avoid Hiring Biases Through Standardized Tests:
There are several claims that suggest that hiring bias is another challenge that the medical hiring department, like every other department, often faces. Here, online assessments come to our rescue.
A digital recruitment software asks several criteria based on which it can select or reject candidates, such as education qualification, work experience, years of experience, etc.
So, the candidates that get selected eventually are only the ones who have the matching skills for the job, maintaining quality candidates with every hire.
By reducing human intervention in the hiring process, there is minimal scope for hiring biases, which, in turn, leads to a more organized and structured hiring process and a more streamlined influx of candidates.
As an example, remote interviews helped Wockhardt to focus on hiring analytics. This is what they found:
"It has shown us regional as well as divisional bias/expectation when hiring. It has led us to consciously take HR interventions in regulating quality of hire and raising bar/standardizing expectation,"
Conclusion
Times are unusual. Filling empty jobs in the healthcare industry especially during the COVID pandemic is highly demanding. But, by utilizing technology and opting for remote hiring solutions, recruiters can save thousands of dollars and hours of productive time while also establishing their brand value in the current job market.
---