What is High Volume Hiring?
When you are recruiting for multiple positions within a team or across departments in a relatively short period of time, it's called high volume hiring or mass hiring.
Scaling is good news (growth!), but it is often bundled up with the challenges of hiring hundreds or even thousands of employees simultaneously.
A modern-day example of high volume hiring would be Amazon. This eCommerce and web services giant has grown aggressively over the past decade despite economic turmoil in the global market. Yet, it has continuously managed to effectively recruit and hire at scale.
Not only Amazon but several other multinational corporations also conduct mass recruitment drives and fill hundreds of positions in a matter of weeks, not months.
Hyperscale Talent Acquisition
Many of these corporations outsource their hiring operations to full-time recruitment agencies, but more importantly, outsourced or in-house, they implement automation wherever possible to streamline the process without sacrificing the quality of talent.
Without a doubt, technology is key to high volume hiring. And with the rise of AI-powered automation, mass recruitment has never been easier or more efficient. Not only does technology help save time, but it also enables you to catch finer details that may otherwise fall through the cracks, too frequently resulting in expensive bad hires and poor employee retention.
High volume hiring is like walking a tightrope – balance is key. If you lose the balance between moving fast and acquiring talent quality, the whole purpose of high volume hiring gets lost in the process.
It's understandable that your teams are stretched too thin, and you must maintain your hiring pace to keep up with the additional work that's pouring in. But it is important not to lose sight of your quality objectives and make sure the talent you are acquiring is up to the mark.
Types of Mass Hiring Events
Based on the methods and approaches, mass hiring can be classified into the following types. Recruiters may stick to one of these methods or follow a combination for better outcomes.
Weekend Hiring Drives
The sole purpose of conducting a weekend drive is to encourage maximum participation.
Because most candidates will not have a workday on a weekend, they are highly likely to turn up in large numbers. With a huge headcount, the process becomes a bit cumbersome for recruiters. This is where pre-employment online assessments can take some burden off their shoulders. Assessment reports are generated immediately after the test so that no time is wasted waiting for results.
Event Hiring
Organizing an event to attract talent from far and wide is referred to as event hiring. Depending on the nature of job roles and the number of potential candidates required, recruiters may organize open events or have an entry barrier for preliminary screening. For such an event, it is important that your recruiters are equipped with the right hiring tools to avoid candidate drop offs and inefficient decision making due to manual tasks.
Hourly Hiring
The gig economy has been flourishing by leaps and bounds since the pandemic. As a result, more and more people are quitting their 9 to 5 jobs and taking up gigs by the hour. Hourly hiring is an arrangement wherein an individual is hired to complete a certain task in exchange for hourly wages. Using Talview's AI-based hiring platform, recruiters can shortlist candidates based on their skills and hourly rates, making the process easier for everyone involved.
Regardless of the hype, the road to hourly hiring is not easy. It still requires proactive measures and intelligent tools to expedite the process of hiring employees by the hour.
Campus Hiring
Campus hiring is when an organization sets up a recruitment camp within the college or university's premises and conducts a drive across relevant streams. With campus hiring going online and some transitioning to a hybrid approach, companies require the right set of tools to acquire top talent before their competition does.
Therefore, organizations must do their due diligence and come prepared with smart recruitment tools to streamline the process and maintain integrity at every step.
Also read: Hiring with Talview: Smarter, Faster, and Better
High Volume Recruitment Challenges
Tight Deadlines
By definition, volume hiring means recruiting a large number of candidates (usually in hundreds or even thousands) in relatively less time. Time is of the essence, any kind of delay in getting new employees on board can hurt the organization's bottom line.
When cutting corners is not an option, using AI-powered hiring software is the best way forward.
High Operational Costs
The cost associated with recruitment can quickly spiral out of control in the absence of meticulous planning. Therefore, it is important to determine the cost per hire and allocate your funds accordingly to each aspect of recruitment, from paying recruiter salaries to advertising and travel expenses.
This is where technology can help you curb the cost per hire by increasing resource utilization and automating mundane processes.
Overwhelming Applications
When you put the word out, hundreds or even thousands of applicants may show their interest. This is where the recruitment drive kicks off with a bang.
Screening applications one by one can take ages, and you are no longer in the 70s hiring factory workers. Instead, let Talview's intelligent hiring platform shortlist the right candidates for the job based on your objectives and predefined criteria. In the meantime, you can refill your coffee, as it will only take a minute.
High Candidate Drop Offs
Slow and inefficient hiring process can lead to discontentment of candidates in a competitive job market, which could lead to drop offs. Automation helps in faster screening, leading to a good candidate experience.
Recruiter Fatigue
With mass hiring, dealing with a high volume of applications and a limited number of recruiters, it is easy for hiring managers and recruiters to get overburdened which can lead to poor decision making. To keep things efficient, having the right tools in hand would help streamline recruitment and result in effective decision making.
Advantages of High Volume Hiring with The Right Hiring Technology
High volume hiring can give your organization a competitive advantage in recruiting the best talent. Let's have a look at the various advantages of utilizing an AI-powered recruitment solution for high-volume hiring, as opposed to manual hiring drives.
Reduced Time-to-Hire
Sounds counterintuitive but true – one of the benefits of leveraging AI-powered hiring software is a reduced-time-to-hire cycle.
High volume hiring doesn't have to take ages or crush your HR teams under huge piles of resumes. It can be a fairly straightforward process with an AI-powered tool in your arsenal.
Many mundane tasks, from screening and sorting candidates to scheduling interviews, can be done in minutes with minimal manual intervention, which would otherwise take weeks or even months.
Also read: 3 Key Recruitment Metrics - Time, Cost, and Quality of Hire
Accuracy
"It's easier to fool artificial intelligence." This might have been true a few years ago, but modern AI technology is a different game altogether. For instance, the Behavioral Insights feature by Talview is an AI-driven assessment model that not only reduces the number of hiring steps but also offers fake-resistant insights, in cases where candidates tend to give socially accepted answers, to help you make improved, informed hiring decisions.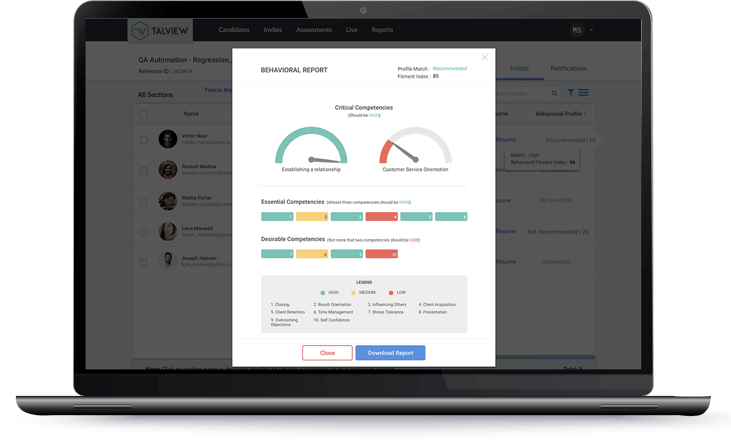 Economical
Imagine the resources and countless hours you will need to put in for large scale hiring. From screening candidates to scheduling follow-ups and interviews, a manual process requires days and nights of toil.
However, an AI-powered hiring platform can perform these types of tasks and a bit more in minutes, so you can spend your productive hours and valuable resources where they are needed the most. When you save time, you are saving money.
No Geographical Barriers
With remote work permeating the corporate ecosystem, hiring resources beyond geographical boundaries becomes more feasible. Talview's intuitive recruitment solution enables you to run recruitment drives across the globe and make bias-free hiring decisions.
Automated
The right recruitment technology for high-volume hiring operates with minimal manual intervention. Once you enter your hiring objectives and set up your workflow, the tool will take care of everything from screening candidates to generating re-calibrated reports based on their test scores.
Talview's Hiring Solutions come with a remote proctoring feature that flags any suspicious activities by candidates during the assessment, maintaining integrity throughout your hiring process.
Scalability
With scalability built into the core of a volume hiring platform, you don't have to worry about the sudden surge or decline in demand. Whether you want to hire hundreds of candidates across departments or fill important positions in the upper echelon of the business hierarchy, the platform can scale and adapt to your hiring objectives.
Round-the-Clock Support
Technology can never be perfect without a diligent support team. When you are stuck in the middle of the process and can't make sense of the course ahead, rest assured that a support team will be standing by to assist you. Talview, in particular, takes this part of the job seriously, so you can expect consistent support regardless of your time zone.
Instahiring 2023
High volume hiring often signifies growth of a company. As it opens the company's doors to welcome new talent on board, hyperscale hiring also presents major challenges.
High volume hiring is no easy feat; this is especially true for organizations in the IT/ITES and BPM industry. With thousands of applicants cruising through the hiring process on the same day, every aspect is challenging - sourcing, scheduling, resourcing, and tracking results.
Focusing on large-scale hiring events, Talview's latest Hyperscale Hiring Module facilitates a seamless hiring process. Talview presents a day of learning to overcome the challenges of mass hiring at scale, networking with fellow professionals, and a very special meal. We hope you'll join us!