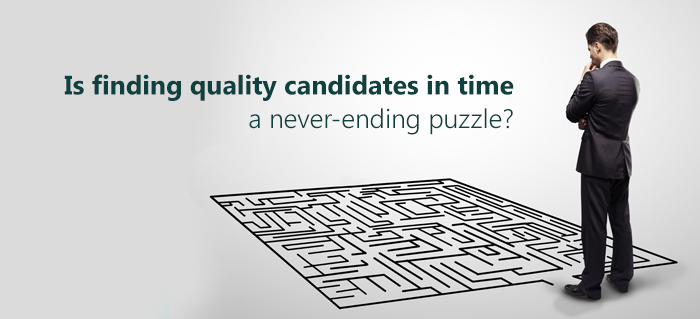 You are endlessly approving job fairs and campus drives, constantly in an argument with the board members why it's you are not able to hire enough people on time for a new project or line of business. But it's an open secret that you are limited in your ability to reach out to candidates - the board members know it too. There are umpteen advisors out there who'll tell you how to improve hiring, they are also likely going to list a number of things for you to implement in the recruitment process like:
Using Recruitment Agencies

Investing in an expensive job portal/professional network

Spending more on employer branding advertisement
However all of these are expensive and is going to affect your bottom line further. Also you'll have to change your current hiring strategies - call your recruiters for a meeting and ask them to do a research on how you could implement all this. Too much hassle? You could do it in under three steps without affecting the cost structure in your hiring process.

Wouldn't it be better to tap into a fresh pool of candidates without setting up job fairs?
Online Proctored Assessments and Interviews allow you to reach candidates from Tier 2, 3, who might not come to you otherwise. This will help you reduce attrition as you have more options to choose from, meaning low employee turnover.

Assessments include:




Video Interviewing

Recorded video interviews can be shared with colleagues and used as an earmark for future candidate search. Businesses can also use these videos for Stereolithography (SLA) or audit purposes

Global Hiring Across Time Zones That job has been sitting around for a while now, as you are unable to find a candidate that fits the required job profile and referral candidates don't always cut the deal.

You could find talent across time zones without spending money on travel or time to schedule an interview with automated online interviews.
Online Assessments

Candidate integrity during online assessments is measured with the option of audio- visual online remote proctoring, it's easy to find out if a third person is feeding answers into candidate.

Candidate integrity is most important to businesses. An option to block controls like 'copy+paste' helps you identify real talent.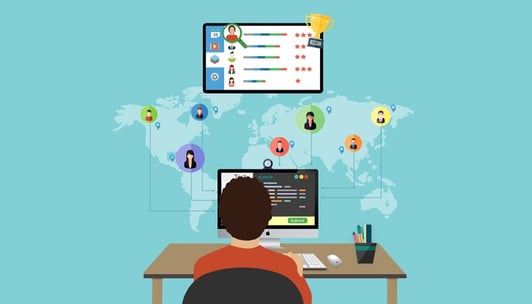 Automation of routine tasks ensures you can hire 3X number of candidates using the same resources that incurs similar cost.
Seamless hiring process over a smartphone ensures better candidate experience and in turn establishes better offer conversion.
Positions are closed faster with video interview platform's ability to automate all routine tasks of a recruiter.
Selecting Online Assessments
There are three major types of vendors available online assessment market:
Consulting firms

Test providers

Test engine providers
The assessment market has a number of different vendors, each of whom provides the company with a different level of precision. However, is there a way to quantify the effectiveness of these assessments anymore?
HR professionals diligently avoid the struggle that is involved in the preparation, distribution, and evaluation of these tests. Talent assessment is done not just at the time of hiring, but also post-hiring in order to continuously train the employee. T
here are certain criticisms placed against the sanctity and value of these assessments, what these criticisms are and why are they made is discussed in this article below.
Design and delivery of Assessments: The concept of preparing assessments has been very tedious and time-consuming. Earlier these assessments were paper-based and required a large question bank to be prepared. As the time has passed we have telephonic rounds and online assessments However, there is still the inevitable need for a large question bank to test the candidate properly. Although, the effectiveness, and reliability of these assessments is now questionable.
Are Interviews the best way to judge? Interviews are another method of pre-hiring assessment. However, one can question the level of authenticity they would hold in the long run.
Interviews involve an interactive session between the recruiter and the candidate, wherein the candidate is judged on the basis of the answers they give and their physiological and behavioral patterns. However, it is impossible to re-create those similar reactions again, which makes it hard to scale and can prove to be insufficient.
Outdated Methods of Assessment: Traditional methods of assessments are now considered to be outdated, with no proper scale to measure the effectiveness of these methods. Also, these methods although provide valuable data, but rather it takes the time to consume and a tiring experience for the candidates.
This creates a negative impression of the company in the minds of the candidate, this is a factor often ignored by organizations which should be considered, as candidates today are up to date on the various social media platforms and a negative experience would definitely be shared by them.
It is therefore very important to understand the trends in the market and to keep updated with the latest technologies available. Also, it is necessary to understand which type of vendor would be the right choice to create an assessment pattern for the potential and current employees of your organization. Predictive analysis has proved to be an effective and reliable tool and is rapidly gaining popularity.