With every step forward we bring Secure assessments, better candidate interaction and a great user experience.
Safe Exam Browser for cheat-free and secure exams
Introducing the Safe Exam Browser to conduct your high stake assessments securely.
Safe Exam Browser + Talview Proctoring tool = Extra secure assessments.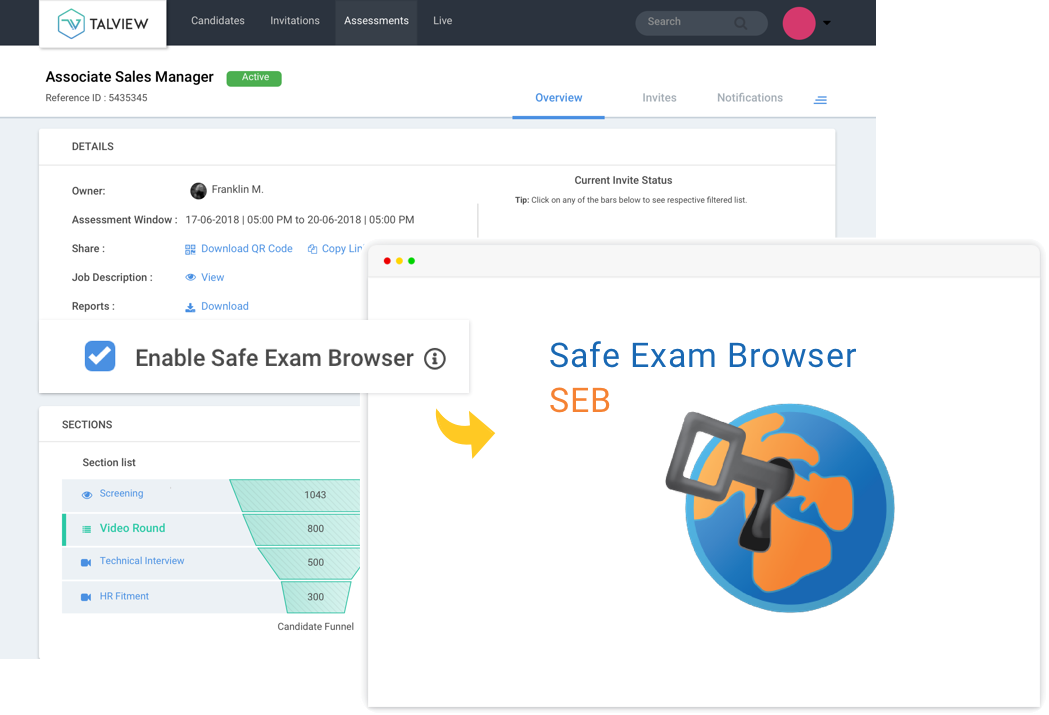 With the Safe Exam Browser,
Freeze candidates' screen
Disable shortcuts
Block screen recording
Disable switching of apps
Many more features for secure assessment!
Virtual interviews are no less than face-to-face interviews!
Live Interviews on the Talview platform are super intuitive. With every feature added, it's more like a real interview by removing the hassles of virtual interviews.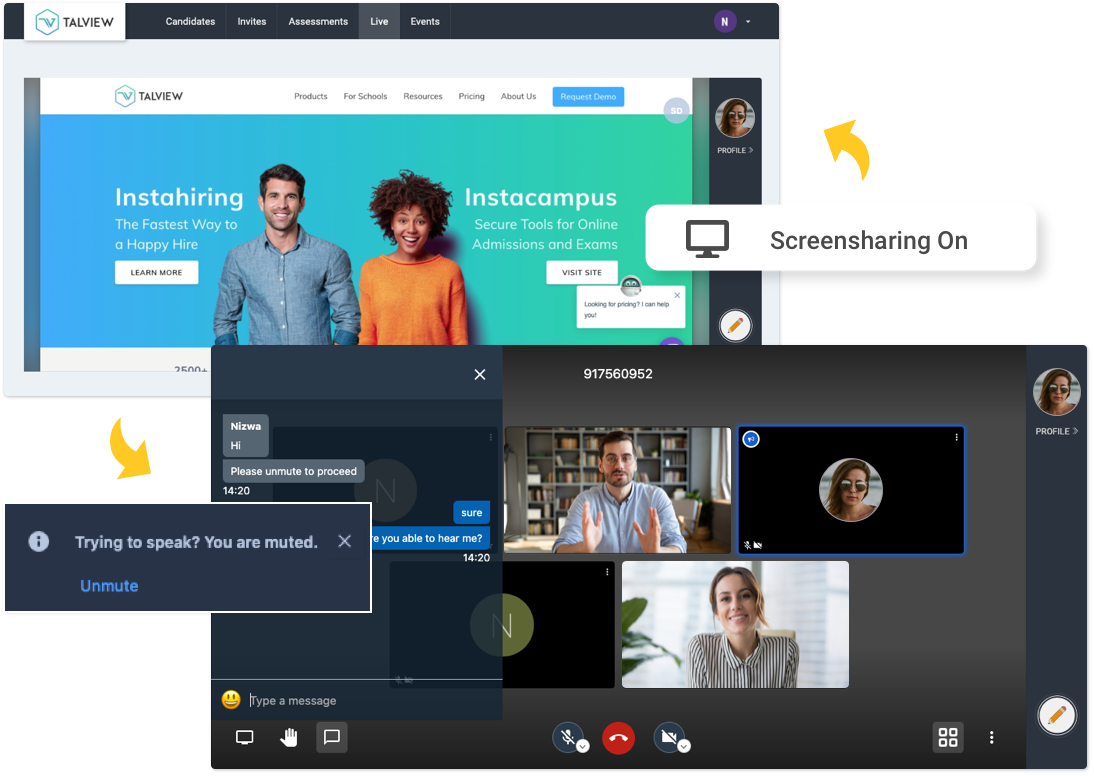 The new Live interview enhancements bring you features for super effective communication with candidates. Now in a live session, you can share screen, view candidates solving a question in real time, chat one-on-one with candidates or panel, and view all participants in a grid view.
With this update, we'll remind you to unmute the mic if you forget to unmute before speaking!
Check Candidates' Assessment Environment Remotely.
Many people raise a question of authenticity when it comes to Remote assessments. With the new Proview update, we have taken care of it!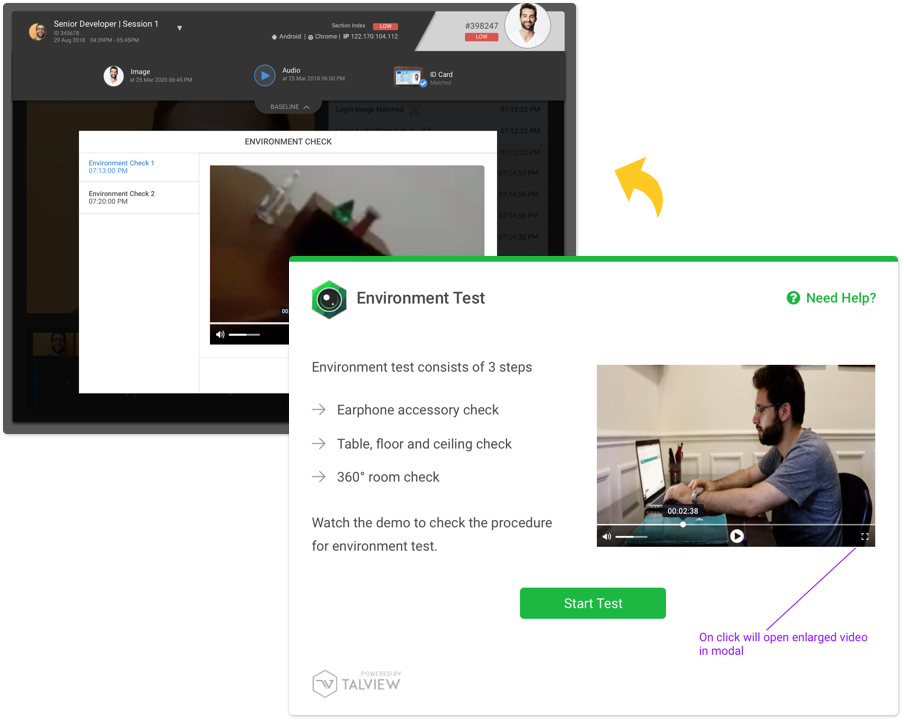 Introducing Environment test in which candidates are prompted to record ceiling, worktable, and 360° video of the room in which they are attending the assessment. This test, along with other Proview features, ensures candidates are attending assessment in a safe environment.
Watermarks to save question theft
With the new feature, you can add a watermark to the candidate's test page to manage test content theft.
Each attendee will have a candidate ID which is used as a unique watermark. This will help in reducing the question theft considerably, and make it easier for tracing the source of question leakage.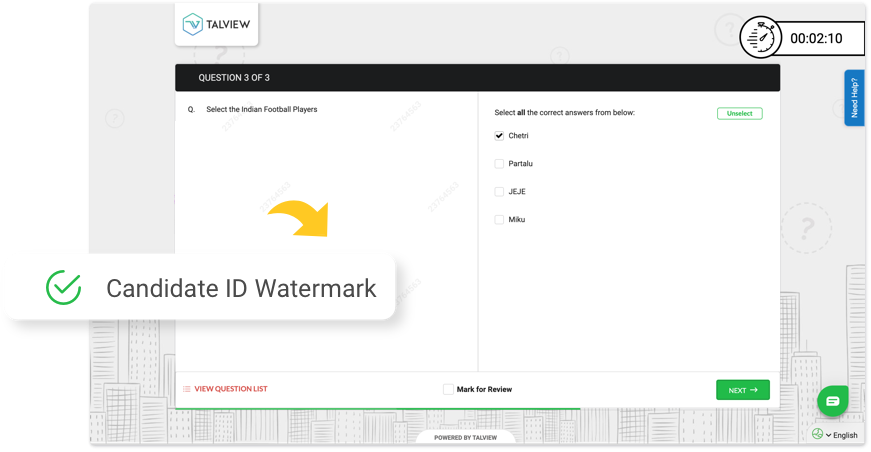 We've got you covered for safe and secure assessments that are intuitive, effective, and highly efficient in understanding the candidate better
Evaluate better with Resume preview
To view the candidate's resume, it took you multiple steps every time. But, no more!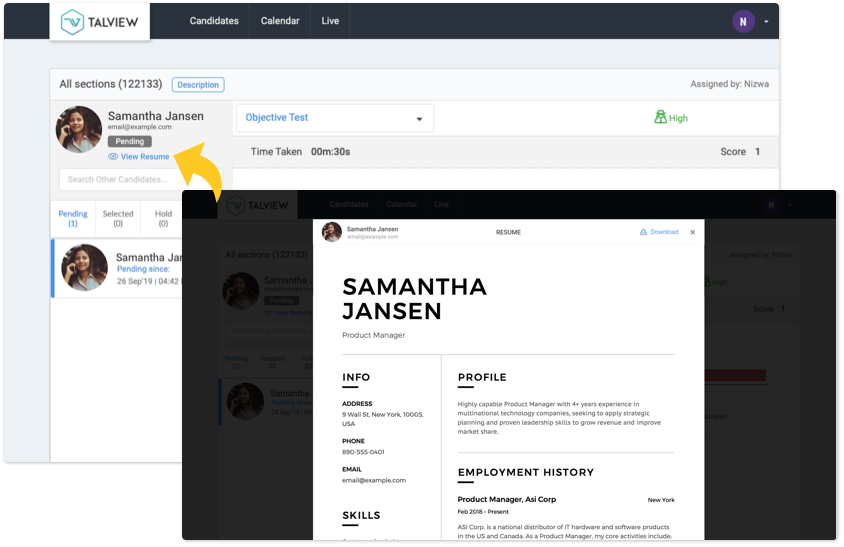 With the new update, 'Resume Preview' on the evaluation page will show you the candidate resume with just one click. View the resume while you evaluate and make faster and better hiring decisions!
Recruit on Mobile:
Now view Resume Score and Candidate Recommendation on Mobile
With every update on our Recruit mobile app, we're adding features that help you hire effectively even through your mobile phone.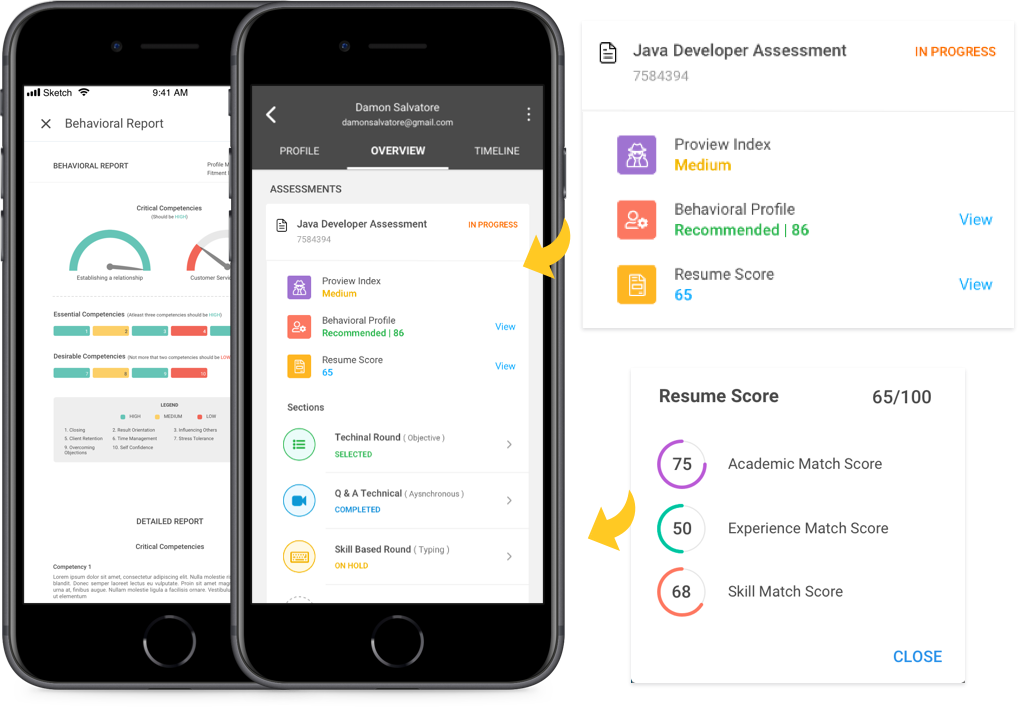 With this release, we bring Candidate recommendation and Resume Scores in the Recruit mobile app, to help view candidate scores even on mobile and make better hiring decisions.
Updates that makes remote hiring easier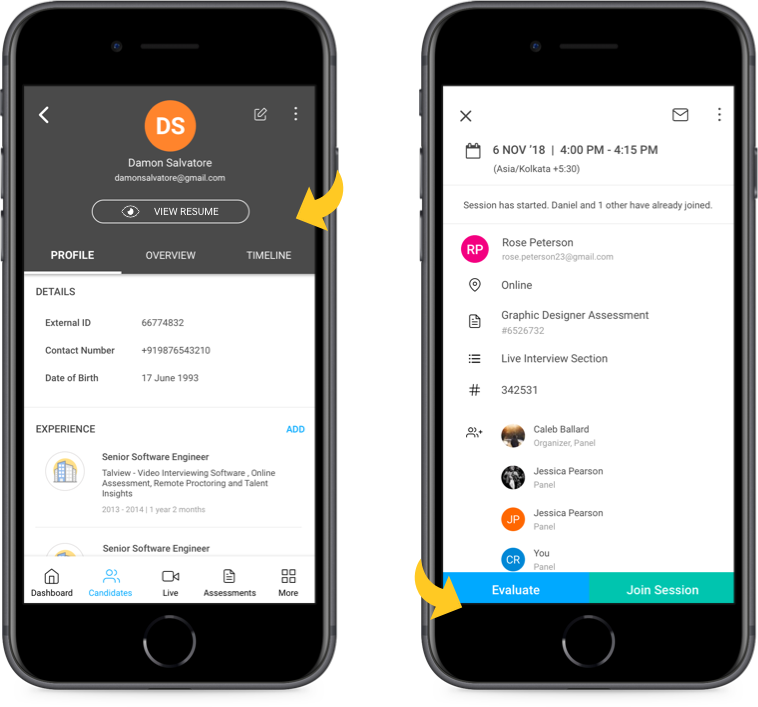 Now you can directly search and select the timezone without having to scroll to search your time zone while scheduling an interview or sending an assessment invite.
Don't want to download candidate resumes and fill your phone with resumes? Don't worry, with the new update just view the resume in PDF format on your phone.
Now evaluate Live interviews directly from the Live interview details screen. Also, if you want to view the candidate profile or the assessment, just a click on the candidate name or assessment will redirect you respectively. That saved you many from clicks, Yay!
Your candidate details are safe, no one can edit the candidate details now.
TL;DR - Secure browser for assessments, new features in live interview section and quick enhancements on Recruit Mobile app brings you a whole new experience on Talview.
This is just a beginning - there are so many more new features we'd like to walk you through.
To know more, get in touch with us at us@talview.com