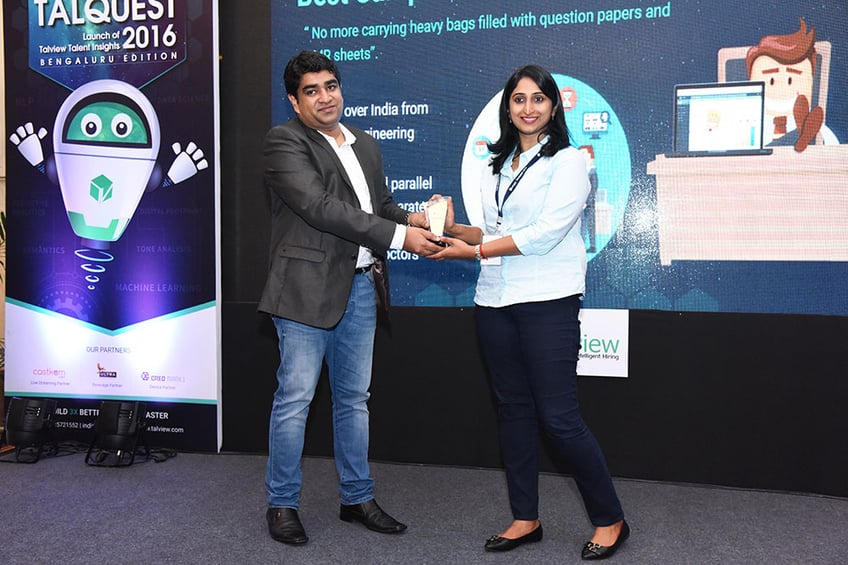 Chaya Srinivasaiah, Swiss Re receive award for Best Candidate Experience from Sanjoe Tom Jose, CEO Talview
The Award for Best Candidate Experience recognizes Talent Acquisition teams that have thoughtfully designed their Recruitment Process to ensure that each Candidate who applies to their organisation if not made into an employee is definitely a happy brand ambassador for the organisation no matter where he goes.
KPMG- KPMG have changed their way of hiring by using Talview's live and Automated Video interviews. Candidates can now complete the first step of the interview process from their respective locations and do not have to travel long distances and waiting rooms. There's also no need for the hiring managers to travel to the various locations to meet candidates. They can view their videos whenever they want and only call a select few for the Live Interviews instead of having to meet the whole pool of Candidates.
They also have the Candidate feel-good factor addressed as they use the platform to present a video of life at KPMG. Here the candidates can see and hear from the senior members of the organisation and feel more comfortable with the organisation before giving the interview. KPMG is truly heading in the right direction in order to make each applicant a Happy Brand Ambassador for the Organisation no matter where they go.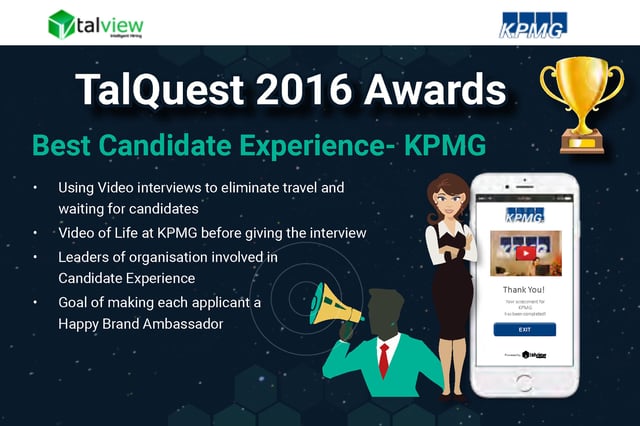 Whirlpool- Whirlpool has used Talview for bulk hiring which consists of Retail Executives, and also to extend its reach to every corner of the country. They have become tech savvy by asking the candidates give their interviews on mobile phones which saves time for both. They have designed their process to ensure best outcome for both the candidate and themselves.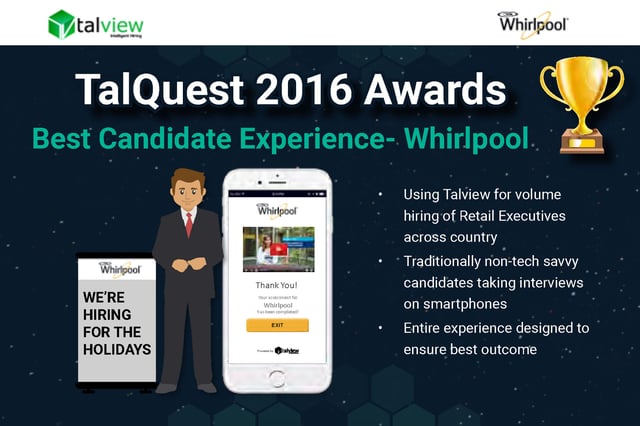 Swiss Re- They have come across candidate deception in telephonic interviews. Candidates unable to find time for a face-to-face interview as majority of the positions are for niche roles and the potential recruits are holding eminent responsibilities in their existing companies. "Candidate No show" is the crucial hurdle that Swiss Re have crossed by.
They have conducted experience surveys & have tracked platforms like glassdoor. They streamlined their process based on the inputs received from the survey. According to their survey, candidates are also very comfortable with our modules, which further leads to better conversion rates. They involved hiring managers & vendors for superior candidate experience.